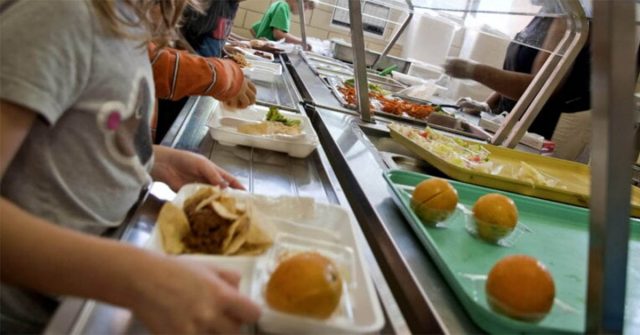 When there were days a young girl in elementary school didn't have money for lunch, the kind lady working in her school's cafeteria would sneak her peanut butter sandwiches so that she didn't go hungry.
Keiti went to elementary school in East Orange, New Jersey, in the early 80's, and to this day she still remembers and is grateful for the kindness she received from her school's lunch lady.
In the 80's at Keiti's school, all of the children had to go through the lunch line, even if they were unable to buy anything to eat.
"In the early 80's and 90's if you didn't have lunch from home and weren't buying any, they still made you wait and go through the lunch line," Keiti shared in a post online.
There were days when Keiti had no money for lunch, but she still had to stand and go through the line. It was on those days that her compassionate lunch lady understood Keiti's situation, and snuck her peanut butter sandwiches for free. To this day, Keiti's beautiful heart is still grateful for her kindness.
"If you were ever a lunch lady in a small public elementary school in East Orange NJ in the early 80's and you snuck a small shy girl with blue eyes & bangs a peanut butter sandwich on the days she had no lunch money – know I have loved you my entire life & hope you've been happy & healthy," Keiti shared.
Tens of thousands of hearts online have been moved by her lunch lady's compassion.
"I remember the lunch lady giving me extra portions when I was extra hungry. She just seemed to know when I needed more," commented Jayne W.
"I still remember Debbie our elementary school lunch lady and she was one of my favorite humans. I saw her when I was working at a pet store in my late teens and told her how much I appreciated her kindness growing up," wrote Megan M.
"Yea, I was one of those kids that didn't have lunch money. My mom would scramble eggs for a sandwich, wrapped in the bread bag. I was so embarrassed. I always wanted the ice cream the other kids got. In high school I just went to the bathroom during lunch. Never the less, I was a smart kid, but my grades suffered because I was starving. Some kids don't know how good they had it, to get to have money for food," shared Linda G.
"I had a few children stay after lunch so I could give them a little extra. The hungry ones sometime just want a little attention too. So glad I could do this for them. A Lunch lady for 20 years," commented Connie B.
"When I was a kid we moved around a lot, I sometimes didn't have friends. When I was in first grade the lunch lady was always so kind to me and would go out of her way to make me feel special. I would talk to her. I remember telling her I was moving and my parents were getting me a puppy. My last day at the school she brought me a toy and a bag of treats for my puppy. To this day I have never forgotten her warmth and kindness," shared Henry W.
Let's all be like the kind lunch lady.
You are Loved.
View this post on Instagram
Related Compassion:
Kind Teacher Created Cafeteria Share Bin Where Students Can Leave Unopened Food For Those Still Hungry
NFL 49ers Player Richard Sherman Pays Off Over $27,000 To Clear A School's Cafeteria Debt
Homeless Veteran Breaks Down In Tears After Kind Stranger Agrees To Buy Him Lunch Every Day