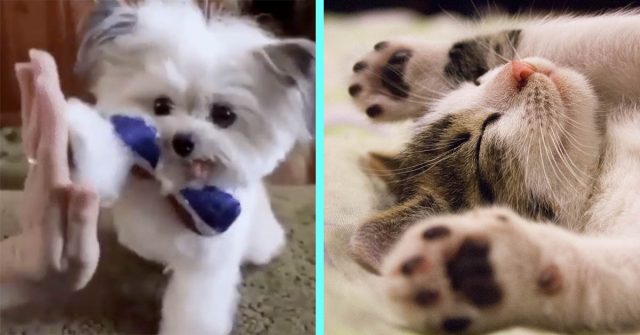 Animal Planet has found the best way to lift our spirits as we stay at home and get through this struggle together: by airing 94 hours straight of cute puppy and kitten videos.
One of the most important things we can do while faced with the distress of the coronavirus pandemic is to keep ourselves feeling good, which in turn keeps our immune systems high. And as we all know, watching cute puppies and kittens being playful and hilarious is one of the best mood relievers!
During the lockdowns and this period of self-isolation, we need to make sure to take care of our emotional health by staying positive, hopeful, and by having multiple daily "refresh times" where we focus on stress relieving activities; which includes lots and lots of puppies and kittens!
Take a look below at some of the adorable puppies below:
Meg the yellow lab made a springtime buddy with an adorable baby bunny:
Reginald is feeling the fantasy! #TooCuteMarathon pic.twitter.com/LpqhHQvQyv

— Animal Planet (@AnimalPlanet) March 18, 2020
OMG! 🥺Our hearts are melting right now with all this cuteness. ❤️#TooCuteMarathon pic.twitter.com/6lopBW8NCn

— Animal Planet (@AnimalPlanet) March 19, 2020
Too Cute!
Shoutout to @AnimalPlanet for having a #TooCuteMarathon during quarantine 💕 pic.twitter.com/b2bM3vu9qk

— Rachel Collins, Professional Social Distancer (@arocknrolldream) March 19, 2020
Like living for this #toocutemarathon pic.twitter.com/ucXoN1YWnd

— woke up an optimist (@xoSTAYgold) March 19, 2020
PUPPIES! I so needed a #toocutemarathon. Thank you @AnimalPlanet pic.twitter.com/pJQ1tNUFQE

— Audrey Jackson (@audreyjac) March 20, 2020
Best Friends:
Thank you, thank you and thank you @AnimalPlanet! This #TooCuteMarathon has been Godsend after such a rocky day! pic.twitter.com/13pksTZUZb

— Yolanda (@Yzma75) March 20, 2020
These are too funny:
You are Loved.
See Also: Letting Go Of Worry For Good: 10 Steps To Relax A Worried Mind According To Psychology