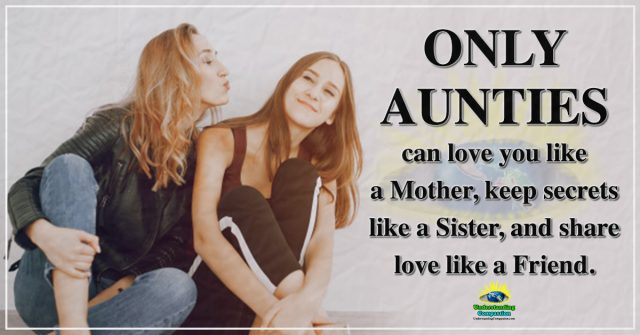 Aunts play a special and unique role in a child's life.
In the 21st century, many family configurations have become a bit more complex than how they were in the past. The cookie cutter family format of "working dad and stay-at-home mom" exists in far fewer percentages compared to previous generations. Today many mothers choose to work while raising their children, and single parenting is also on the rise. Family dynamics have changed, and bringing up children in a healthy way requires having strong bonds with other parental figures as well: namely a child's aunts and uncles.
Being an aunt is a blessing, it's a way of life, and it's a special opportunity to give a tremendous amount of love to those precious nieces and nephews. An aunt is not just a relative for children, but often is a second mother, a special friend, a teacher, and another source of unconditional love that exists outside of the parents.
Here are 9 reasons that show just how special and important aunts are in a child's life:
1. Aunts foster special family bonds with their nieces and nephews
When children face struggle and challenges in life, they look for someone who can compassionately listen to them and offer understanding without judgment. While parents are main supports for their children, they also usually have established rules that the child must follow, which can make them less comfortable in opening up and sharing their struggles.
Aunts can be a safe source of unconditional love and support when children need advice, allowing them to share their stories in a relaxed manner. As this trust is built, the relationship can grow into a wonderfully strong and precious bond.
2. Aunts can provide a different view of life
An aunt is another caring adult role-model that often has differing views from a child's parents. This allows children to listen to and understand another adult's mature perspective on a situation that they may not have realized before. Having multiple possible perspectives on how to view a situation can help nieces and nephews to grow their own critical thinking skills, and can help to fill in the gaps of unconditional love and support that they need.
3. Aunts teach values
Parents teach children much of their values as they are first learning about life, but parents are also often busy with heavy work schedules and providing for their family. Aunts help fill in the gaps as they spend time helping to raise their beloved nieces and nephews, picking them up from school, having conversations and providing new and interesting positive values.




4. Aunts can be an extra parent and friend
Everyone understands parents can be busy taking care of both work and family, and single-parenting can be even more of a challenge. Aunts and uncles can help to relieve the stress of parents by helping to look after their nieces and nephews, and they can also be parental figures as they help step in and take a positive role in the child's life. Aunts and uncles love spending time with their nieces and nephews, so each time they get to do so brings smiles all around.
5. Aunts are always ready to give love and affection
Aunts never hold back giving their precious ones lots of big hugs and attention. They're always ready to care and cheer for their nieces and nephews. Aunts deeply love their own brothers and sisters, and deeply want the best for their children; showering them with love every chance they can.
6. Aunts never miss an important celebration
Whether it's a special birthday or a graduation, aunts do whatever it takes to make sure they are there in the front row for their nieces and nephews. They usually show up with gifts and cards of encouragement, and their nieces and nephews know that their aunt has their back.
7. Aunts stay kind and compassionate even when the children make mistakes
Children, like everyone, make mistakes and handle life's situations differently. Regardless of what they've done, an aunt will sit and listen with love and patience, staying kind to the child no matter what, helping to bring out the best in them as they figure things out together. Nieces and nephews never have to question the love of their aunt.




8. Aunts love and enjoy taking care of their sibling's children
What a joy it is for an aunt to get to watch their niece or nephew. As they don't always get to see them every day, the time they do spend together is usually accompanied by lots of fun and great playtime together!
9. Aunts love spoiling their nieces and nephews
While gifts of the heart are more valuable than material gifts, aunts still love to give lots of presents, yummy meals and lots of love to their nieces and nephews whenever they can. The children's happiness is a heartfelt joy for an aunt, and they'll do whatever they can to help provide for them.
Aunties play a special, unique and significant role in the lives of their precious nieces and nephews. They make life better, more fun, a bit more hilarious and full of a whole lot more love.
Let your nieces, nephews, (and aunts!) know how important they are to you.
You are Loved.
See Also: Study Finds That Sisters Protect Siblings From Depression