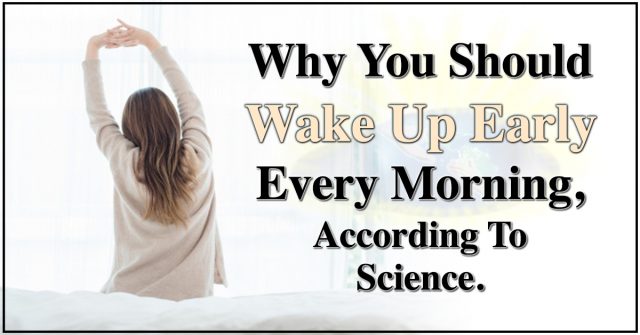 Waking up early each morning has some real health benefits it turns out. While being an early-riser is not everyone's cup of tea, it's worth learning about how it can help your body. After you've read the following benefits, you may even go from being a night owl to an early bird. Research has shown that waking up early gives us these 10 wonderful benefits:




10 Reasons Why You Should Wake Up Early Every Morning, According To Science:
1. MORE POSITIVE
One study found that waking up early improved levels of positive affect, as well as contributed to improved well-being; "Morningness partially mediated the association between age and positive affect, suggesting that greater morningness tendencies among older adults may contribute to their improved well-being relative to younger adults."
Early risers tend to have less interrupted sleep and better sleeping patterns when compared to night owls, and the good feelings from a solid night's sleep have an effect on one's mood.
2. ENHANCED BRAIN FUNCTION AND EMOTIONAL ADJUSTMENT
If you're feeling foggy throughout the day, you might need to set your alarm earlier. According to biology professor Christopher Randler, from Heidelberg Germany's University of Education, "to wake up early is to help your brain function." His research has shown that those who wake up earlier "enjoy better critical thinking and problem-solving skills. They tend to be more creative, funnier, and even engage with work much more easily
thanks to a boost in concentration and memory."
A study published in the Journal Of Psychiatry Research also found that, "An evening preference predicted poorer emotional adjustment (i.e., greater anxiety and depressed mood) even after accounting for the variation associated with demographics (i.e., age, sex, socioeconomic status, and pubertal development), sleep variables (i.e., sleep length, sleep debt, and sleep/wake problems), and substance abuse."
3. YOUR QUALITY OF SLEEP IMPROVES
The benefits of deep, sound sleep cannot be overlooked, and with an established routine of early to bed and early to rise, your body is able to more easily enter a deeper state of sleep. Along with potentially making your days more productive, a research has shown that deeper states of sleep allow high amounts of restoration and repair to take place within the body:
•Lowering blood pressure
•Tissue and cell repair
•Bone repair
•Blood supply to muscles increases
•Growth hormones release to build muscle
•Body and mind relaxation
These benefits are so important to our overall health and well being. It makes sense to manage your sleep schedule so that you can benefit from deep sleep. Studies have also shown that the most refreshing sleep occurs during REM (Rapid Eye Movement) sleep, and we tend to experience the most REM sleep during the 6th, 7th and 8th hour that we are sleeping.




4. HEALTHY HABITS
The Journal of Psychiatry Research published a study comparing the hours adolescents typically chose to sleep and substance abuse. They concluded that sleeping habits which resulted in insufficient sleep were associated with an increase in risk-taking behaviors, including alcohol, cigarette, and marijuana use.
5. TIME TO PLAN AND ORGANIZE YOUR DAY
When you are up early, you can take part of this time to think through your day and to plan what you need and want to accomplish. Being organized each morning not only helps with productivity, but it also can work wonders for stress management. By having a list of things you want to accomplish, you can cross each off as they get done, and you are not likely to forget important things.
6. YOU CAN ENJOY THE QUIET AND CALM OF THE MORNING
When you are up early, it is incredibly still. This is because most of the world is still sleeping. Cars aren't honking, loud trucks and motorcycles aren't roaring by, and most everything is still and quiet. Those who rise early can enjoy these moments of peace and quiet before the hustle and bustle starts. In these moments of quiet you can gather your thoughts and plan your day with no interruptions. If you could start each day with a few extra minutes to just sit calmly, instead of hitting the ground running, you can find your entire day having a pleasant start and running smoothly. Research has shown that having quiet time to yourself each day can have the following benefits for our brains and bodies:
•Increases levels of oxygen in the brain
•Lowers blood pressure
•Results in fewer headaches and migraines
•Boosts overall well being and mental health
Quiet time for yourself each day is a healthy thing, and a perfect reason to wake up early.
7.  TIME TO EAT A HEALTHY BREAKFAST
We have been told numerous times that breakfast is the most important meal of the day, yet many of us skip it simply because the mornings are too rushed. Solution: get up earlier and you will have plenty of time to put together a nutritious breakfast to eat.
If you aren't hungry first thing in the morning, try packing your healthy breakfast to-go and bring it with you to ward off the temptation of sugary treats or doughnuts later on. The benefits of a healthy breakfast include:
•Kick-starts your metabolism so you burn calories
•Helps with focus
•Increases energy
•Lowers levels of bad cholesterol
•Reduces risk of diabetes and heart disease
•Reduces chances of being overweight
•Put you in better mood with more positive thoughts
With all of these benefits, why would you ever skip breakfast?




8. INCREASED PRODUCTIVITY
Research that was published in 2008 by The Journal of General Psychology found that when you wake up early, you don't procrastinate as much as those who stay up late and sleep in. They found that morning people are can stay more focused on their daily tasks, which contributes to being more productive.
Several studies have also shown that early risers tend to be more cooperative and accepting. This can allow for better group work and more success in the work place.
9. YOU MAY HAVE A HEALTHIER PHYSICAL APPEARANCE
Looking our best is a good self-confidence booster, and if your body is getting enough sleep, you'll feel rested, relaxed and more confident throughout your day. According to a study by the University of Stockholm, the more tired one appears, the less attractive they are perceived to be. As early risers tend to have healthier sleep schedules with less interrupted sleep and more REM sleep, they can appear less tired, and therefore potentially more attractive.
10. INCREASED HAPPINESS AND SENSE OF WELL BEING
The previous 9 benefits of rising earlier after getting a good night's sleep should clearly show you how this will directly benefit your mental health and make you feel happier in your day to day life. If that's not enough, a study that was recently published in the Cognitive Therapy and Research Journal found that not getting enough sleep and sleeping later in the day can lead to developing negative thought patterns which can lead to depression, if left unchecked. It's really worth the effort to try and adjust your sleeping patterns so that you can get a better night's sleep and rise earlier in the day.
OVERALL
Waking up early each day has some pretty incredible health benefits! While not everyone is able to wake up early each day,  It's worth giving it a try!
Are you an early-riser or a night-owl?
Let us know in the comments.
You are Loved.
See Also: Do You Wake Up Every Night Between 3 And 5 AM? You May Be Having a Spiritual Awakening