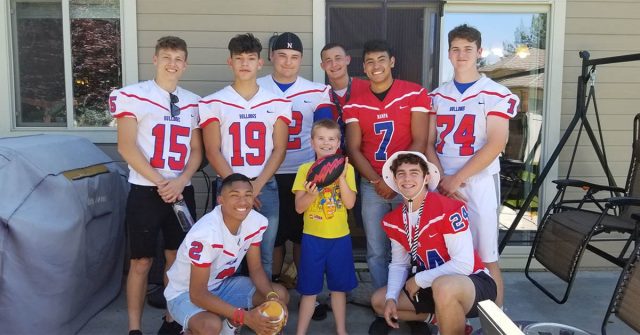 After learning that a 9-year-old boy only had one friend plan to attend his birthday party, a kind high school football team showed up to make his birthday party special.
Christian Larsen really wanted to have a 9th birthday party at his home in Meridian, Idaho, so he asked his mom if she would help him have one. His mother, Lindsay, agreed, and sent out invitations to her son's classmates.
Christian has Autism, and he's had difficulty making lasting friendships at school. As his birthday approached, his mom was concerned as no one had RSVP'd or said they would come.
"We've never done a class party for Christian before," Lindsay shared in a post online. "There was one year in preschool where a couple girls from his class came, we kept it really small and it was great. For the past couple of years Christian has been begging to invite all of his "friends." Last year mom and dad were in Denmark just before, so I used that as an excuse to just have a family party. This year I gave in to his requests. We sent the invitations out, and waited. I learned with William that many won't RSVP, but some did. When days passed and I didn't hear anything, I thought perhaps Christian forgot to pass them out. Then I heard from one. He did get them out. (I mean, I think he interrupted class to give them out because he was so excited, according to his report.) We waited a couple more days, but still no "yes's or no's." I know a lot of people just don't, so I was hoping that's all that was going on."
When Lindsay attended Christian's school picnic, she watched her son interact with some of his classmates, and understood why they hadn't heard from any children attending his party.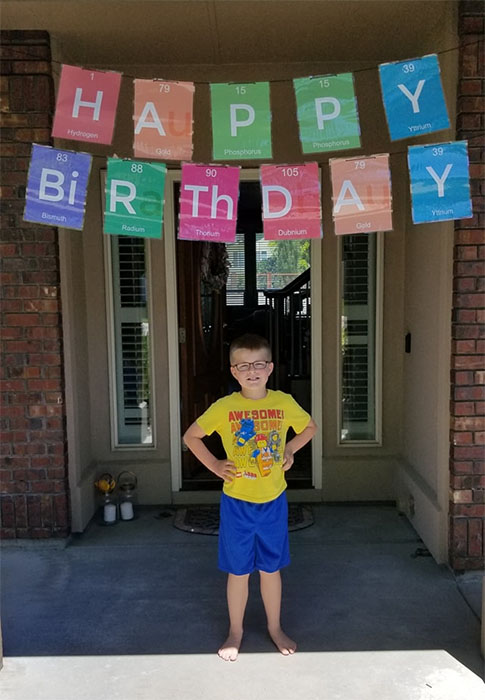 "At the end of the school year picnic Christian was saying goodbye to his "friends" and asked them to RSVP. I watched as he talked to 6 kids from his class. He addressed them by name, paused, then talked. He has worked so hard to learn names this year, and I could tell he was proud as he talked to them. He asked a couple for high fives. One girl responded to him and said ok, and smiled. The rest were boys. Three didn't respond to him at all. One just said, "No." and another who was sitting at a picnic table next to us, first ignored him, and then when Christian didn't take the hint to leave and asked again, said, "Maybe." The parents didn't acknowledge Christian either. At first I was just hoping that with the end of the year chaos, that the invitations were overlooked. But, after seeing the personal interactions, I'm thinking maybe there is more. The hardest thing, is I do understand. It can be uncomfortable to try to be a friend with someone who has had outbursts and cried in class. It's hard when maybe you tried at the start of the year, and he kept wandering off in the middle of the game."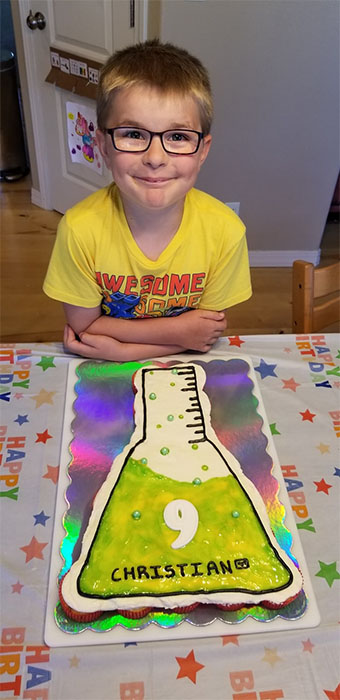 While only one girl in Christian's class said she would come, his mother stayed positive and was grateful.
"I'm so excited and grateful for the one girl who will be coming. We will make it a great party," she said.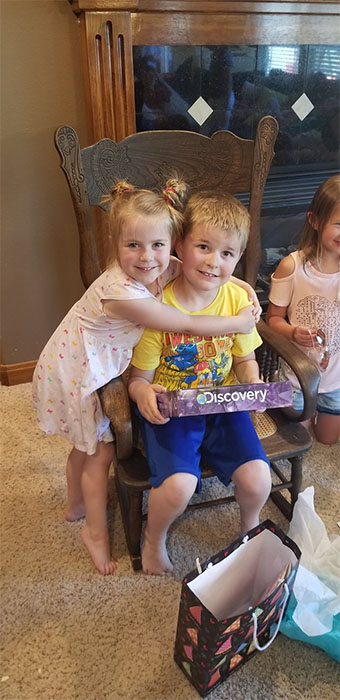 When one of the Larson family's friends, Blythe Ben-David, learned about the low attendance for Christian's upcoming birthday party, she made a call to Dan Holtry, another friend who coached the football team at Nampa High School in Idaho. Blythe let him know about Christian's birthday situation and asked if there was any way he could help.
"He has always been a great guy, a genuine guy with a big heart," Blythe shared. "I knew if anyone could help it would be Dan."
Dan asked his team if they would be willing to attend little Christian's birthday party, and the players enthusiastically said yes.
"The players jumped at the opportunity," Dan said. "They were ready and willing to celebrate with Christian. Within seconds of a sent text they were 100 percent in. No hesitation whatsoever."
As Christian's birthday arrived, a few classmates and a couple neighborhood children showed up, and the Nampa High School football team came, high-fived Christian, and stayed with him and the other children for the entire get-together.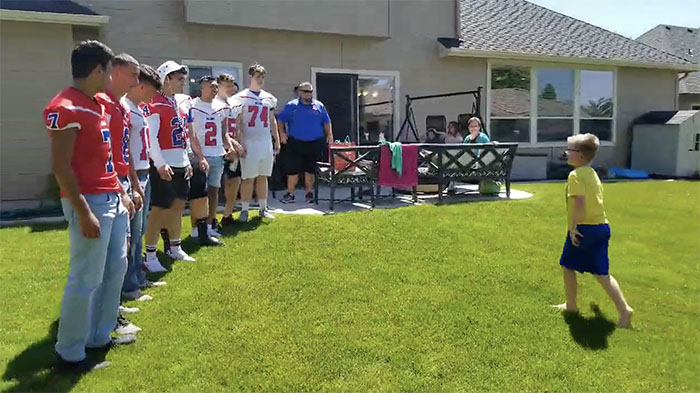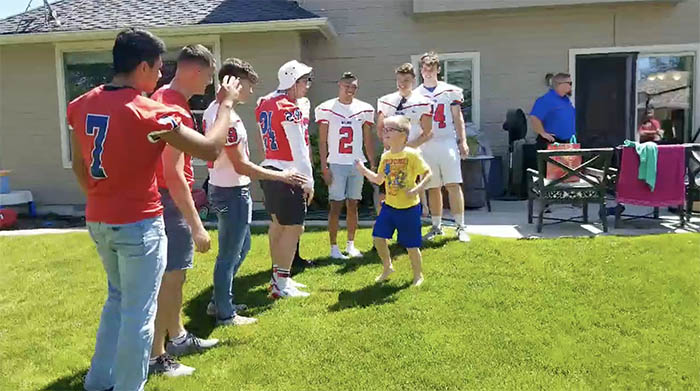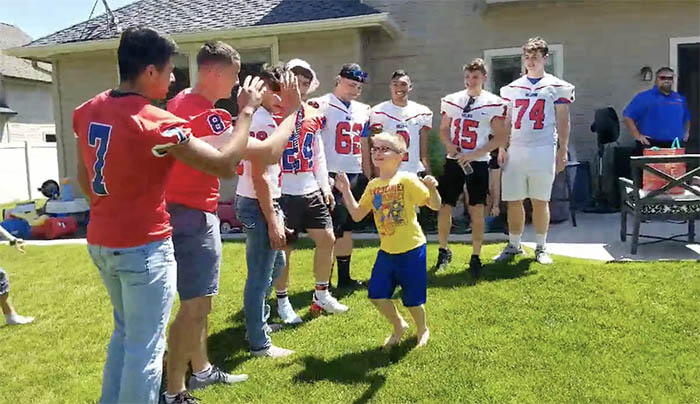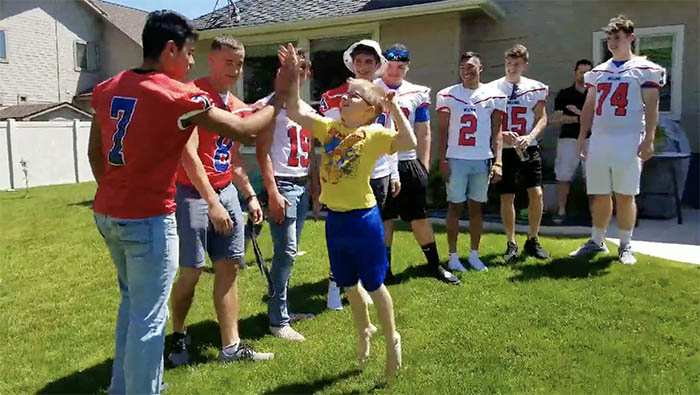 "Today was a day with all of the feelings," Lindsay shared. "I can't thank the people enough, who helped it all come together. I had a friend from Texas contact me after my first post about Christian's birthday. Her kind initiative, made a birthday miracle happen. Her husband played college football with a guy who happens to be the coach of a high school football team, a town over from where we live. She had contacted him, and before I knew it, Coach Dan was reaching out to me, asking if he could come to the party with some of his best players."
"I'll admit, at first I was a little hesitant. What if Christian didn't react well? I mean, we didn't need to make a big deal about the party. We could make a good birthday without a big turnout. And really, a lot of my hesitation is my desire to not bring attention to myself, my family, get embarrassed. It's like the saying "Why try to fit in when you're made to stand out?" Well, I really would like to live life without standing out. But, then I got over myself, and happily accepted, because if community wants to come together, and celebrate Christian, why should I stop that. It was a beautiful thing to be a part of."
"The coach and players came halfway into the party. Christian was happily oblivious to the vehicles pulling up, and the players in uniform. Christian ended up with friends and people there to support him. In the end there were a few kids from his class, a couple from the neighborhood, and a few family friends already there. I ushered everyone into the backyard. It was truly amazing to watch them. Those High School seniors stayed until the end of the party. They interacted with all of the kids. They played games and got down on the level of the little kids and got them all involved. Even my not naturally athletically inclined Christian, was running "touch downs!" Kids asked for their autographs. The players watched as gifts were opened and were excited about it. They all sang to him and watched him blow out his candles. There is so much good in this world, and when things are hard, the good shines even brighter."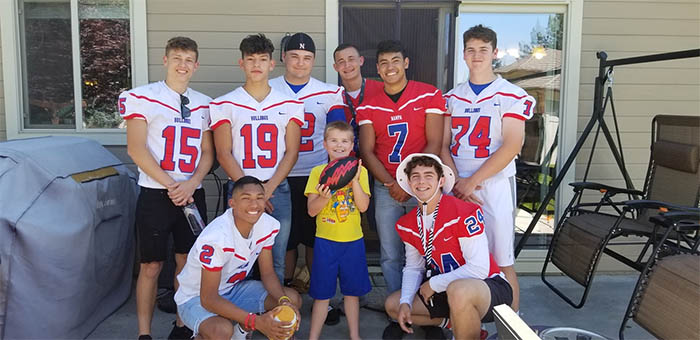 Watch This Heartwarming Video Of The Nampa High School football team arriving at Christian's birthday party:
You are Loved.
Related Compassion:
Kind Lineman Gave Teenager Playing Football Alone Each Day In Park Free Tickets To His Football Game
Kind Football Coach Canceled Practice, Asked Players To Shovel For Elderly And Disabled Neighbors
Kind Man Brought Local Homeless Man To His First Football Game After Living In City For 43 Years