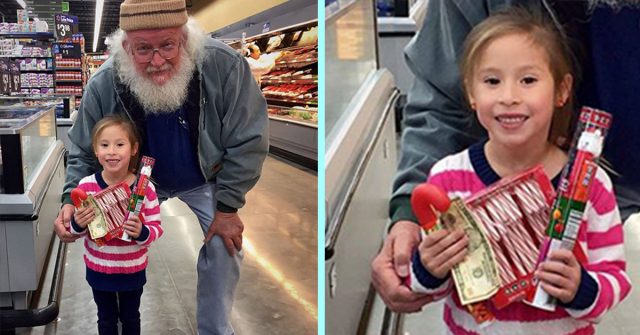 When little Aria saw an older man with a big white beard while shopping with her mom, she couldn't take her eyes off of him, as she thought she knew him to be someone very special.
She asked her mom if it was okay and then gathered up her courage to go ask the older man; "Are you Santa?" The kindness of the older man moved Aria's mom, Ana-Marie Sandoval, so much that she was inspired to share how special this day was for her little girl:
"Aria and I saw this man shopping while we were at Walmart this morning," Ana-Marie wrote. "She stopped him to ask if he was Santa. He said yes and wished her a Merry Christmas as he walked by."



Aria became very excited and then her and her mom continued shopping, but the kind man came to chat with them a few minutes later.
"Her eyes lit up and she got a huge smile on her face and we continued shopping. A few minutes later, he found us in another aisle and asked if we had a couple minutes to talk. It's Santa, of course we have time to talk!!! He chatted with her a bit…asked her how old she was, her name, what she wanted for Christmas, etc."
After a friendly chat, "Santa" then gave the little girl some Christmas candy he had picked out for her, along with a $10 bill to pay for it.
"Then he grabbed some Christmas candy he had put in his basket and gave them to her along with $10 to purchase them. She even had enough extra that she was able to buy a chocolate surprise toy each for her sister and herself, that they've been eyeing by the register every time we go!"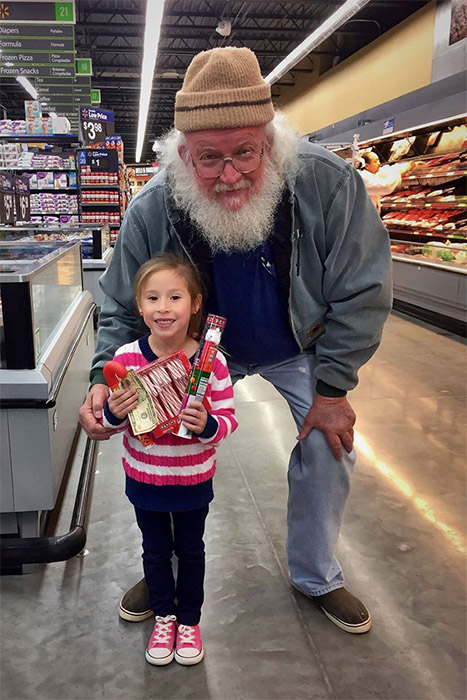 Ana-Marie was very grateful for the kindness of the older man.
"Dear Santa, 🎅
THANK YOU for keeping the Christmas spirit alive, not only for the kids, but for us all! ❤️"



Many hearts were warmed by little Aria's sweet encounter, and people shared similar experiences they've had with kind "Santa's":
"A couple years ago, there was a gentleman like this in July at our local Walmart. He was wearing shorts, flip flops, and a Hawaiian shirt. A kid in our checkout line went crazy and insisted that it was Santa and the mom tried to convince him he wasn't. Man walks over, tells the kid he is Santa, gives him a trading card from the North Pole and winks as he walks away. Kids is over the top excited. Found out the guy was a local mall Santa and doesn't lose the look all year long because he enjoys keeping the spirit of Christmas alive," shared Donna P.
"So cute! ❤❤ I remember the year before last, my daughter and I were at Costco with my dad and he spent a lot of the time talking about Christmas and Santa with her. She being two at the time, grabbed my pinky/palm as we were walking out of the checkout lane as my dad was paying for his things, and inquisitively blurts out, "Mommy! Santa! Yook [Look]!" and this older gentleman wearing a turban, in a beautiful tan and gold traditional Indian outfit, was walking by with his wife. She blurted out again, "Miss [Mrs.] Santa!" I believe my face turned beet red and I was about to apologize until he slightly turned his head in our direction, winked, smiled, then chuckled. His wife grabbed his hand and gave it a squeeze. They both were chuckling warmly as my daughter shyly asked, "They go on a chicken [vacation]? They're boo-ful [beautiful]." I wrapped her in a warm hug; smartest, sweetest little girl ever!" shared Amanda L.
"We saw Santa at our local Milos last summer. Mrs. Santa and him were here in Trussville Alabama on vacation in their convertible. He talked the girls and even showed them his ID from the North Pole. 🙂 They were smiling ear to ear for days. My daughter still talks about that to this day. She is 11 and her cousin is 10. Thank you to all the Santas that keep the magic alive!" commented Jennifer C.
"So sweet. Something similar happened to us… my 2 year old pointed to an older bearded gentleman at the airport and said 'mama, it's ho-ho (santa)' I was mortified but the man just smiled and said 'yes and I see you're a good boy. Keep up the good work!' ❤️" wrote Kelly R.
Whoever the older gentleman is, Aria will surely remember the kindness shown to her by the man with the big white beard at the grocery store for years to come.
You are Loved.
Please share this good news with others: when we share stories and examples of compassion and kindness, we inspire and encourage others to be kind and compassionate in their daily lives, making the world a better place for everyone.
See Also: Loving Dad Books 6 Flights On Christmas To Spend Time With His Flight Attendant Daughter