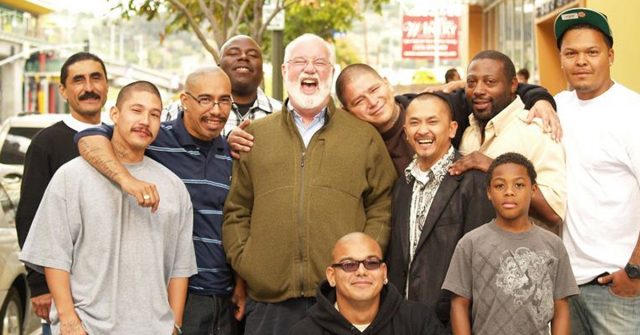 "Here is what we seek: a compassion that can stand in awe at what the poor have to carry rather than stand in judgment at how they carry it." ~Greg Boyle
Father Greg Boyle has spent over 30 years compassionately giving love to, being a surrogate Dad for, and rescuing thousands of youth involved in the gangs of Los Angeles.
He is the founder and director of Homeboy Industries, an organization that helps vulnerable youth free themselves from gang-life. He offers them free tattoo removal, job training, counseling, but more importantly, he gives them hope, love and a real family to join.




After receiving his masters degree from school, Greg became a Jesuit priest around the time of the Vietnam war.
"I was educated by the Jesuits. And I loved the Jesuits. And they were hilarious and prophetic. And this was during the Vietnam War. And they just, you know – let's hop in the van, and we're driving to San Francisco, to the biggest anti-war protest in the country's history. Yeah, let's do it. I love that stuff," Greg said.
Greg then spent a year in Bolivia volunteering and helping the poor with Christian base communities, and it changed his life.
"Well, I was ordained a priest in '84, and then I went to Bolivia to learn Spanish, really. And then it just turned me inside out. I was – it's what you would call being evangelized by the poor. I just said, I want to cast my lot with the poorest folks I can find. And it felt to me the fullness of where my life had led me to that point," Greg told NPR in an interview.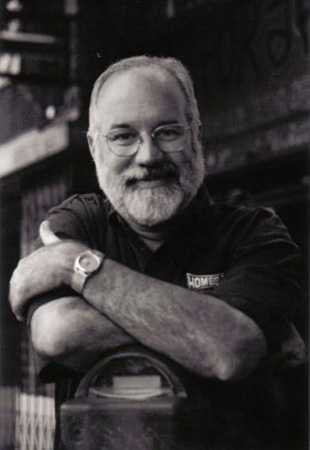 After his year of volunteering in Bolivia, Greg returned to Los Angeles and requested to be sent to their poorest church so that he could help the people there.
"So I was supposed to go to Santa Clara University to work kind of in the campus ministry there, and I just couldn't do it. So I went to my provincial; 'Please send me to the poorest place you can.' And then by luck, they sent me to Dolores Mission. And I figured I'd be the third guy on the totem pole. But nobody was there when I got there. So I was the pastor. I was the youngest pastor in the history of the diocese. You didn't make people my age pastor," Greg explains.
The church he was sent to ended up being directly in the center of the most violent and dangerous gang area of Los Angeles. Greg originally held services on the weekends, but began to take a different route after presiding over the funerals of many young local residents who were victims and perpetrators of gang violence. He decided to spend his weekdays riding his bike around the projects and building relationships with the different gang members in order to make a difference.
He rode his bicycle through the streets late at night, asking for peace between gang members and making truces between them, often times himself stepping between the gunfights. Greg would ride to the hospital with the gang members when they were shot, staying by their side and visiting them while in urgent care and in youth detention centers. What once were unreachable teen gang members began to be a group of youth who respected and loved Father Greg.




"I knew that I needed to visit them once they got locked up or shot, and in the old days, there were more wounded than now, because the caliber of weaponry has changed so much. So I would go visit them while they were locked or in a hospital, and they were quite vulnerable and teary and deeply grateful that you visited them. Then they got out. Then they told their homies, hey, that guy visited me. And suddenly you had entre, you know. Suddenly, they were coming to you, and suddenly you had juice or influence, or suddenly you could say stuff and they'd, you know, halfway listen."
Countless men and women tell of how Father Greg, or as they call him 'G-Dog', personally changed their trajectories and saved their lives through his incredible and boundless compassion: loving them regardless of how many wrong things they had done in the past, and consistently encouraging them towards a brighter future.
"Gang violence is about a lethal absence of hope," Father Greg says. "Nobody has ever met a hopeful kid who joined a gang."
Father Greg explained how most all of the kids involved in gangs are not bad people, rather they're children whose parents are most often abusive and violent towards them. He explained how he's heard countless stories of the teens telling him that their parents would nearly drown them by holding their head in the toilet before flushing, among many other awful experiences that the average child never has to face. Most all gang members were simply abused children, and gang violence was a symptom of having an extraordinarily difficult childhood. Rather than condemn them, Father Greg wanted to connect with and to remind them of their loveliness.
Deeply wanting to help the lovable young men and women he talked to each day, rather than telling them what to do, he began to ask them what they needed to make their lives better. Their responses turned into the services that Father Greg offers through his compassionate organization Homeboy Industries.
"If you're humble, you'll ask the poor, what would help you? But if you're led by hubris, then you tell the poor, here's what your problem is; here's how you fix yourself. And so Homeboy has sort of stayed humble in as much as it's listened to the formerly gang-involved and has responded at every turn, what can we do that is concretely helpful?"
"As long as you listen to folks, they'll tell you exactly what they need. I think in 30 years we've allowed ourselves to be reached by this population and have received their suggestions. Everything is building on that."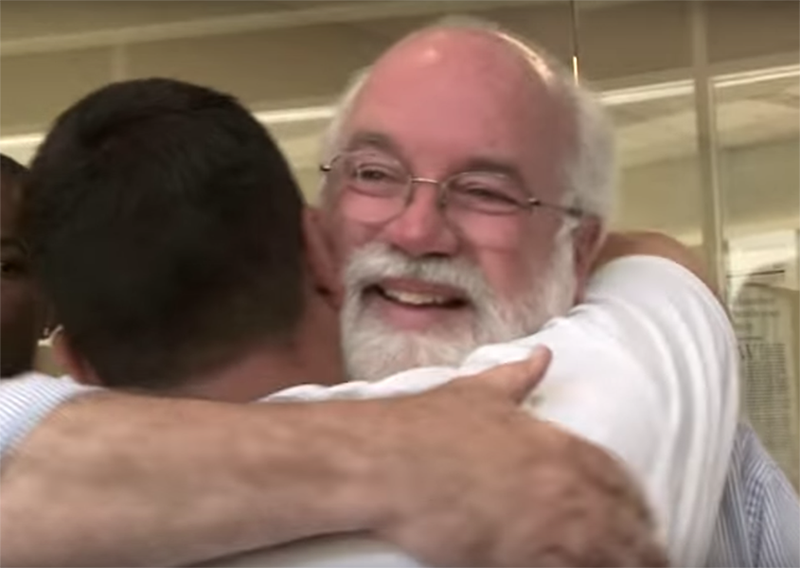 "I've never met a hopeful kid who joined a gang." ~Greg Boyle
Father Greg realized, with the help of many people in his parish, that he needed to provide jobs and education as alternatives to the gangs and the senseless violence they create. So, they started a small job program, "Jobs for a Future," as part of Dolores Mission in 1988. They became Homeboy Industries in 2001, and have grown to become one of the largest, most comprehensive and most successful gang intervention, rehabilitation and re-entry programs in the country.
Homeboy Industries provides hope, training, and support to formerly gang-involved and previously incarcerated men and women allowing them to redirect their lives and become contributing members of their community. Each year over 10,000 former gang members from across Los Angeles come through Homeboy Industries' doors in an effort to make a positive change. They are welcomed into a community of mutual kinship, love, and a wide variety of services ranging from tattoo removal to anger management and parenting classes. Full-time employment is offered for more than 200 men and women at a time through an 18-month program that helps them re-identify who they are in the world, and offers job training so they can move on from Homeboy Industries and become contributing members of the community – knowing they count!




"He never gave up on me," ~former gang member turned Homeboy employee.
Father Greg and his team go to juvenile detention centers and prisons and talk with gang members, letting them know they are loved, and saying that if they'd like an opportunity to turn their lives around when they get out, to come and see them, and that's exactly what thousands and thousands of young men and women needing love and an opportunity have done.
"Homeboy Industries has been the tipping point to change the metaphors around gangs and how we deal with them in Los Angeles County. This organization has engaged the imagination of 120,000 gang members and helped them to envision an exit ramp off the "freeway" of violence, addiction and incarceration. And the country has taken notice. We have helped more than 40 other organizations replicate elements of our service delivery model," explains Father Greg.

One former gang member turned wonderful all-around-guy Damond Johnson shared some of his story in being with Homeboy Industries and they feature it on their website:
"I always wondered 'Why am I like this?'" Damond recalls. "I was real mean. I had trouble being around a lot of people." Like many who have experienced trauma, Damond was reluctant to trust anyone. "I didn't talk to Fr. Greg for seven or eight months—he was always hugging people," Damond admits. He gradually opened up to Homeboy staff members, but he reached a turning point when he became a GED tutor. "There was a guy I had to tutor who was from a rival neighborhood. There was a fresh beef between our communities. But I found out he was a great guy, and we were both at Homeboy for the same reason. We still hug each other whenever we see each other. And I figured, if I can build a relationship with him, I can build one with other people."
Another former gang member Valerie Copeland shared how "Homeboy is a place where it is Okay to be myself:"
"Life was pretty regular for me until I turned 12. In the sixth grade, I started realizing that my sexuality was something that made me different. My mother and aunt were very against me being a lesbian, so my way of dealing with these problems was to self-inflict pain. At age twelve I started cutting myself. In eighth grade, I attempted suicide. I overdosed on Motrin. Of course I didn't die. At age nineteen I decided to rebel. I was gang banging. I was completely untamable.
I had a very short criminal career because I was arrested fast. I went from never being in trouble to having 22 counts of robbery against me. My sentence ended up being five years with two strikes. When I came home, I remembered hearing about Homeboy Industries. I started coming to classes. I attended Healing Circle, a class focused on transforming trauma instead of transmitting it. Today, I look back and remember how it felt to walk through the doors at Homeboy. Homeboy is a place where it is ok to be myself —on parole, a tomboy, and scared. Homeboy Industries is a welcoming community. I smile daily because I know Homeboy is truly a second chance organization founded with love. On my worst day there is not another place I would rather be than at Homeboy."
Homeboy shared Brandy Harris' moving and inspiring story as well:
Brandy Harris is soft spoken but tells a powerful story. "In 1996, I lost my brother in a drive-by shooting. I was only 17. His killing really put me in a place where I felt I had to do something personally. I began to have the mentality that I was out for revenge. That's when I got heavily involved with the gangs."
She kept her gang involvement a secret. "My family never knew the depths I was participating out there in the streets." The truth came out during Brandy's first arrest in 2005. After a series of arrests and sentences, Brady wasn't released until January 2011. Homeboy has helped Brandy to become her own role model.
"Homeboy is a big deal. It's a blessing to be a part of something so big, so unique. I always carry Homeboy with pride. They helped when no one else would believe in me," she says. "Yes, I had a high school diploma and an AA degree. But I had a history of violence, a criminal background, things that held me back. I couldn't pass background checks. But the minute I walked through this door, I was welcomed. Homeboy acknowledged my personality and ambition. I knew exactly who I was and I set my goals. With Homeboy's help, trusting and believing in me, they always see that I meet those goals. Homeboy, Father G, my staff—everyone here has been wonderful. I want to thank them for giving me the opportunity to improve myself."
They produced a simply life-changing documentary called G-Dog on Father Greg's journey of compassion in helping gang members turn their lives around, and everyone should see it. It's a top 10 for documentaries related to compassion. Here is a quick trailer of the incredible movie:
Father Greg's ability to look beyond the mistakes of troubled youth and to give them unconditional love combined with hope for a brighter future is truly a beautiful thing to see. His loving heart has changed the lives of thousands of young men and women belonging to a heavily demonized area of society, and he's shown the world that what the poor and hopeless who have turned violent really need is unconditional love, an opportunity, a place to heal and someone who truly believes in them.
There are a variety of ways to support Father Greg and Homeboy Industries available on their website: homeboyindustries.org all of which help to rescue and provide a second chance at life for the many lovable youth of Los Angeles who had a very difficult start in life.
You are Loved.
See Also: She Rescued This Starving Boy Who Had Been Labeled A Witch, And He's Making A Wonderful Recovery