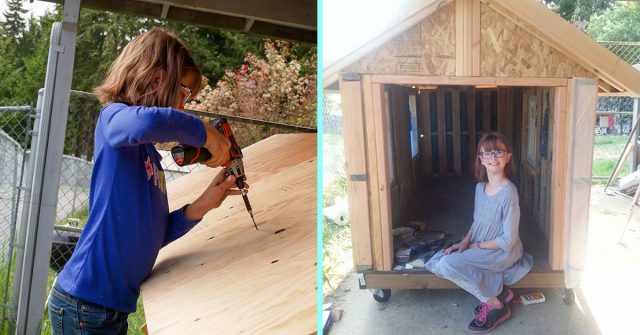 Hailey Fort is a kind-hearted 9-year-old girl who has spent nearly half of her life making sure that the homeless people in her community are taken care of.
When Hailey was just 5-years-old, she was out with her mother in Kitsap County, Washington, when they saw a homeless man outside on the street. Little Hailey asked her mom if they could help the homeless man, named Edward, and her mom said yes, so they bought him a sandwich. Now Hailey and her mother work together to help the poor and those in need in their city.
Hailey became good friends with Edward, and her pure heart came up with the idea to grow food in her garden to help feed him. At first, she had the cute idea of wanting to be able to donate more than her weight in food in one year, so Hailey set a goal of growing 55 pounds of fresh fruits and vegetables to give to Edward and to other homeless people in her community. That season she grew carrots, peppers, peas, beans, tomatoes, berries, cucumbers, and melon. To everyone's joy and surprise, she was able to donate 128 pounds of fresh fruits and veggies which she had diligently and lovingly been taking care of.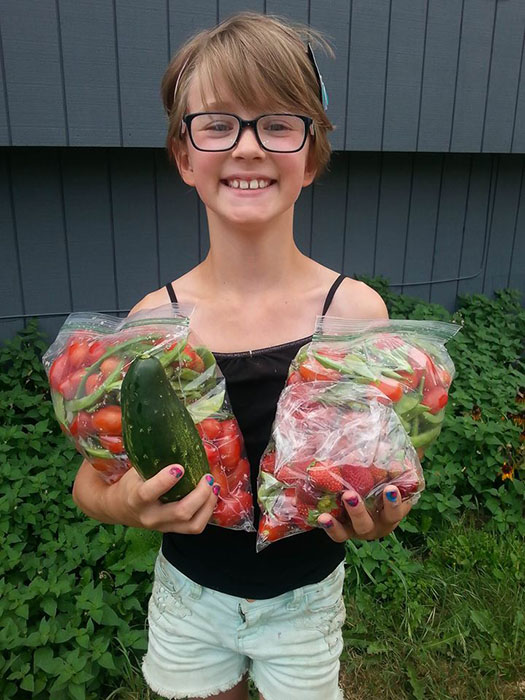 Hailey has since increased her goal to be able to grow more than 250 pounds of food for the homeless each year, and she started her own Facebook page Hailey's Harvest, where she shares her progress with others.
After regularly being able to give food to Edward and other homeless people in her home county, Hailey began to understand that her homeless friends were suffering when they had to sleep outside each and every night, and she felt compassion for them. Shortly after, Hailey came up with the idea of building small homes for each of them herself.




"So then you don't get rained on and you feel safe and stay dry," Hailey explained. "It just doesn't seem right that there are homeless people. I think everyone should have a place to live."
Hailey got permission to make a small home for Edward, and while getting construction tips from her grandfather and help with heavy lifting from her parents, she has managed to do everything else by herself. Her parents let her work for one hour each day and don't let her use power saws, but in a few short months she was able to build a frame, walls, windows, install insulation and even solar panels for electricity.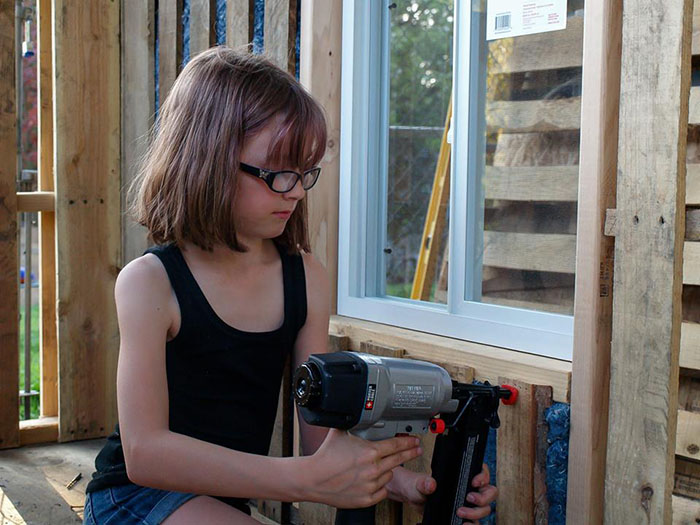 "If she had her way, she would work on them all day," her proud mother, Miranda said.



Thanks to generous discounts from local hardware stores and donations, Hailey was able to build Edward's shelter for around $300. The walls are made of pallets which are stuffed with recycled denim insulation and wood siding, and the inside is drywall with vinyl flooring. The tiny home comes complete with windows, curtains, a solar-powered lamp and a front door with a lock.
Hailey shared of picture of Edward with the following note: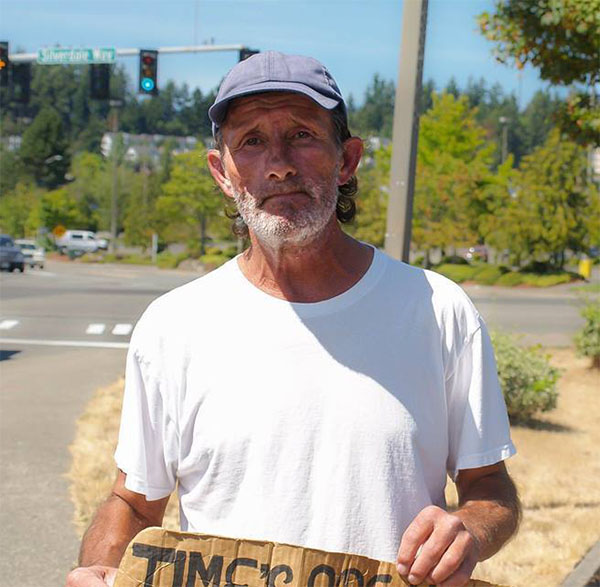 "This is Edward and he will be getting the mobile sleeping shelter when it is completed. Today when we talked he told me he had a place to sleep for tonight, but not for after that. This picture was taken last year when I first met him. Now all I need is a church or business that will allow him to park his sleeping shelter in their parking lot. If you know of a place, please let me know. I can't wait for him to have a place to sleep every night."
Hailey and her family were later able to find a church which allowed Edward to park his home. Miranda said that Edward has "always been so gracious when receiving food."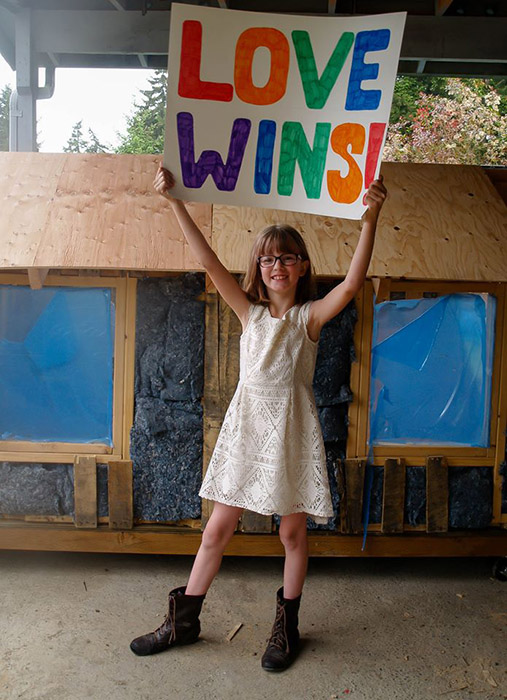 Hailey afterwards set a goal of building 12 shelters a year for her homeless friends; each with wheels on the bottom so that they can bring their houses with them. She has also setup a GoFundMe to raise donations, and has been able to donate thousands of toiletries and feminine hygiene products to the homeless, as well as hundreds of brand new coats for children in need.




"I am immensely proud of the contributions Hailey has made and will continue to make to her community. I just hope we, as parents, can do enough to satiate her desire to help those in need," Hailey's dad, Quentin said.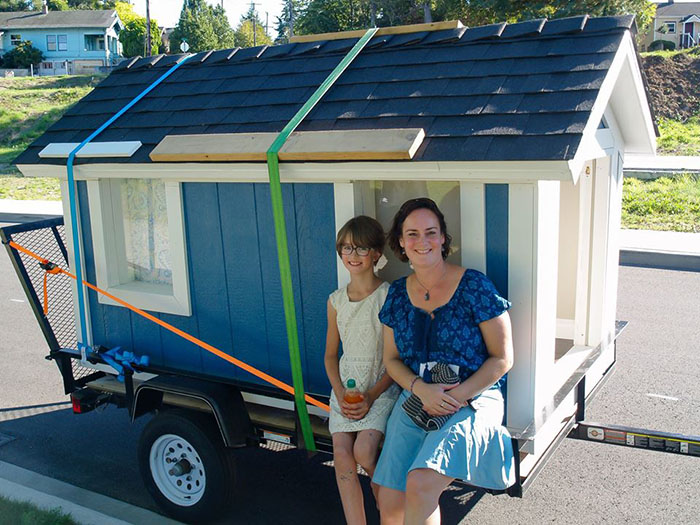 "God bless you helping 🙂 a heart of gold you have. There should be more people like you to help," A. Elizabeth commented online.
"I just read your story in the newspaper, I'm from Brazil, and you're amazing. keep going. Your parents should be proud of u, This world needs more people like you, congrats, and love always wins!!" Lucas G. shared.
"I knew [about] your great activities from a Thai-Buddhist monk's Dharma Talking. I appreciate you!" said Urasaki M. who donated to her cause.
"Hi Hailey and family, your selfless love towards the homeless people set a great example for many people. Very proud of what you have done." said Annie D., another contributor.



It's beautiful to witness the kind actions which come from the pure heart of a child. Hailey understands that the homeless are people just like you and me; that they are our friends who need and deserve our love.
Hailey hopes to inspire kindness in people:
"You can do that by just planting a tree or opening the door for someone," she said.
You are Loved.
See Also: These Kind Neighbors Repaired And Painted The House Of A Lonely, Retired School Teacher For Free