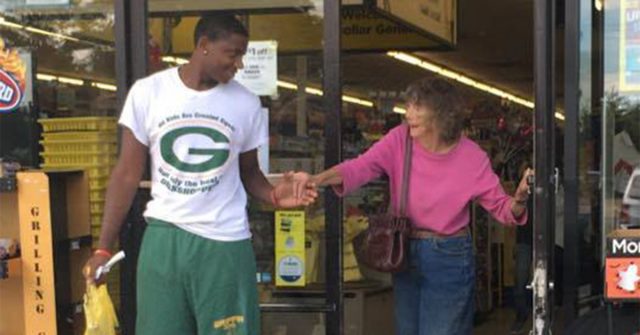 When a kind high school senior saw an elderly woman struggling to walk and open the doors of a local store, he got out of his car to take her hand and help her walk inside. He then even helped her with her shopping, and after walked her all the way back to her car, making sure that she was okay.
The 81-year-old woman recently had a fall and injured her back and face, so walking the distance from the parking lot to the doors of Dollar General was a difficult task.
17-year-old Griffin High School senior Senquavious Driver was in the car with his aunt, Connie Sweet, when he saw an older woman struggling to make it to the sidewalk.
"We were about to pull off and leave [the Dollar General] when she was trying to get out of her car, but she was struggling to get on the sidewalk," Connie said. "She barely could walk."



Without hesitating, Senquavious jumped out of his car and asked her if she was okay. The kind young man then proceeded to walk her inside and attentively helped her as she shopped.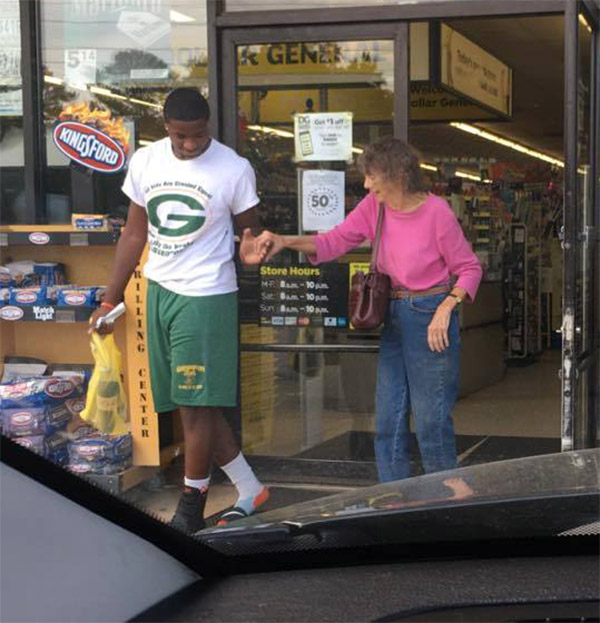 "He helped her in the store and shopped with her and he walked her back out to her car. She was only going in for a soda, but she barely could even get in the store," his aunt said.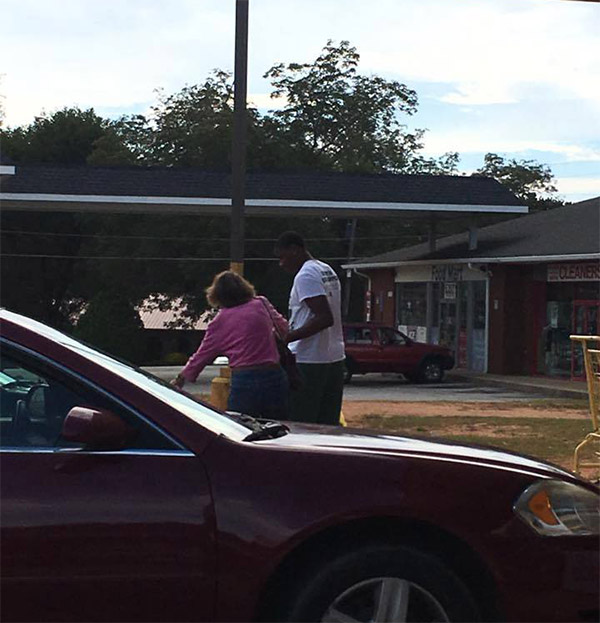 The smiles on the woman's face showed just how grateful she was for his kindness.
"I was in tears taking pictures because he didn't hesitate to help her, and that made my heart happy," his aunt said. "I'm so proud of him."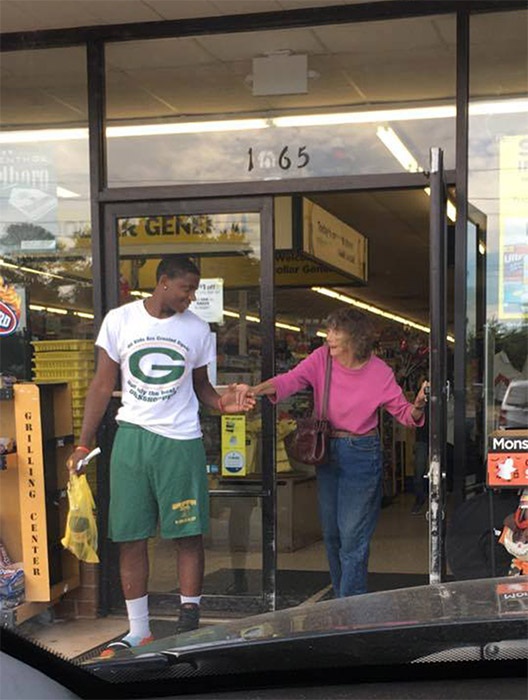 The humble young man didn't think that what he did was a big deal, but tens of thousands of people online have left him comments of encouragement and praise for his random act of kindness.
"What a wonderful young man!!! This is beautiful and I am sure this lady will never forget this caring young man. God Bless You, Sir!!" JoAnn T. shared.
"There are so many good young people – we need to hear more stories like this – his family must be so proud of him," Sharon P. said.
"He not only helped her physically he made her day emotionally too. Look at her huge smile as he is holding her hand helping her back out to her car. This young man is a hero," Shari A. shared.




17-year-old Senquavious Driver is an everyday hero whose kind heart not only made a difference in the life of a struggling elderly woman, but his story has also inspired thousands of other people who love and will likely follow his example.
We thank you Senquavious for making us smile.
You are Loved.
See Also: Kind Teens Picked Up An Elderly Man Who Fell, And Then Walked Him Back Home