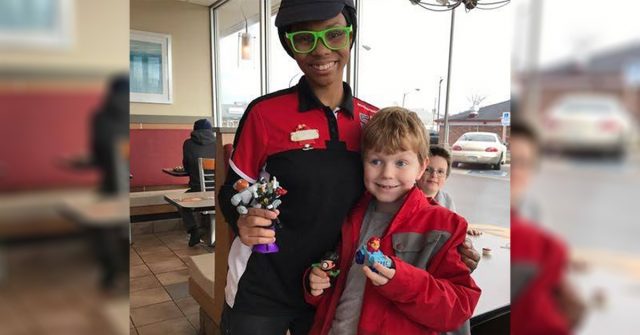 They had just run out of toys when a boy came to her and asked for the special Team Titans toy that would come with his happy meal.
Bonnie Kandel's son, Leif, had been talking for weeks to his mom about a toy that his friend received in a happy meal. It's very hard for her young boy with autism to let go of something once he becomes fixated on it she explained, so she decided to do what any loving mother would do and took her son to go get one of these treasured toys at their local McDonalds.




After finding out that they had just run out of toys, her son was devastated, until a kind cashier decided to do something kind:
"My son, Leif, has autism. He is a picky eater and has a hard time letting things go when he gets fixated on something. After a few weeks of hearing how his friend at school loved a toy from McDonalds, I knew eventually a happy meal was in our future. So after a few weeks we ventured out in search of the much discussed happy meal. We ordered and asked about the coveted Team Titans toys that were displayed on a kiosk. They had run out, no more left. Leif was devastated."
"I explained more about Leif and why it was so important to him….that he had been talking about these toys nonstop for weeks. The lovely young woman who goes by TQ heard me and understood. She asked the manager if she could dismantle the kiosk and give Leif the toys. It took some convincing, I overheard, because this was not something they were supposed to do. TQ spent the next 15-20 minutes getting those toys for my son. He was overjoyed and has been playing with them for HOURS! McDonalds, I hope you know how lucky you are to have such a sweet woman on your staff. Someone who takes special care of their customers, someone who goes well above and beyond."
"Thank you, TQ, at the 10th and Girls School Road McDonalds in Speedway, IN. These simple happy meal toys mean so much! Your effort was an expression of love and made a difference."
With 1 in 59 children being autistic, it's deeply important for us to understand, to be kind, and to do what we can for autistic children. TQ's beautiful heart showed us how one person can make a difference in the life of a precious child.
You are Loved.
See Also: The Compassionate Keanu Reeves Has Been Secretly Donating Millions To Children's Hospitals For Years