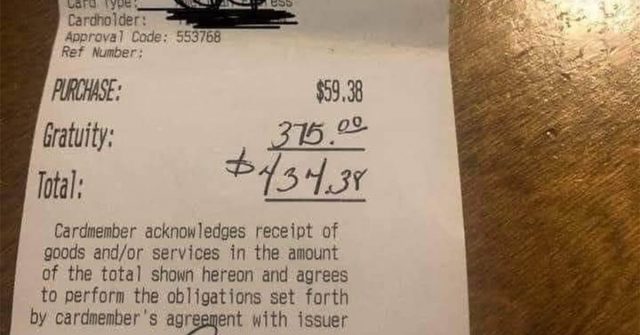 During a normal day at work, a kind couple blessed a waitress with a $375 tip in order to help her pay her rent.
Kiara Brown was waitressing at Rivals Steakhouse in Greenville, Mississippi, when a kind couple she was serving started a conversation with her. Kiara didn't tell her customers, but it had been a difficult week up to that point.
"This week has already been a lot on me and today at work I'm waiting on my tables the same as I always do," Kiara shared in a post online. "I proceeded to check this table out and the lady asks:
Lady: How much would you like for a tip?
Me: Whatever you give me is fine.
Lady: What do you need?
Me: Nothing"
The couple continued asking Kiara questions, all the while seeing if there was some way they could be a blessing for her.
"Man with the lady: How old are you?
Me: 24
Him: [Do] you have kids?
Me: Yes a son, he's 4.
Her: If he needed anything, how much would it be?
Me: He needs a lot, I'm not sure (I smile and walk away)"
When Kiara returned to their table, the couple asked if she had any bills that she needed to pay.
Her: [Do] you pay all [of] your bills?
Me: Yes ma'am
Her: If you had to pay a bill today, what would it be?
Me: Rent
Her: How much [is] your rent?
Me: $375
Her: Okay, I'm leaving you a $375 tip, I'm paying your rent.
The lady wrote and signed a $375 tip on her receipt to cover Kiara's room in her apartment. At the bottom of the receipt, she wrote, "Be Blessed."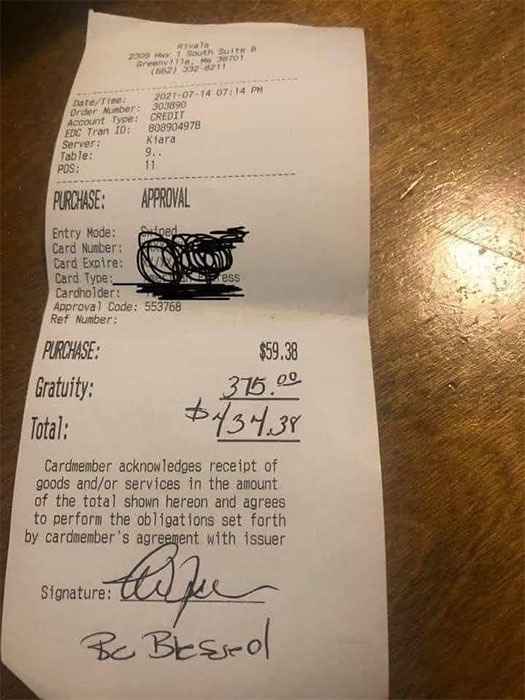 The generosity of the kind couple moved Kiara deeply.
"Y'all I couldn't do anything but cry!!! This was a blessing in disguise! ???❤️"
Thousands of hearts online also appreciated the couple's kindness for Kiara.
"There are Angels out there, Kiara, I am so glad you found yours. Blessings, Love and Light…" commented Lucinda L.
"How nice!!! That made her month!!! Thank you kind lady, from a fellow server…✌❤️?" wrote Kim B.
"The value of vulnerability ❤️" commented Blake O.
"I feel this in my soul. I had a man pay to fill my gas tank today just because I had casually mentioned I was wearing super bright clothes because being bright and happy is important on my birthday ?" shared Kimberly G.
You are Loved.
View this post on Instagram
Related Compassion:
Struggling 89-Yr-Old Pizza Delivery Man Surprised By Strangers With A $12,000 Tip
Kind 12-Yr-Old Gave Her Only $5 To A Homeless Woman
Kind Cashier Used His Own Card To Pay For Homeless Man's Meal; Next Customer Tipped $100