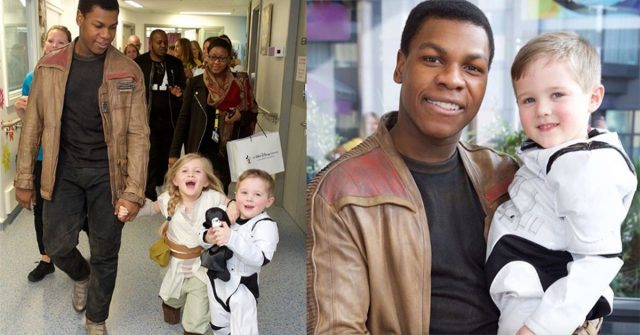 The 23-year-old John Boyega came to cheer up sick children at the Royal London Hospital dressed as his "Star Wars: The Force Awakens" character, Finn. He came bearing gifts, giving the children an experience which the children's mothers described as "priceless."
Working together with the Rays of Sunshine children's charity, the sweet young boy Daniel Bell said he wished that he could hand out presents to other young children in the hospital alongside his favorite film character Finn, and after hearing this, Boyega said he "jumped at the chance" to grant it.
5-year-old Daniel had recently been diagnosed with a brain tumor.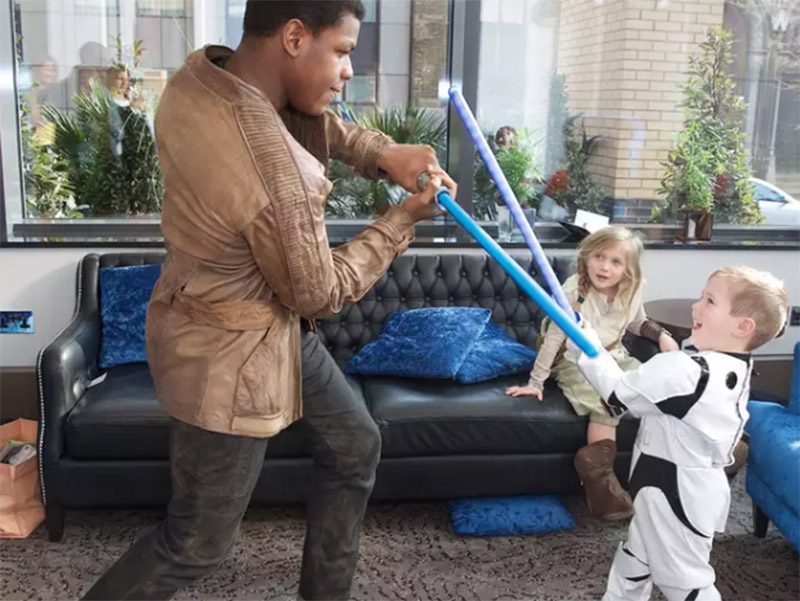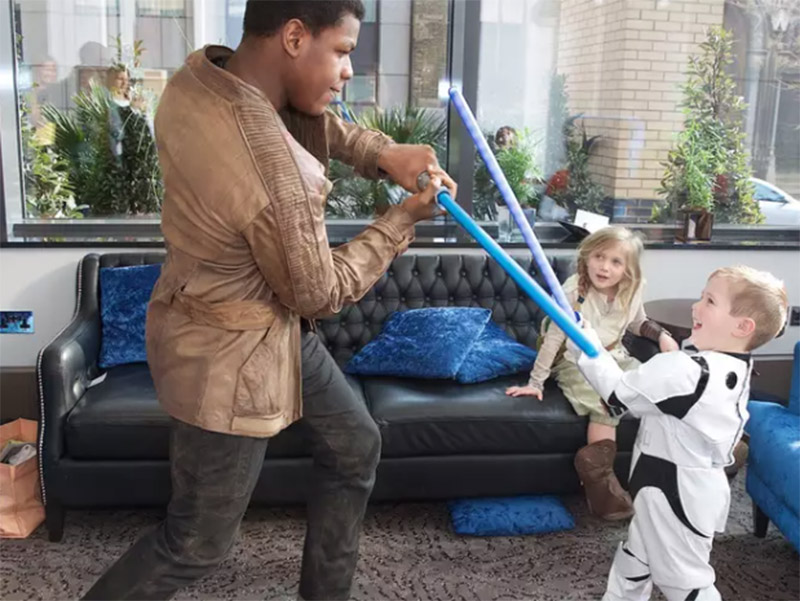 In an Instagram post, Boyega explained: "This little stormtrooper Daniel had a wonderful wish after seeing the force awakens. Daniel currently lives with a brain tumour and rather than having Finn to himself he wanted Finn to meet the kids at the Royal London hospital and give them some toys.
I stayed in character while I was with this brave boy asking him what a car was. He taught Finn about everything earth related! Really thankful for the opportunity this child granted me and I'm just humbled! I hope I played a little part in making you smile young stormtrooper. ❤️❤️❤️"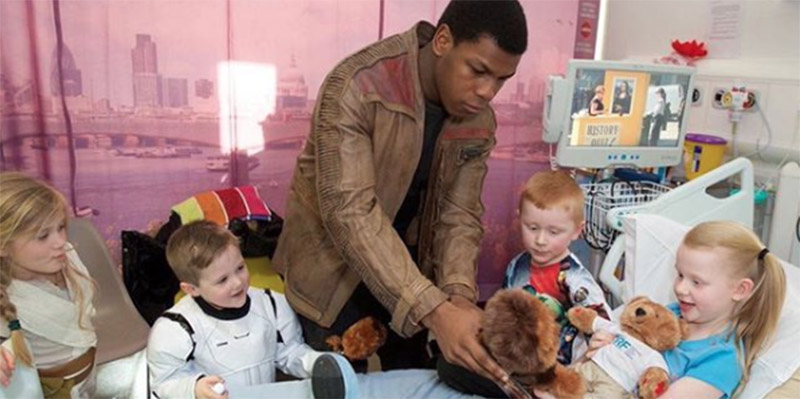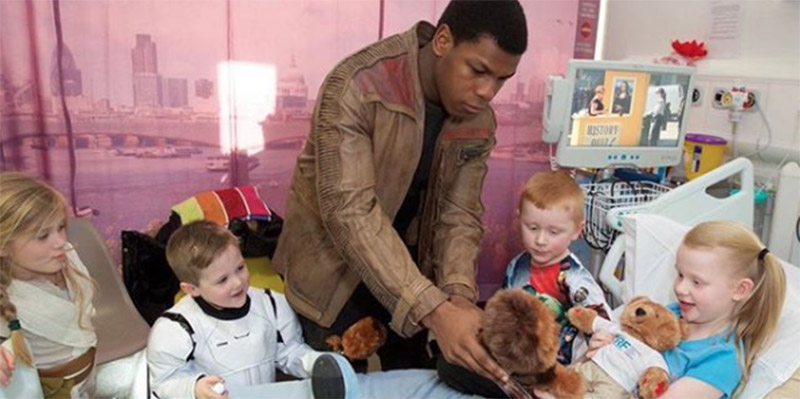 Another young girl and superfan named Layla dressed as the character 'Rey' and helped Boyega hand out gifts to children at the hospital.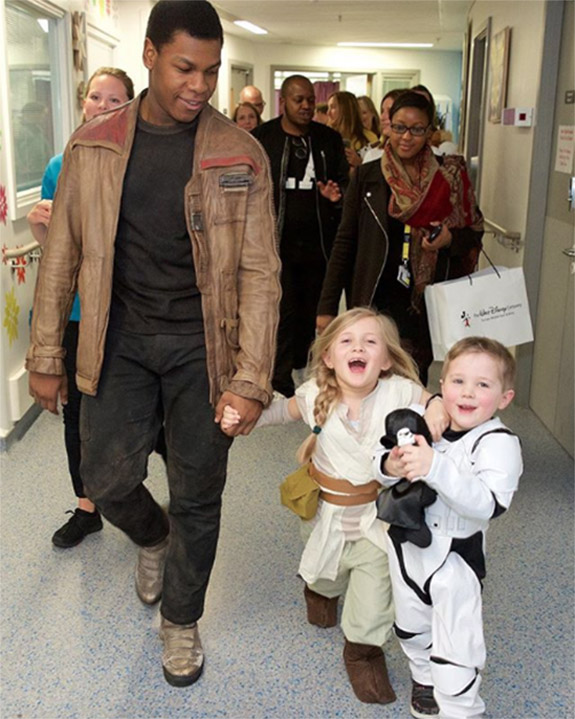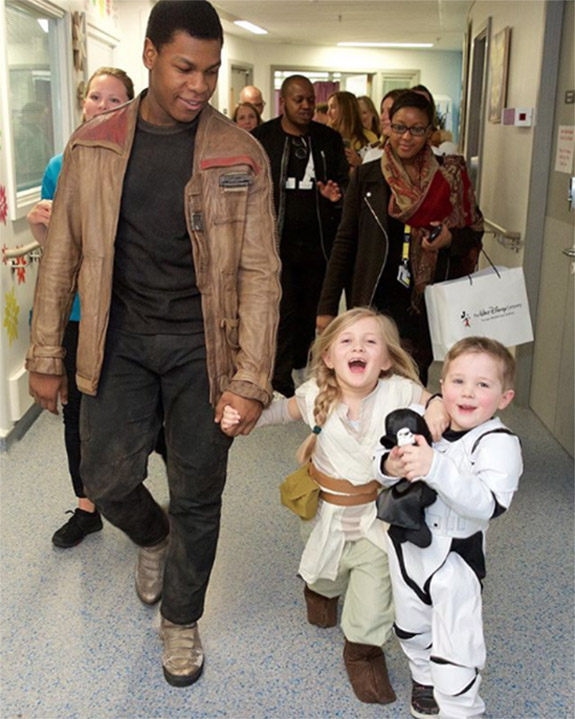 After their day of smiles and compassion, Boyega said, "It was fantastic to be a part of his very special wish with Rays of Sunshine," the actor said. "It was also great to meet the children at the Royal London Hospital and be a part of something so positive."
Daniel's mom said later that, "To see Daniel smile like that without a care in the world after everything he's been through, knowing how much time and effort Rays of Sunshine have put in to his wish and that John Boyega gave his time to make it come true, is priceless.
She added: "These things can't be bought and really do mean the world."
If you have a children's hospital near you, consider stopping by with some small gifts or even just some big smiles to share with the brave little ones there. New friendships and kind role models with people who believe in them can help to lift the spirits of children who are going through more than we can imagine.
"Sometimes, real superheroes live in the hearts of small children fighting big battles." ❤️
You are Loved.
See Also: He Visited His Biggest Fans In The Hospital, And Their Reaction Will Melt Your Heart