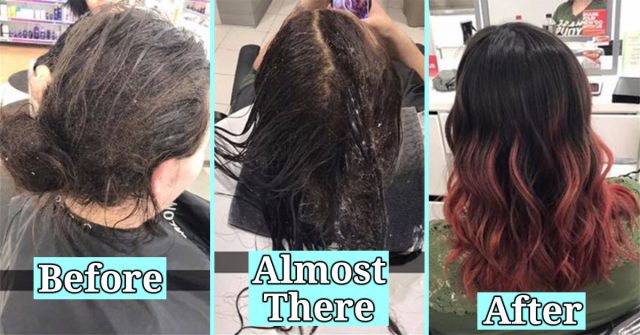 A hairstylist's act of kindness helped a deeply depressed woman feel genuinely good about herself again.
When Kate Langman saw a quiet woman pulling nearly every product off of the shelf at her beauty salon, she asked her if she could help with anything. The woman was quiet at first, but she began to tell Kate her story. She hadn't been able to get out of her bed for the past six months due to severe depression, and during that time her hair had become very tangled and had turned into a large dreadlock.
Her wish was to "look like herself again," and she didn't want to cut all of her hair off, which may have left her feeling more depressed. After several attempts to have the woman come in for an appointment, one day she showed up.
"I had a huge sense of relief when she walked back into the store that day," Kate, who has a close family member who also suffers from depression, said. "It meant she still had the drive to better herself. I knew if I could help her, it could be the first step to her becoming happier."
Kate cleared her schedule and spent the next eight and a half hours conditioning, untangling, and styling the woman's hair; healing a part of her self-image, and her life. The experience was so powerful for Kate that she was moved to share the following viral post online:




"I work at The Salon inside Ulta Beauty. About a month ago, I saw this woman pulling every product off the "All Soft" Redken line. When I asked her if she needed any help, she began to tell me her story. A very long story short, this women suffered with a very deep depression. She couldn't get out of her bed for 6 months. Which meant she didn't wash her hair or brush it. She kept pulling it back into this bun which after that long of time turned into a huge dread lock. The bun was so matted that it felt like she literally had rocks on the back of her head."
"This is when I mentioned to just put all the product back on the shelf. We made an appointment for the following day and she didn't show up. She then called about 2 weeks later and booked another appointment. And once again, no showed. At this point I figured she wasn't going to ever end up coming in. It actually, kind of, broke my heart. I wanted to help her so much," Kate explained.
"So today, out of alllll days, she comes walking in and asked if she can get her hair done today, and that she finally got herself out of bed again. I, of course, said yes. I didn't care how late I stayed, I wanted to make sure she got taken care of. She wanted to keep it on the longer side if it was at all possible. Most of the time the advice is to just cut it off.. But I wanted to make this work for her. I wanted her to know how hard I was going to try to make her feel great again. I explained to her prices and she said 'I don't care about the price, I just want to look like myself again.' I spent 8 1/2 hours with this girl. 4 1/2 hours of combing, and 3 hours coloring and 1/2 hour for the cut. All of this time, I'm just telling myself to keep going.. that this is going to be all so worth it."
"By the end of this service, I could see the sparkle in her eyes and I could see her cheeks get rosy pink from the excitement of not only being able to run her fingers through her hair again, but she felt herself again. I changed someone's life today and I'll never ever forget it."
"And if this ever makes its way back to her, I want her to know how great, wonderful, kind, loving, and how strong of a person she is. And not only those things, but how beautiful she is.. she deserves nothing but happiness.. and I'm so thankful and so grateful I got to help with her first step."
Kate's story was liked more than 150,000 times online, and it caused numerous people who struggle with depression to share their stories as well:
"As someone who suffers from depression, I know that the fear of judgment is something that has kept me away from places I know could help," one person wrote in the comments. "The best part of this story for me is the kindness and lack of judgment and willingness to help. And her hair looks beautiful in the end!"
The woman now keeps in touch with Kate, and she shared her heartfelt gratitude in a message:
"She gave me the courage to try and change my life," wrote the woman. "THANK YOU so much with all my heart and soul. You saved me and helped me come back from the edge I was also going over. You always have my love and gratitude."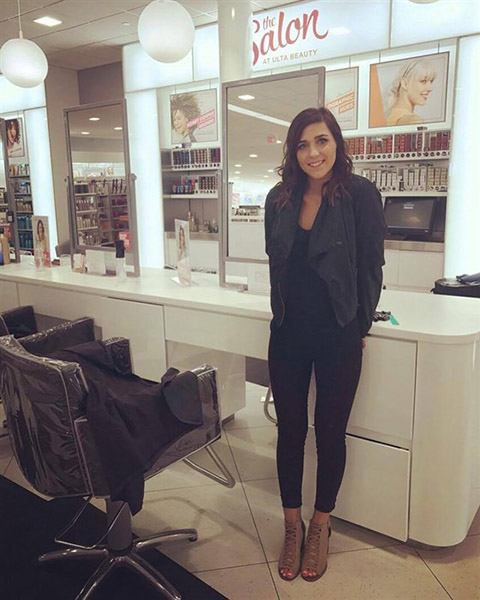 More than 17 million people suffer from depression in the United States, and thanks to compassionate people like Kate, one woman's journey became a little bit softer, hopeful and brighter.
You are Loved.
See Also: 8 Depression Management Tips That Help A Person Feel Happy Again