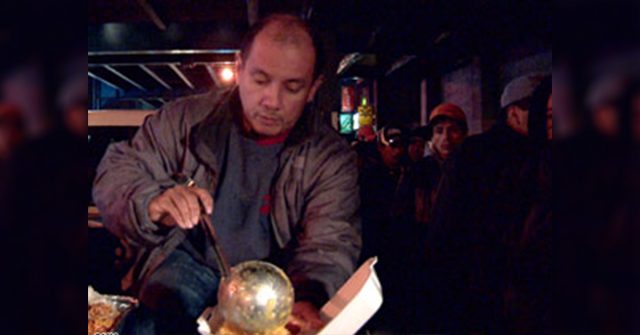 Each night, Jorge Munoz and his family cook and deliver between 120 to 140 home cooked meals to the homeless and to those in need.
Nicknamed the Angel of Queens, Jorge has served more than 100,000 warm meals to the hungry in Queens, New York.
"The smiles on their faces, when [they] see they got something to eat….aaaaah, [We're] feeding [more than] a hundred people," Jorge said. "If you change the life of one guy, that's enough… They depend on me."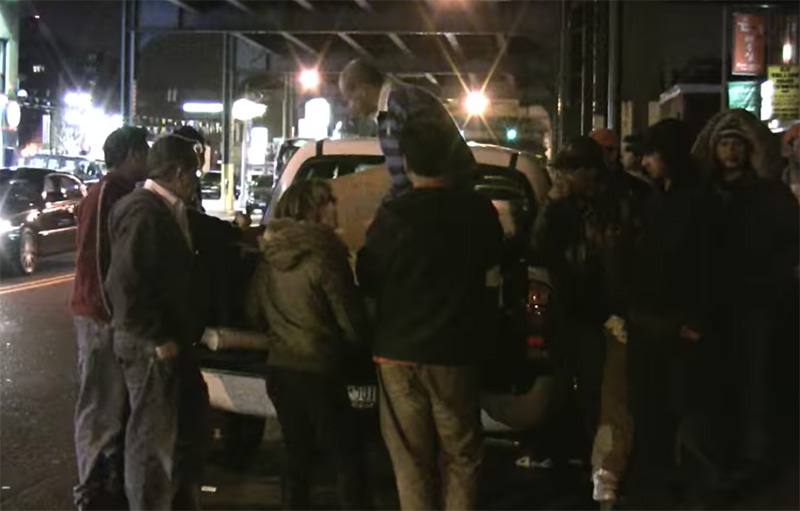 Jorge first began feeding the homeless after seeing large amounts of edible food being thrown away by a food factory while waiting to pick up his students at a school bus stop.




"I saw people throwing away food at a food factory," he explained, "I thought, why are they throwing that away? I can give those to the hungry people I see on the street every day."
Jorge began asking the food manufacturers if he could pick up the food they were disposing of each day, and many agreed. Each day he gathers as much food as he can, and then he goes to the grocery store to purchase however much more he needs to be able to feed everyone that night. He spends more than half of his $700 weekly salary on groceries for the hungry.
His small apartment is filled with supplies, food, and extra clothes and blankets, which he also hands out to those who are cold each night. When Jorge arrives in his truck, a small and grateful line of laborers who did not find work that day, and of the hungry and homeless begins to form.
"I'll help anyone who needs to eat. Just line up," Jorge says.
Jorge is filled with joy and compassion when he arrives, and after having spent so much of his own money and time in the service of others, he believes that this is the time when he truly receives:
"You have to see their smiles, on their faces. When they smile, I always say that's how I get paid," Jorge tenderly explains.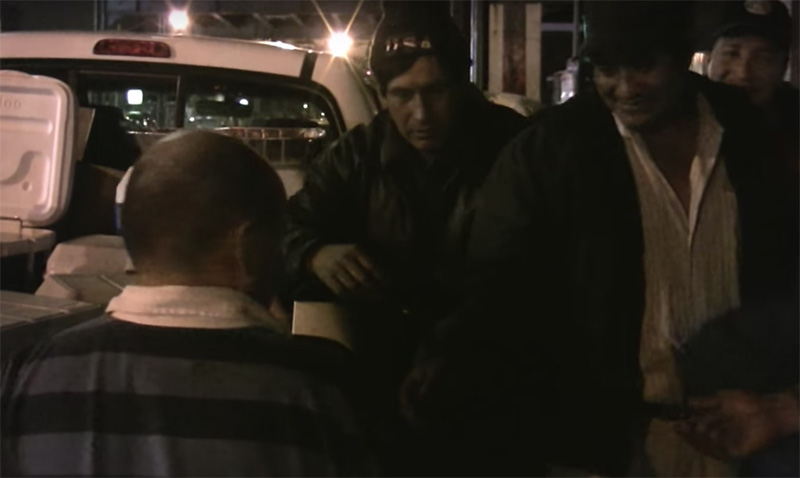 While many people still shun or dislike the homeless, Jorge's beautiful example of compassion is truly a teaching which comes from the heart. Many don't understand the homeless; the terribly difficult lives they live. Being freezing… starving… exhausted… stressed every day… in pain… They think, 'Why can't they just get a job and pull themselves up by their own bootstraps?' They don't understand the homeless person's horribly painful childhood filled with abuse, their life of not having a family, their daily struggle with debilitating PTSD and mental illness; their life of being alone in this world with no one to love them. They don't understand that anyone given their same childhood and same set of circumstances, would end up just like them.
"When I see these guys on the street," Jorge says, "it's like seeing me, 20-something years ago when I came to this country."
Jorge was born in Colombia and lost his father when he was very young. His mother experienced great difficulties trying to provide for Jorge and his sister, but she made her way to New York and found work as a nanny, and was able to provide for her children. Today, Jorge is taking care of hundreds of lovable human beings who are struggling as he once was.
"He comes here without fail," said one of the regulars. "It could be cold, it could be really hot, but he's here."
"I thank God for touching that man's heart," says Eduardo, another one of the regulars.
"God gives everyone a mission," Jorge said. "It's our decision to accept the mission or not. This is God's mission for me, to feed these people. To see the look on their faces, the smiles, when I put food in their hands… it's a great feeling."
After news surfaced of the many years Jorge has spent helping the hungry in Queens, he was awarded the Presidential Citizens Medal by President Barack Obama; the second highest civilian honor in the United States.
Watch the following two clips showing Jorge feeding the hungry and see why he is known as The Angel of Queens:
You are Loved.
See Also: He Spends His Sundays Giving Free Haircuts To The Homeless In NYC