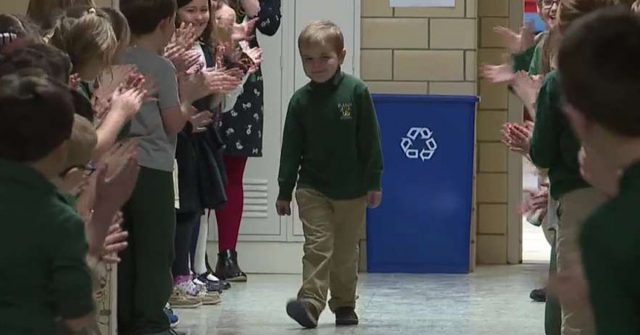 After three years of battling leukemia and finishing his last round of chemotherapy, 6-year-old John Oliver Zippay returned to school and was met with heartwarming applause.
John Oliver, known as J.O., was celebrated by his classmates at St. Helen Catholic School in Newbury, Ohio, after having been in and out of school due to his treatment.
J.O.'s battle began three years ago when he had a rough fall, and his parents, Megan and John Zippay, took him to see a doctor. The doctor ran a blood test, and found signs of leukemia.




"Everything just stopped right there and then," John said.
The family spent 18 days in the hospital while little J.O. Underwent bone marrow biopsies, blood transfusions and several other tests. The following three years consisted of numerous types of chemotherapy and medical procedures.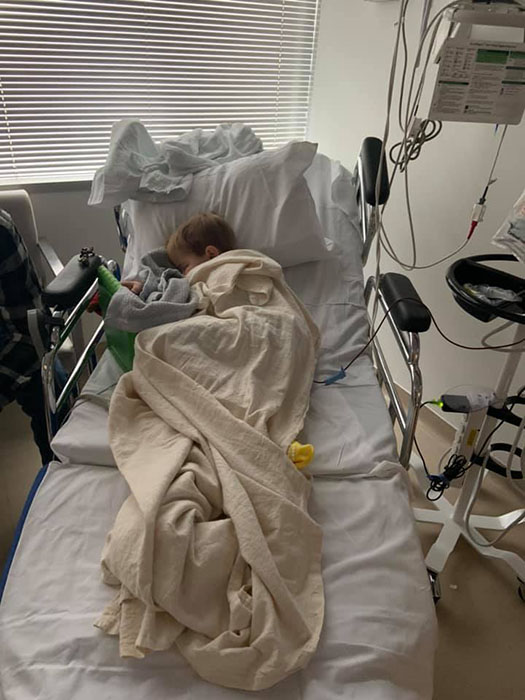 On his last day of chemo, his parents were deeply relieved and so very proud of their boy. He got to ring the hospital's bell, which patients get to ring after successfully finishing treatment.
"And that's when I told him, 'okay buddy, you gotta ring the bell,'" J.O.'s father, John Zippay, said. "'Ring it for all the kids who didn't have the chance to ring it,' and it's like everything went into slow motion for me."
"He rang it so hard, he was so proud."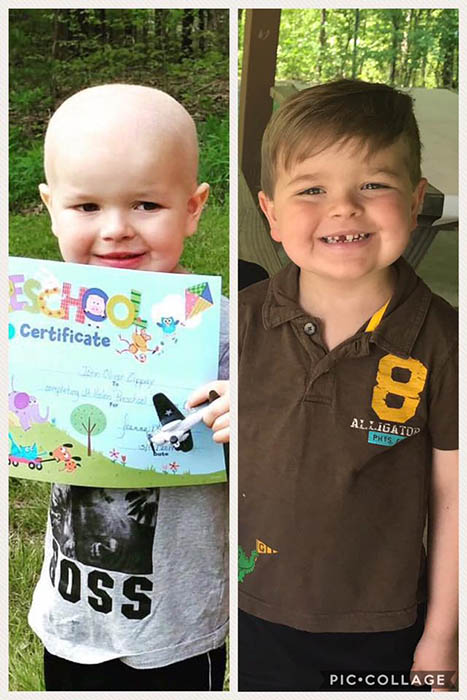 During his treatment, little J.O. missed a lot of school, but he was able to keep up with his studies and never fell behind academically.
Principal Patrick Gannon shared how excited John Oliver's friends were to have him return to their class:
"Him having to miss some of the time was tough, but the class was just so happy to see him come back," he said. 
Students at St. Helen's lined the hallway and anxiously awaited J.O.'s return to school. As he entered the school, all of the students, as well as the faculty, met this brave little survivor with joyous applause and dozens of smiles.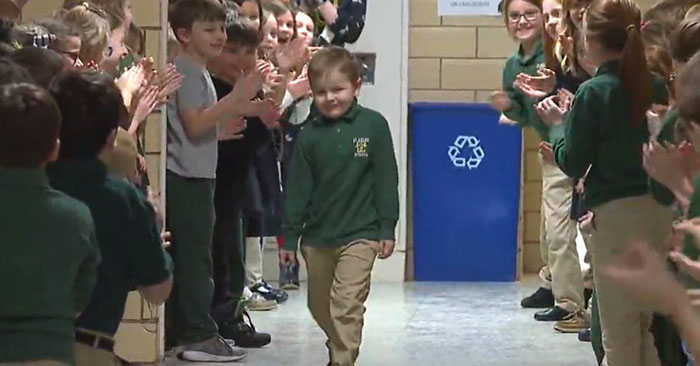 J.O. seemed a little nervous at first to walk down the hallway in front of so many of his classmates, but the joy and excitement on his face shone through as he made his way down the hall to where his parents were waiting.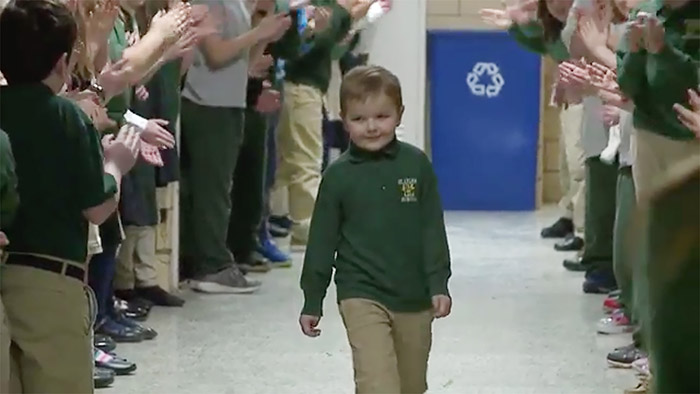 "We consider ourselves so lucky and so blessed," J.O.'s father said. "We've had so much support from family, friends, community members, the school and hospital staff."



His mother, Megan, shared a heartwarming video of her son's welcome back celebration and thanked everyone for encouraging her son:
"Thank you all of those for liking and sharing, and the sweet comments on JO's story and Journey. It is one filled with great heartache and emotions, but also love, courage, and hope. Please, in honor of JO, continue to pray for and support those still fighting the battle of cancer, and especially pray for those who have lost a loved one."
"As we celebrate JO's last chemo treatment we are filled with much joy, but we recognize we are not out of the woods yet, and will continue to pray for him."
The South Russell police department setup a GoFundMe to help cover John Oliver's medical costs and each officer donated $50. If inspired, donations can be made here.
Megan shared how she's excited to see her son returning to having a normal life.
"You want that for your child, to grow up and get dirty and play outside and have fun and we kept him in a bubble so we're excited. Looking forward to the future and having our little boy back."
Everyone is so deeply grateful that little J.O. successfully made it through his treatment.
Watch this video of John Oliver getting a surprise greeting from his entire school:
You are Loved.
See Also: Let's Cheer For This Brave Toddler Who Is Celebrating After Beating Stage 4 Cancer