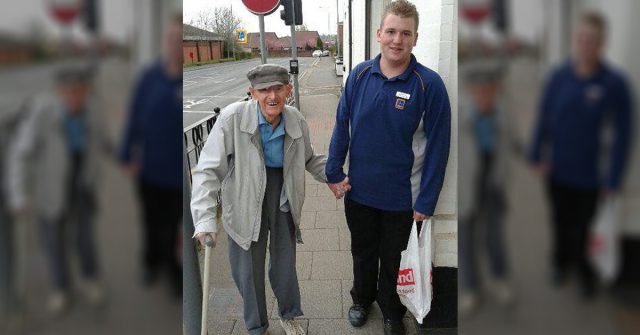 During a very windy day, 95-year-old Bob Malloy was worried about walking all the way home with his bag of groceries after shopping. He reached out to one of the supermarket employees, 18-year-old Christian Trouesdale, a stock assistant, asking if he could help. The kind teen responded by walking with him all the way home; holding Bob's hand with his right and carrying Bob's groceries with his left hand, and keeping a warm smile on his face the whole time.
"I asked my manager if it was ok to walk him home and he said that was the right thing to do, so I did," Christian explained.
It took the two a bit of time, but Christian was patient and kind and eventually they made it all the way to Bob's home.
"We had a good chat about everything from the General Election to the history of Horwich – he knew lots about everything," Christian said.
"I went back into Aldi this afternoon and a lady came up and hugged me and said she loved what I had done."
Samantha-Jayne Brady saw the beautiful sight of this kind teen so sweetly and patiently walking an old man home, and she took a picture of them and praised the young man online:




"Need to share this, whilst working earlier we watched this lovely lad walking this little old man home.. He wasn't very agile, nor fast but Christian walked with him ever so patiently and slowly, chatted along with him and carried his bag for him. It was a lovely thing to witness and they seemed to be having a good chit-chat along their way."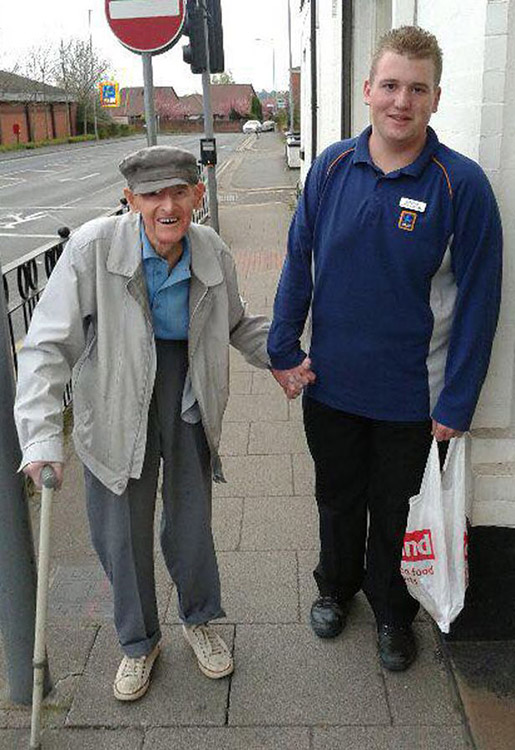 "High 5 to Aldi for letting him do this and high 5 to Christian from Aldi in horwich for his selfless, thoughtful & caring gesture! I desperately want this lad to get some kind of recognition from his workplace so if this gave you a little more faith in mankind PLEASE share! Good people still exist," Samantha shared.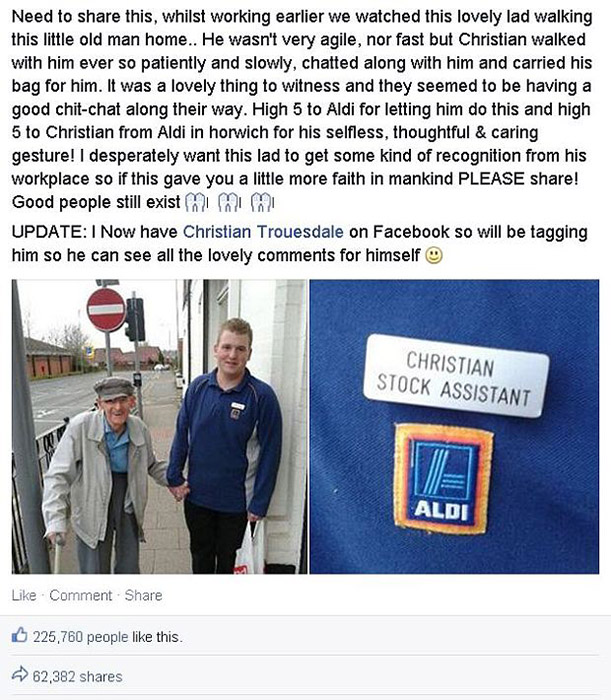 Bob came to the supermarket a week later and looked to find his new friend Christian again:
"Then when the gentleman came in a week later, he asked for me and asked if I would do it again and I was very happy to," Christian said.
95-year-old Bob Malloy was asked about and shared his experience:
"I went into Aldi and this young lad come to me and asked if I needed any help, and I said yes," Bob said. "So he picked a basket up and asked me what I wanted, and he put all the things in the basket for me. I thanked him when I got home, because he helped me out and I was glad of it. I got to know him after the first time, he is a really nice lad."
"There are not many lads like him. It is him that needs thanking," Bob happily shared.



Their sweet picture has been shared more than 50,000 times online by people from around the world praising Christian for his act of kindness. Christian had no idea, and said that it is just something he would normally do:
"This is just something I would normally do, my parents have raised me to treat other people like you want to be treated yourself," Christian said.
Christian's high school saw the post online and his friends applauded him.
"Christian's actions did not surprise me, he is a really good man," said Paul Canning, a director at Christian's High School. "It is lovely to see good and positive news about teenagers, the majority of teenagers are like this."
Christian and Bob have become friends, and get to spend a bit of time together each week.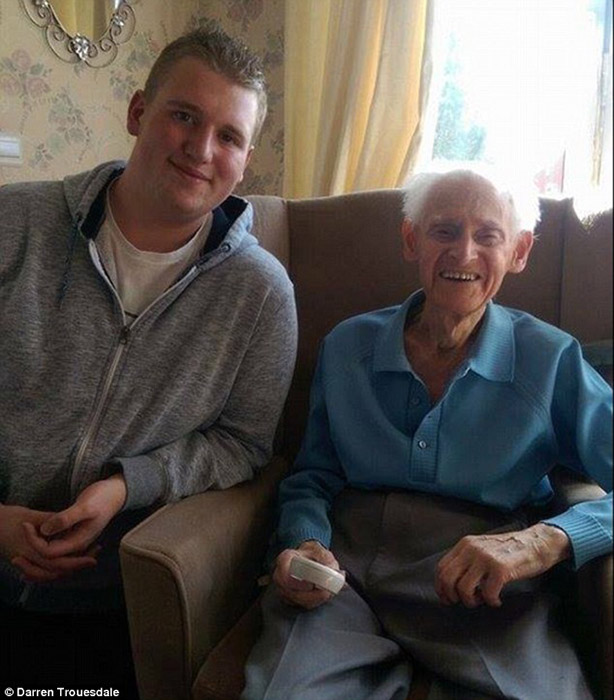 You are Loved.
See Also: Kind Teens Picked Up An Elderly Man Who Fell, And Then Walked Him Back Home