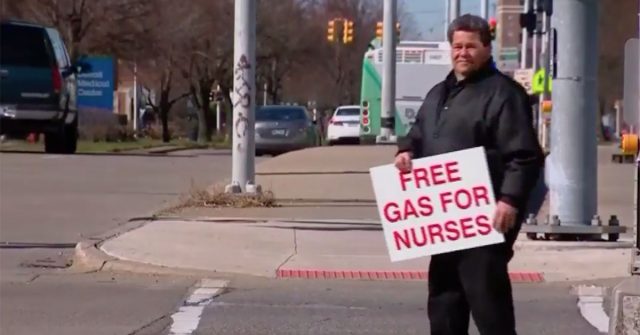 Allen Marshall decided that instead of using $900 from his savings to buy a knife sharpener as planned, that he wanted to support our hero nurses by giving them a free tank of gas as they head to work.
Allen made a sign which reads "FREE GAS FOR NURSES" and then spent two days at the corner of a gas station in Detroit ushering in hospital workers and paying for them to fuel up. He has been able to fill the tanks of more than 50 nurses and essential workers.
"I just love them and I want them to know that," Allen said.



Nurses and doctors have been under tremendous stress during the coronavirus pandemic, without enough supplies, ventilators, masks or hospital beds to serve themselves and the sick. They are risking their lives each day to save the lives of others.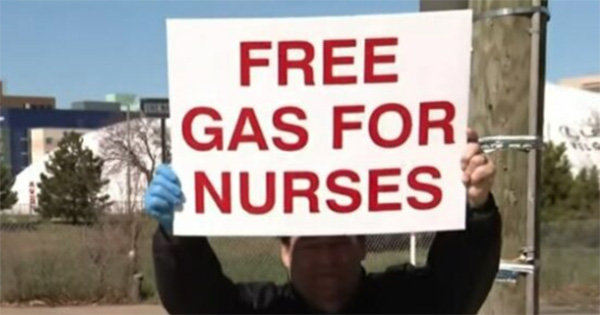 With nurses giving everything they can in this great time of need, it's beautiful to see kind-hearted people like Allen doing what they can to support them.
Allen shared that many healthcare workers are taking him up on the offer.
"There's a lot coming through," said Allen.
The nurses stay inside of their cars to practice social distancing while Allen fills up their gas tank. While he's not able to speak with them face-to-face, he has seen many grateful smiles and heard many 'thank yous' through the car windows.
"They're happy with it," he said.
Allen was able to donate all of his $900, and afterwards he flipped his sign over to the back which reads, "THANK YOU FOR ALL YOU DO!!!" He holds the sign for passing first responders, nurses and essential workers.
Allen's compassion inspired a few others in his community to join in and help. A woman named Alana, whose nephew is a nurse, heard about what Allen was doing and she decided to come to the gas station and help by filling up $200 worth of gas for nurses.



Allen just wants our nurses to know that we care and are here for them.
"With all that is going on with the coronavirus, I wanted to thank the essential workers the best way that I can," Allen shared. "I really don't need that tool and thought this was a better way to spend the money."
"I just paid for gas for a nurse who works at the VA Hospital in Ann Arbor. He was on his way home from work and said he was happy to get off the exit ramp and receive free gas. Emotionally, there is no one there to thank them at work and this gesture helped him."
"It takes a small gesture to show people that we care about them. The nurses and first responders need help as well during this time, and I'm doing my part in making sure they are taken care of."
If you see an essential worker in your community, consider thanking them for all they are doing from a safe distance. They need our encouragement now more than ever.
You are Loved.
See Also: Kind Alabama Man Who Mows Lawns For The Elderly Now Delivers Free Meals And Warm Smiles To Shut-Ins