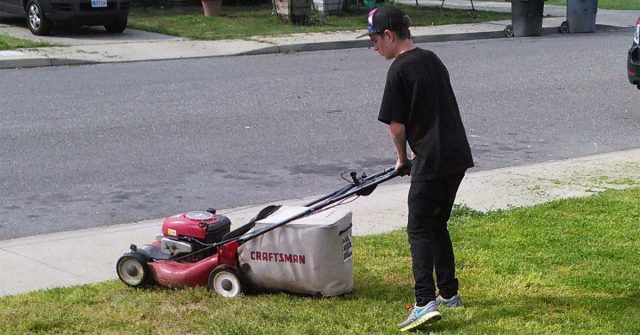 When a kind neighbor learned that the 14-year-old asking to mow his lawn was saving to take his girlfriend to lunch, he hired the young man and then went with him to help visit his neighbors.
Ryan Cox answered his doorbell and found 14-year-old Cody Mitschelin there, who proceeded to ask if he could mow his lawn for $5. When asked what he was saving for, the young man shared that he was trying to earn enough to take his girlfriend to lunch the following day.
"This 14-year-old boy came by the house with a lawnmower wanting to mow our lawn for $5," Ryan shared in a post online. "Well…me being a hustler I had to ask this kid 'why you mowing lawns?' He replied with… 'I'd like to take my girlfriend to lunch tomorrow and I don't have enough money.'"
Moved by the thoughtfulness and work ethic of the young man, Ryan hired him to mow his lawn. He also then went with him to other houses in his neighborhood to make sure he found enough lawns to mow.
"So we've been going door to door getting him business and he busted his [rear] mowing lawns and sweeping sidewalks and made enough to take her to lunch and get her flowers."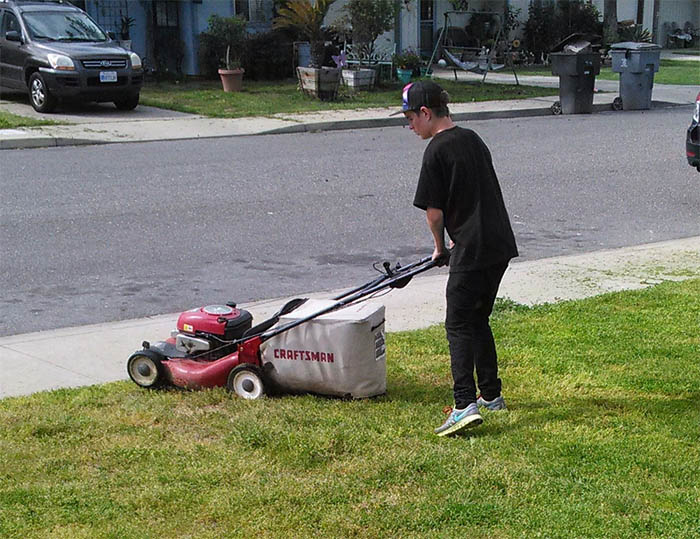 "I'm so happy this still exists… Hope is still alive for the future generation and our sons and daughters. I'm impressed by whoever is raising this boy, great job!!! Thanks to you guys that also noticed and pitched in on the cause to building our future men!"
Cody was able to take his girlfriend on a date to Safari Pizza in Oakdale, California. When they arrived, the staff escorted them to a special table and let them know that their bill had already been taken care of. The staff later shared that the couple looked adorable.
"When I got in there and they sat me down, everybody went "Aww"' Cody later shared.
Hundreds of thousands of hearts online have appreciated the young man's work ethic and chivalrousness.
"Sounds like a wonderful young man and that his parents are instilling good values in him. Thanks for sharing," commented Casey M.
"I'm proud of him and his parents! When my son was 22 he wanted to ask a girl to marry him. I looked at him and said on what are you going to live, you don't have a job. How are you going to support her and my future grandbabies? (he wasn't lazy, he had something bad happen with his very first job.) He looked at me and said, 'you're right' and left. The very next day he came home late, I asked what he did all day, his reply was, 'I went looking for a job [and] the very first place I went to hired me and wanted me to start right then! He's been working ever since!" shared Virginia O.
"Oh my goodness I love him!!! ? I hope he had a beautiful lunch date with the young lady. And flowers to go with it??? What?? Parents raising him well," wrote Tammie B.
You are Loved.
Related Compassion:
13-Yr-Old Did Yard Work And Sold His Own Xbox To Get His Single Mother A Car
Kind Cashier Left Register And Bought A Rose For A Grandma After Finding Out It Was Her 90th Birthday
Loving Husband Spends 2 Years Planting Thousands Of Flowers For His Blind Wife To Smell To Get Her Out Of Depression
View this post on Instagram