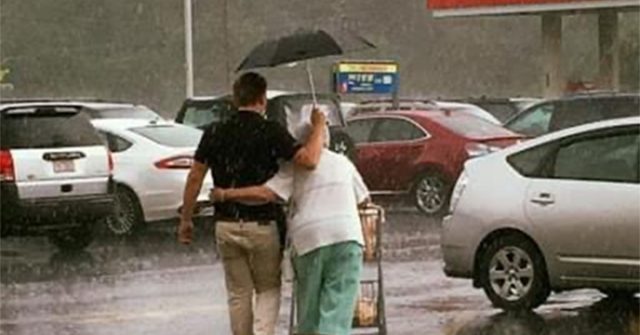 When an elderly woman was unable to get to her car with her groceries during a hail storm, a kind young grocery bagger held an umbrella and walked her all the way to her car.
Aaron Sanders was working bagging groceries at Ingles Market in North Carolina, when it began to rain and hail for quite a while. He noticed an elderly woman standing by the door with her basket of groceries, staring into the rain. After some time had passed, Aaron walked over to the woman and asked her if he could help walk her safely to her car. She politely said no and that she didn't want him getting wet.
"I asked her if I could help her out and she said no a couple of times," Aaron said. "[She] said I don't want you getting wet."
The elderly woman had already been waiting for a while, and the rain did not seem to be letting up. Meanwhile, her frozen goods were slowly melting. Aaron said that he didn't mind getting wet and that he would prefer to help her.
"I just said I prefer if I helped you out, and then she said OK," Aaron said.




Aaron held an umbrella over the woman and together they walked to her car in the rain. It was raining so much that the elderly woman put her arm around Aaron to keep them both from getting wet. His coworker, Violet Baiera, noticed his act of kindness and took a photo of the two making their way to her car.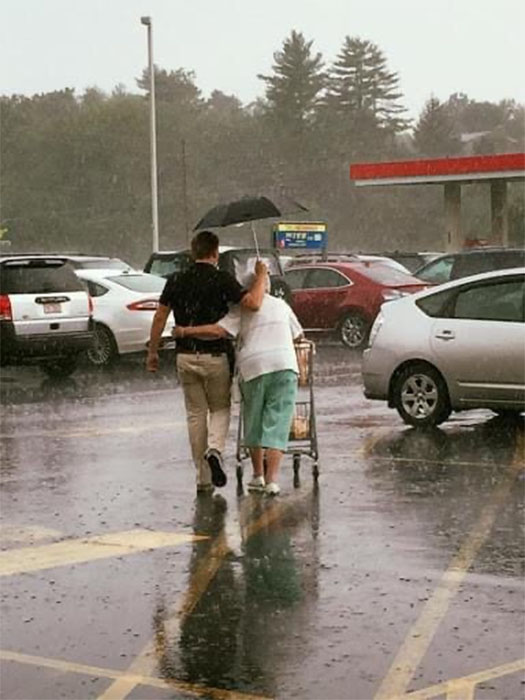 They made it to her vehicle and Aaron helped load her groceries. But as soon as she got into her car, the wind flipped Aaron's umbrella inside out, causing his clothes to get drenched. He eventually made it back to the store, soaking wet, and to his surprise, was greeted by the applause of many customers who had been watching.
"I wouldn't expect anything different from Aaron. He's a great kid," shared Pat Bowmen, the manager at Ingles Market.



When later asked by the media about why he helped the older woman, Aaron said that it's all thanks to his Mom.
"She's always been there and taken care of me. She always made sure that I was fed even if she didn't eat that night. So my respect goes to her. She's the reason I am what I am… so all the credit goes to her," he said.
You are Loved.
Related Stories:
High School Opens Grocery Store For Struggling Families; Only Accepts Good Deeds As Payment
Kind Stranger Leaves Teacher In Tears After Paying For Her Entire Bill At Target
Kind Man Buys Woman's Groceries After Hearing Her Tell Daughter They Couldn't Afford To Eat That Night
Kind Cashier Used His Own Card To Pay For Homeless Man's Meal; Next Customer Tipped $100
Kind Young Man Gives 3 Bags Of Clothes To Bullied Classmate Who Wore The Same Outfit To School Each Day
Subscribe for free to Understanding Compassion on YouTube and help us make the world a kinder place.
View this post on Instagram