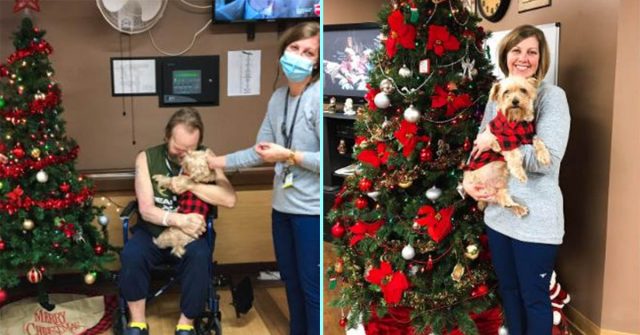 A kind nurse took care of the dog of a longterm patient after learning he had to give it to the humane society during his long stay at the hospital.
John Burley is a 60-year-old patient at the Grand Rehabilitation and Nursing Center in Rome, New York, and has been on a lengthy hospital stay due to pneumonia related health issues. He and his nurse, Jennifer Smith, have developed a warm friendship during his stay as she helps take care of him during his treatment.
As the length of John's stay increased, he was unable to care for his 12-year-old dog, Boomer, who had been left behind at his apartment. John, who has difficulty with speech, got Boomer 12 years ago in Arkansas when he was a puppy, and they later moved to New York. To John, the 12-year-old pup is family.
During his hospital stay, John realized that with having no close contacts to care for Boomer, that he would have to give him to the local humane society, as he was unsure when he would be able to return home. After Boomer had been taken away, John told his nurse, Jennifer, what had happened.
"I came into work Monday to the phone ringing at 7 a.m.," Jennifer said. "John was calling from his hospital room saying, 'Boomer is in the pound! Boomer is in the pound!'
"He was saying it so many times. I could tell in his voice that he was scared, that he was sad. Boomer is John's world."
Distraught and not knowing what to do, John asked Jennifer if she could help.
"He took a breath and asked me, 'Will you take care of Boomer?'" Jennifer said.
While the request was above and beyond what any nurse would regularly do for a patient, out of the kindness of her heart, Jennifer told John that she would find which shelter Boomer had been taken to, and that she would care for him until John was better.
"How can you say no to that? I said 'John, I will find Boomer and take care of him for you.' I couldn't separate the two of them. I just couldn't."
"I didn't know how long he had been in the shelter or if he had already been adopted to another family," she said. "I told John I have a 13-year-old dog myself who I've had since a puppy, so I fully understand the panic. It made my heart sad for him and Boomer."
Jennifer looked up nearby animal shelters and called them until she found the one which had accepted Boomer, the Rome Humane Society. She took an early lunch the next day and drove to the shelter, and found the 18-pound pup in a large cage in the back.
"I crouched down and I put my hand on the cage, and he came up to me and he licked my finger. I said, 'Where do I sign the adoption papers? I am here to adopt him,'" she said to the staff.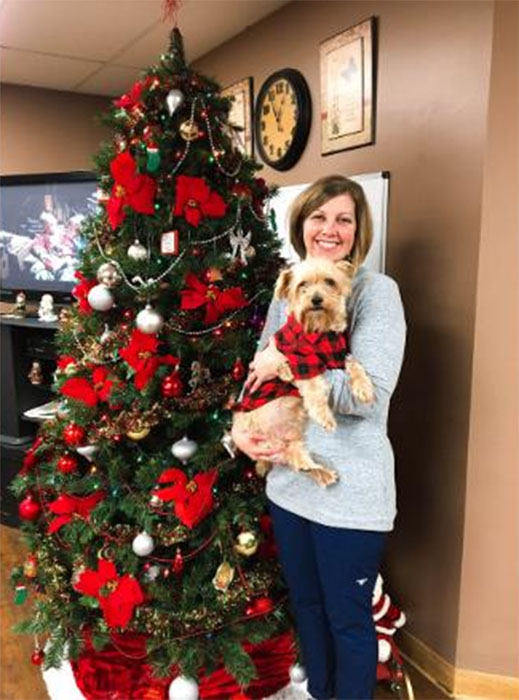 Jennifer called John and let him know that she had found Boomer, and after a few days of processing paperwork, that he would be coming home with her. John was both overjoyed and greatly relieved.
"It was one less worry that John has, and he needs to focus on getting better and taking care of himself and know Boomer is in good hands," Jennifer said.
"There are just so many worries in the world right now. If I can take one worry away from John, that's the least I can do. I can't cure diseases. I'm not a miracle worker… I made a promise to John to take care of Boomer. I will take care of him as long as he needs me to. John knows that. Right now the focus is on John getting better and taking it one day at a time. It helps John with the healing process and gives him peace of mind."
While John is staying in the rehabilitation wing of the hospital, Jennifer is able to bring Boomer to work with her to see him. When John first saw Boomer again in the hospital, he burst into tears.
"When he saw Jennifer and Boomer come around the corner, he just burst into tears and reached for his pal," Kimberleigh Hare from The Grand Rehabilitation and Nursing at Rome said. "There was not a dry eye in the room between residents and staff. He was so happy to see the dog and so thankful to Jennifer for saving him."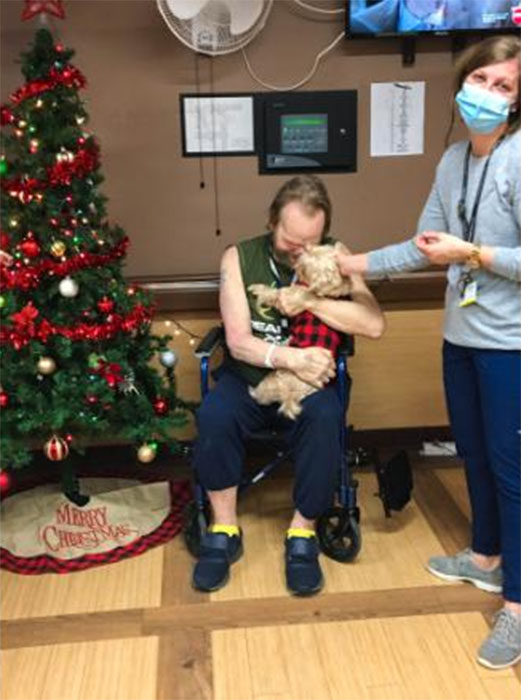 John proudly rides around the hospital in his wheelchair with Boomer on his lap, and the other residents love having a friendly pup around.
"I can see why John loves his dog so much," Jennifer said. "Boomer is fantastic. I walk through the halls with him on the wings and all the residents that are in the hallway, they instantly smile. I let each of them pet Boomer."
John is grateful to Jennifer for helping him get his furry friend back in his life.
"I love Jennifer," John said.
You are Loved.
View this post on Instagram
Related Stories:
Elderly Woman Living In Car With Dogs Now Has A Home After Kind Women Called On Neighbors For Help
Loving Dog saves injured Michigan man from freezing by lying on top of him for 20 HOURS in snow
Kind Elderly Man Pushes His Disabled Dog On A Cart Every Day So He Can Still Go For A Walk