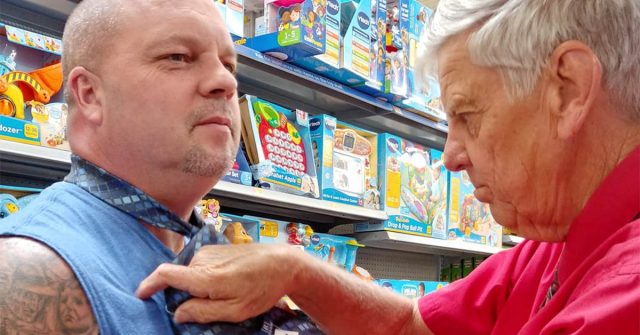 When a man needed help learning how to tie a tie before his father's memorial service, a kind stranger shared some fatherly love.
Kevin and Sherri Butcher were shopping for a necktie at their local Walmart in Milford, Ohio, when they realized that neither of them knew how to tie a tie. Kevin's father had just passed, so while shopping, he was in a bit of a daze, experiencing vulnerable feelings of both sadness and grief.
The couple agreed that they could watch a YouTube video when they got home to learn, but as they picked a tie to purchase, they noticed an older gentleman nearby who was wearing a tie himself. Making the most of the moment, Kevin approached the older man and asked for his help.
"Just wanted to share a special moment with our friends…." Sherri wrote in a post online. "Today as Kevin and I were shopping for something to wear to his dad's funeral, we both realized neither of us knew how to tie a tie. Kevin noticed an older gentleman nearby and decided to ask if he could help. We both thought he might think we were crazy… but we were both so wrong."
The older gentleman learned about Kevin's situation, and did not hesitate in helping tie the tie for him right then and there.
"This sweet man did not hesitate when Kevin explained why he needed help and proceeded to put the tie around his neck. He joked with him about how it might take all day to get it right… but he was determined."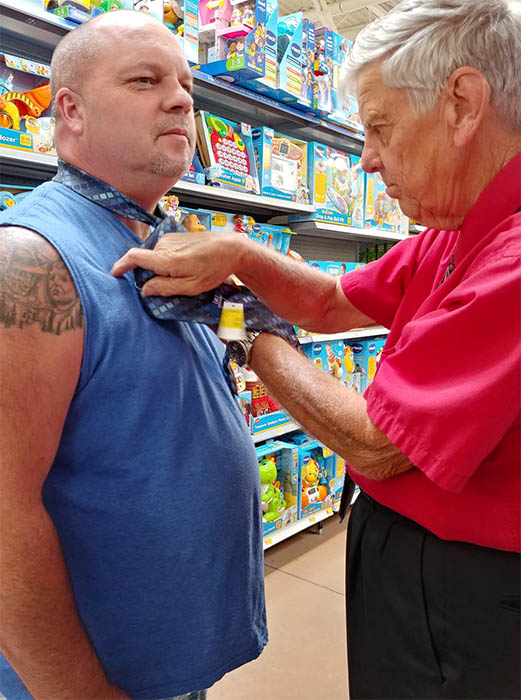 After a couple of tries, the stranger was able to tie the necktie on Kevin, and as they were shaking hands, the older gentleman pulled Kevin in for a heartfelt hug.
"After a few tries of getting the right length… he gently pulled it back over Kevins head and thanked HIM for letting him do this!! He reached to shake hands with him and then pulled Kevin in close to hug him and tell him how sorry he was to hear about losing his Dad."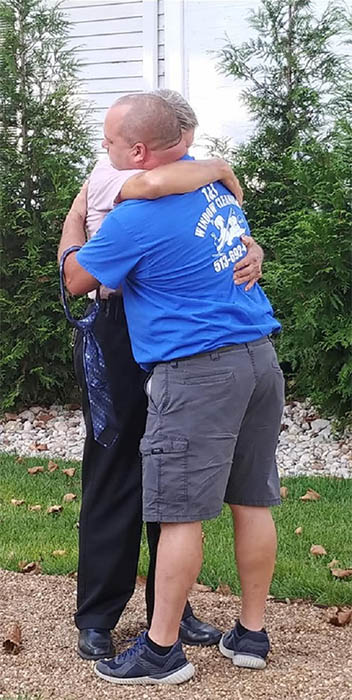 "He looked at me and said "take good care of him" and he walked away."
Both Kevin and Sherri were deeply moved by the gentleman's kindness.
"Kevin and I both walked away quietly as we were both having a hard time fighting back the tears. I don't know this man's name…but I will never ever forget that heartfelt smile as he thanked US for letting HIM help!! God Bless you Sir!!!"
Sherri's post was shared thousands of times online, and the local media discovered that the kind stranger's name was Howard Hackler. They arranged a meeting, and Howard shared that he enjoys helping others when he can.
"If I find somebody that I can help, they want help, I'll be glad to help them," Howard simply said. "That's what I've done all my life. Why change?"
Howard also showed up to attend Kevin's father's service, and said a prayer together with Kevin and Sherri.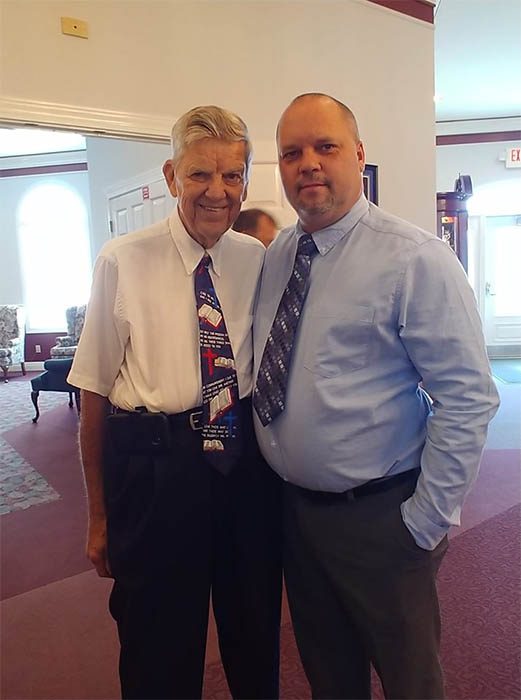 "Walking in to the funeral home to see Mr. Hackler waiting for us to say a prayer for the family… This man is an absolute ANGEL on Earth!!!!" Sherri wrote.
You are Loved.
View this post on Instagram
Related Stories:
Kind SNL Star Michael Che Paid Rent For All 160 Residents Of His Grandma's Apartment After She Passed From Covid
Kind Millennial Takes A Second To Help This Older Man Tie His Shoe
Kind Lifeline Employee Helped Mother Sell Passed Son's $12K Warhammer Collection, Refused To Be Paid