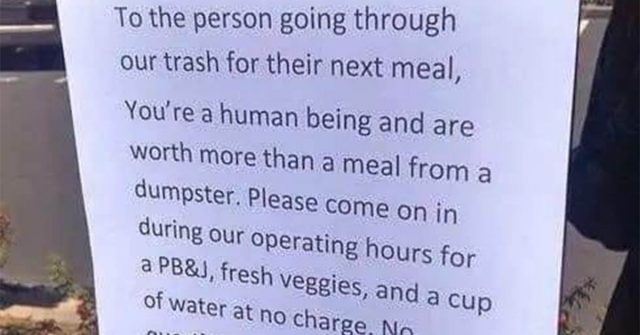 When Ashley Jiron, owner of P.B. Jams in Warr Acres, Oklahoma, noticed that a homeless person had been going through their bins at night looking for food, she left a sign out offering them a free meal anytime they like.
Ashley began noticing that someone was digging through their restaurant's trash bin at night while looking for thrown out food to eat. She was sad that a person needed to do this just to survive, and felt that they deserved better.
"That really… it hurt me that someone had to do that," Ashley said.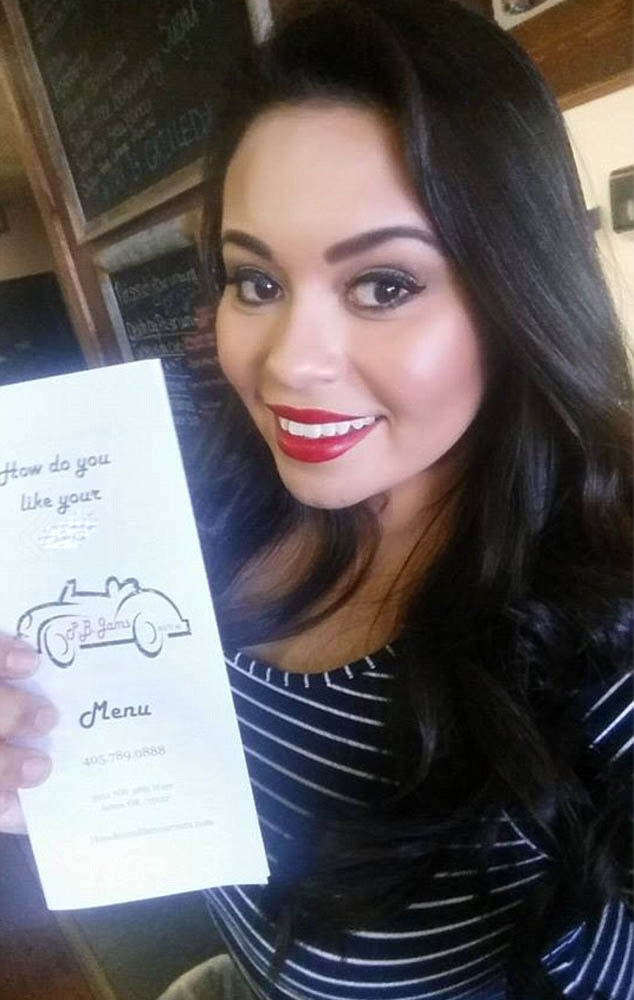 She decided to make a sign for the homeless person to let them know that they can come in whenever they like and get a fresh meal, no questions asked.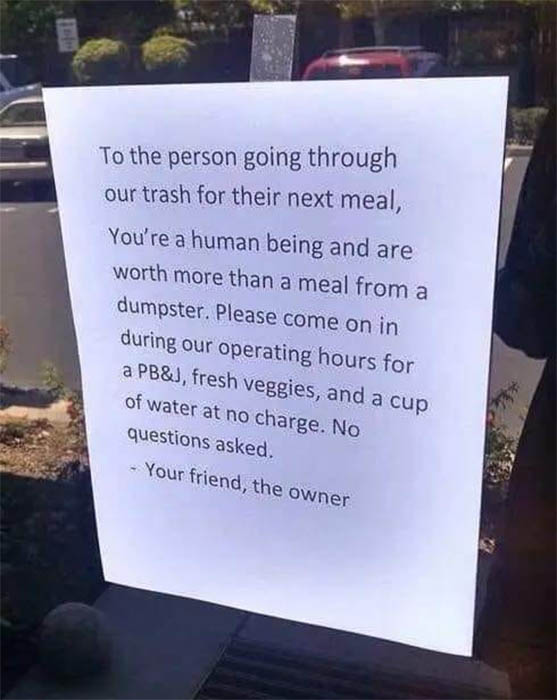 "To the person going through our trash for their next meal," the sign reads. "you're a human being and worth more than a meal from a dumpster. Please come in during operating hours for a classic Pb&j, fresh veggies, and a cup of water at no charge. No questions asked. -Your friend, the owner"
Ashley wanted to make sure that if this person needed help, that they were able to receive it.
"I think we've all been in that position where we needed someone's help and we just needed someone to extend that hand, and if I can be that one person to extend that hand to another human being, then I will definitely do it," she said.
"I will not take down that sign until they come in."



A customer named Greg King noticed and appreciated the sign on the restaurant's window and shared a picture of it on his Instagram with the hashtag #thatswhatlovelookslike. Thousands online have deeply appreciated it.
"Imagine if every restaurant did this. So much food goes to waste. Good job PB Jams! Would love to donate a few meals," wrote Lesley J.
"I wish there were more business owners like you. These places that have a heart are where I like to spend my money at," shared Brittany H.
Ashley has since started a pre-pay it forward program at Pb&j's where customers can donate a meal to a person in need. For each donation, a sticky note is placed on their wall, and they can be picked up and used as payment for a meal. Extras at the end of each month are then donated as meals to the local homeless shelter.
The manager of a Little Caesars in Fargo, North Dakota, Michelle Lussier, saw the picture of Pb&j's sign online and thought of how she'd also noticed that someone was going through their dumpster at night. She decided to place a similar sign in their window to offer some free pizza for the homeless in their neighborhood.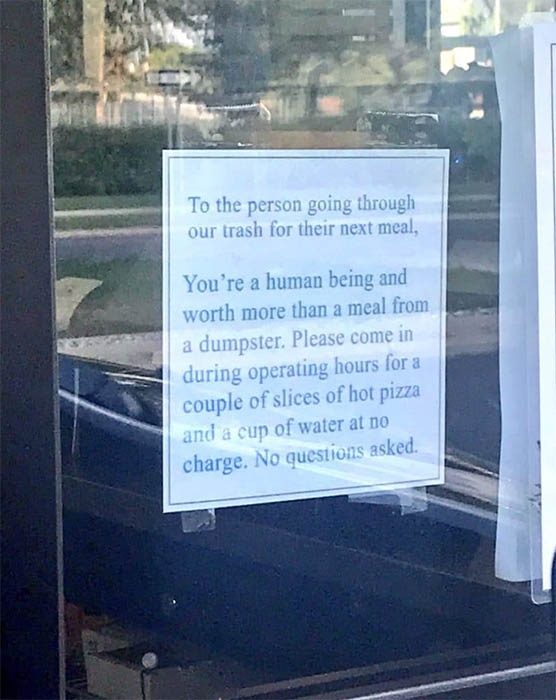 "Don't feel embarrassed if you're hungry… you're more than welcome to come here and grab a couple slices." Michelle said.
You are Loved.
See Also: Compassionate Restaurant Sets Up "Take One Leave One" Coat Rack For The Homeless
View this post on Instagram