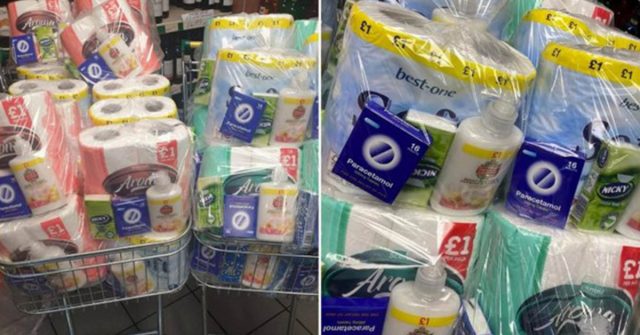 A kind shop owner in northwest Edinburgh has been lovingly giving free 'Coronavirus Packs' filled with daily essentials to those over the age of 65 and also to anyone who has mobility issues.
At a time when store shelves have often been empty, the kind Day-Today convenience store owner Zahid Iqbal noticed that while his younger customers were quick to stock up on essentials, his most vulnerable older customers and those who had disabilities were unable to receive the items that they needed.
"All the youngsters are picking stuff up and the older ones are being left out," Zahid said. "We have lots of customers from the local care homes, as well as disabled customers, who can't get hand sanitizers, loo rolls or anything at all."



He knows that the elderly are the most vulnerable to the coronavirus, so instead of keeping his sales profits to himself, he began spending it all and more in order to make free survival packs which contain the hard-to-find daily essentials.
"Money can be made in the future… Right now, we need to do our part for the community," he said.
In less than 24 hours, Zahid and his staff were able to freely give more than 550 coronavirus packs to the elderly and to those with disabilities. Each pack includes toilet paper, anti-bacterial handwash, kleenex and an over-the-counter pain reliever and fever reducing medicine.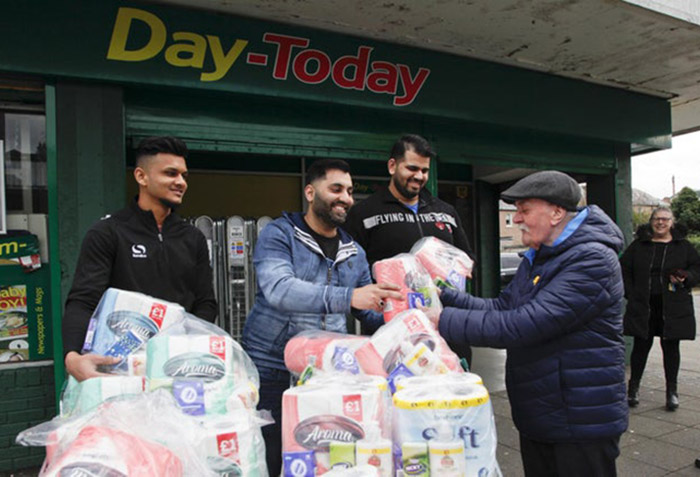 Zahid said that they want to help out as much as they can, and the kind-hearted man has even been delivering the free care packages to the homes of people who have trouble getting out to shop. He also emphasized the importance of everyone doing their part to help their communities.
"We want to help out for as long as we can manage and everybody needs to be doing their bit," he said. "If we run out of toilet rolls then the next thing we want to do is pasta. If there's a lockdown people need to be able to look after themselves."




The kind family-run store has been open for more than 15 years, and the owners and staff have developed numerous warm-hearted relationships with their customers. When asked, Zahid admitted that they have been a bit overwhelmed with the number of requests for the coronavirus packs and that they have spent more than 5000 pounds in creating them, but they have refused taking donations and plan to keep going.
"The satisfaction you get helping people out is just amazing," Zahid said with a smile.
"We just want to set a good example in this world."
Other stores around the world have begun helping out where they can as well but have yet to be covered by the media.
Hundreds of thousands have praised the kind deeds of the shop owner and his staff.
"How amazing you are, I'm a carer and work with 15 vulnerable clients six days a week. We have nothing like this by me but it's made me smile to see the kindness and compassion for the people who will be most affected if they [were] to catch this virus," shared one grateful nurse.
"Not everyone can afford or have the ability to bulk buy yet it is still going on, thank goodness for people like this shop, more help than [has] been offered by the authorities, bless you," wrote one grateful person.
"So beautiful, kindness amongst the fearfulness," commented Anne C.
"We all need to follow this example!" shared Karouu C.
In times of great struggle, it's so important that we all come together to help one another in every way that we can.
Let's offer a big thank you to Zahid and his staff at the Day-Today convenience store for doing a wonderful job of taking care of their elderly and disabled community members. Not only are their care packages inspiring us all to be more compassionate, but they are likely helping to save lives.
You are Loved.
Please share kindness with others: when we share stories and examples of compassion and kindness, we inspire and encourage others to be kind and compassionate in their daily lives, making the world a better place for everyone.
See Also: Japan Compassionately Sends Millions Of Face Masks To Help China Control The Coronavirus