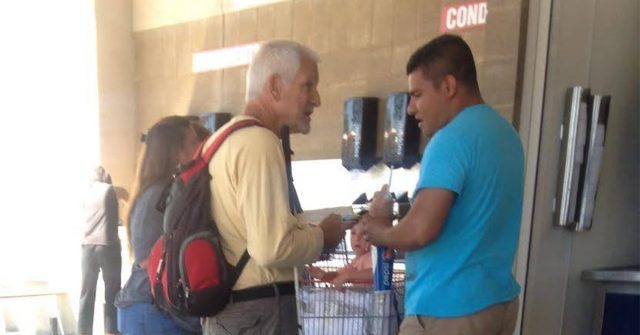 When a man with a seeing stick was struggling to carry his meal and find a table, a kind stranger came to help him by getting him the drink he wanted at a soda fountain, and then gently walking him to a table, which he cleaned for him.
Courtnie Quinton was eating at a Costco food court with her children when she noticed an older blind man struggling to hold his meal, his drink and his seeing stick at the same time.
"I'm in line at Costco's food court and my hands are completely full with food, my wallet, phone and keys when I see this blind man struggling," Courtnie shared in a post online. "He had his food in one hand, his cup clenched with his teeth and his seeing stick in his other hand."
The man was moving very slowly towards the soda fountain to make sure that he didn't drop anything, and he seemed overwhelmed.
"He was walking slowly trying not to drop anything, but at the same time trying to make his way to the soda fountain to get a drink. He seemed so overwhelmed as it was crowded, loud and hot. People were staring at him. Everything in me wanted to drop everything and help him; seeing as no one was. However I couldn't leave my kids and things behind."
Seeing his need, a kind stranger walked up to the older gentleman and offered him his help. He walked him to the soda fountain, took his time reading every soda choice for the man to choose from, and then filled his drink.
"Then, out of nowhere this man in blue appears. He tells him, 'Hi, I'm here to help you.' He proceeds to read the sodas off to him, fills it up with the man's choice, takes his plate for him, lets the man hang onto him and walks him to a table in the shade."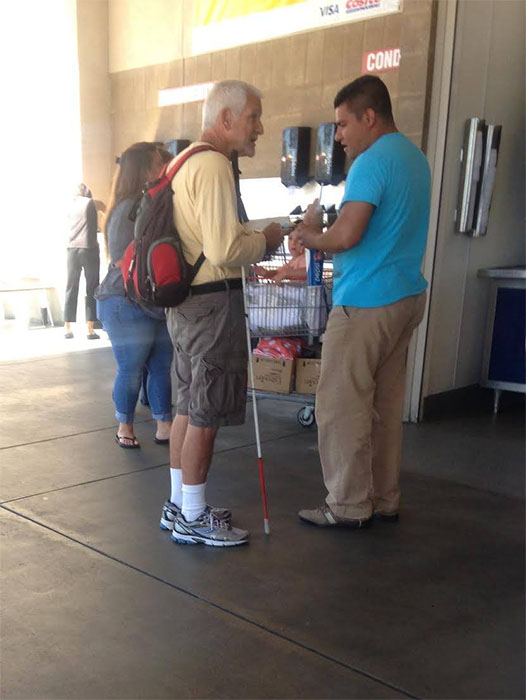 The kind man even took a few napkins and cleaned the table for the older man.
"Then he cleans the table, gets him napkins and makes sure he's OK. Afterwards, the man in blue proceeds to go back to his table to finish his meal. I don't know who he was but when everyone else was just staring at the struggling man he stopped and took action. Thank you man in blue. If you know who he is tell him he is awesome. We need more people like him."
Courtnie shared her story with LoveWhatMatters and many hearts appreciated how gentle and thoughtful the stranger was for the older man.
"'I'm here to help you." I love this. May we all be more like the man in blue, our eyes open and aware of situations where we can help," commented Robyn C.
"Mahalo Blue Shirt Guy. You are a kind soul. There is hope for our world. Little deeds of kindness and little words of love will help to make the world better like the heavens above," wrote Terri G.
"My kids are notorious for things like this. They notice things and they help. My 16 year old has taught herself sign, and just recently helped a woman translate her order that they had gotten wrong at a McDonalds. The woman was so grateful. She came and introduced her whole family to us. It doesn't take much to be kind…" wrote Heather D.
Compassion is seeing a need, and reaching out to help with gentleness and love.
You are Loved.
View this post on Instagram
Related Stories:
Blind Engineer Invents A 'Smart Cane' That Guides The Visually Impaired Using Google Maps And Sensors
Loving Husband Spends 2 Years Planting Thousands Of Flowers For His Blind Wife To Smell To Get Her Out Of Depression