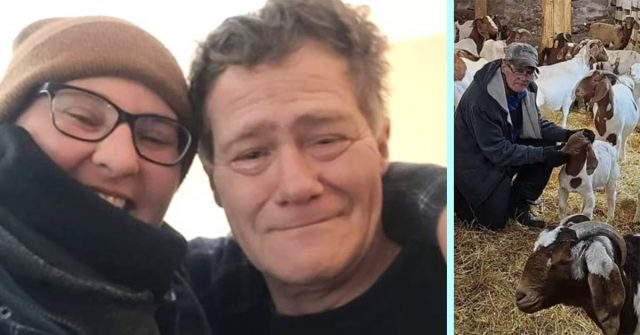 A kind woman decided to take five minutes of her time one day to meet a homeless man and ended up giving him a job and helping him find a place to live.
Danielle MacDuff was on her way to get coffee for the staff at her family's farm in Newcastle, Ontario, when she noticed a homeless man sitting on a pail, reading a book with his hat on the ground in front of him hoping for spare change. She had seen the homeless man several times before, but had never spoken to him, and thought that today might be a good day to take a few minutes to say hello.
"The day I did stop, I was heading out to get coffee for the other staff and I just said to myself: I have five minutes, you know, I've got to make five minutes to stop and ask this man what his story is and why he's there," Danielle said.
Danielle learned that the homeless man's name was Brian, and his warm attitude led to the two of them speaking for more than twenty minutes. Brian shared that he had been having a difficult time; he'd been sleeping in the cold, had lost a loved one recently and said that after the past two years of being homeless, he felt that he was close to giving up.
Danielle asked Brian if he would like to come and work at her farm, and he enthusiastically agreed. Danielle then drove back the next morning and picked him up at 8AM, and Brian began helping out at the farm.
"It floored me. It just came from the heart with her, and I thank her every day," Brian said.
"You jumped right off your pail, you were so excited!," Danielle said as they laughed together.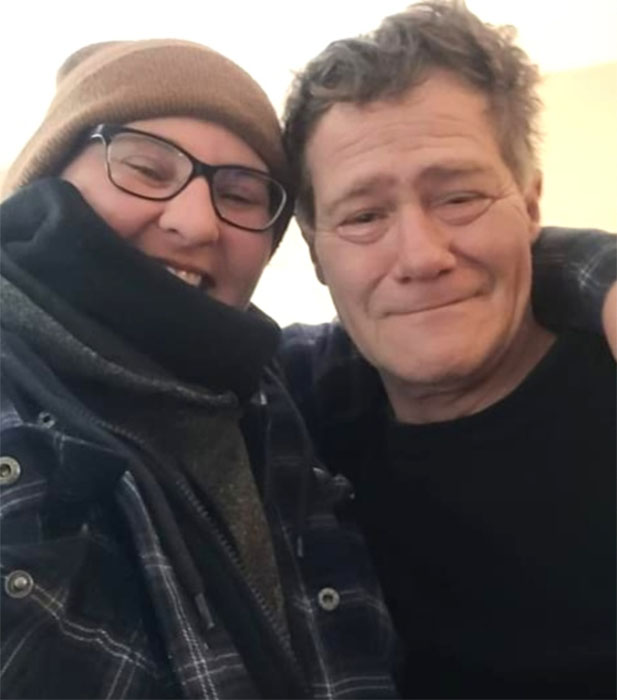 Brian, who is 60-years-old, worked at a farm more than 20 years ago, and his previous experience came back to him while working with Danielle and her friendly team.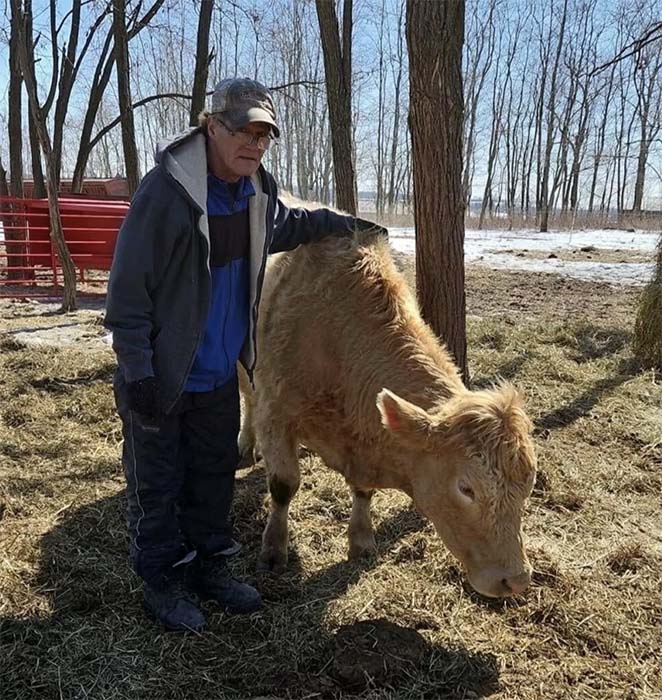 "He's so kind, compassionate, he's amazing with my children, my animals, and his willingness to help me on the farm is very, very much appreciated," Danielle said.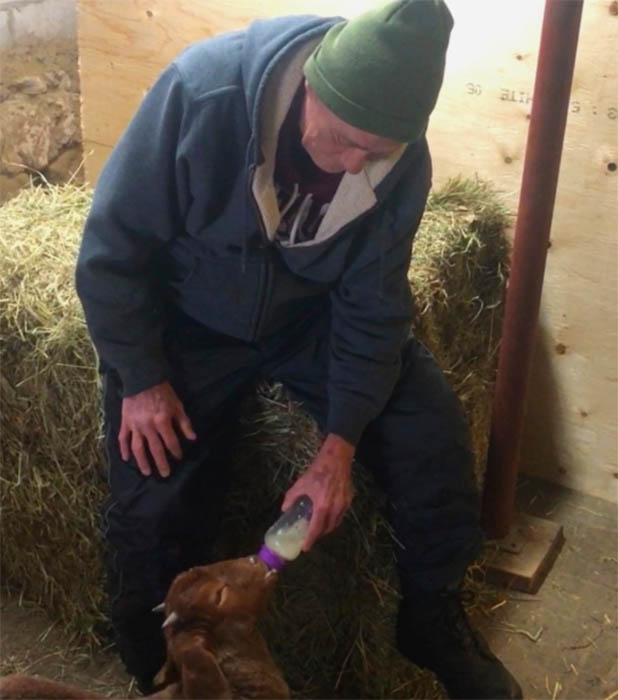 As Brian continued to work for Danielle, a snowstorm was forecast, and she was concerned about him having a warm place to stay. Together with the help of a few friends, they put together enough to get him a hotel room for a few nights to stay in and keep warm.
Danielle realized that Brian just needed a little help to put his life back together, so she started a GoFundMe with the hope of getting enough donations to pay for a permanent place for Brian to live.
"Hello, my name is Danielle and I live in a small town in Newcastle, On," the GoFundMe reads. "We have a homeless man here who sits beside a garbage can, out front of Shoppers Drugmart and reads. He has a hat on the ground in front of him for spare change, he never asks for a dime and is always very appreciative of what he receives. This man's name is Brian and he is 60 years old, he loves when people take the time to stop and chat with him and ask about his day. I took the time one day and I knew from that very moment, I needed to help him get back on his feet. I offered him a job on my farm and he started the next day. He has come every day and is always ready to be picked up, he gives 100% all day with no complaints. I can't afford to pay much so I reached out to our community. What a response of encouragement and support we have received, it fills my heart. I really want to raise enough money to get Brian in a nice warm place he can call his own and rebuild his life. It is so cold out there and he lives in a small shed with no insulation. We have managed to get him a hotel room for 2 nights but tomorrow he will be back outside after work. Anything helps, even if you share this. Both myself and Brian are so very grateful for all he has received so far. Thank you and God Bless you all."
In just a few weeks time, kind hearts donated more than $10,000 to help Brian get his life back in order. Danielle has now helped Brian find a permanent place to live, and helped him get his first haircut in two years, plus a new cell phone.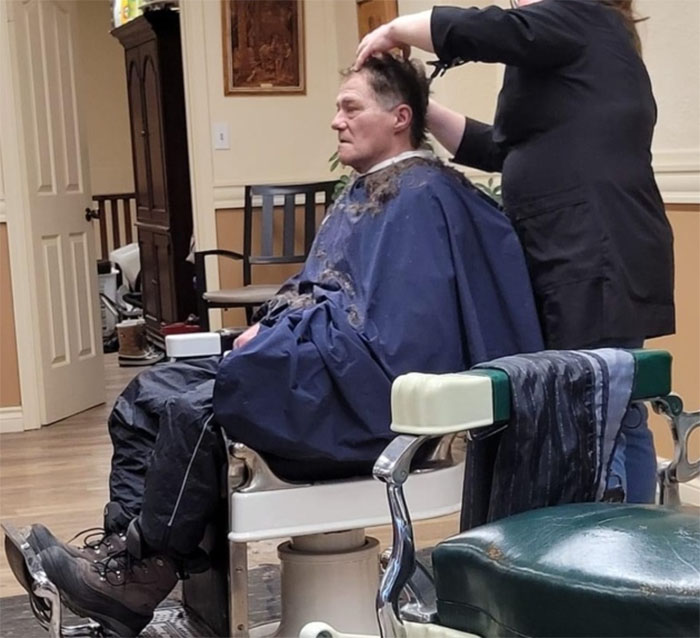 Brian shared how deeply grateful he is for Danielle's and everyone's kindness.
"I didn't think anybody cared about me anymore until Danielle came to stop and talk to me one day," Brian said with heartfelt emotion, "and she came back the next day and offered me a job at the farm, and it's changed my life immensely."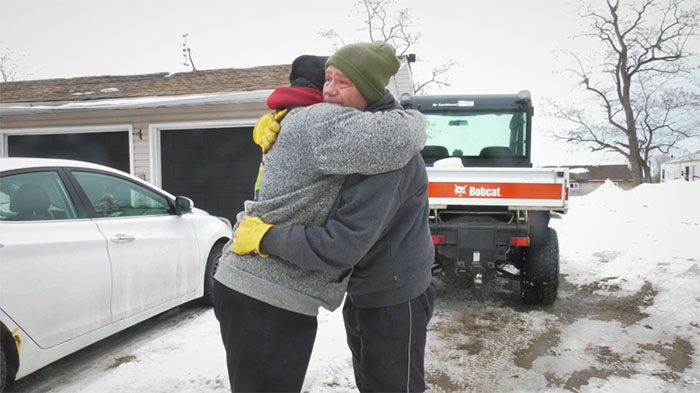 You are Loved.
Subscribe for free to Understanding Compassion on YouTube and help us make the world a kinder place.
View this post on Instagram
Related Compassion:
Kind Man Gave Job At His Pizzeria To Homeless Person He Saw Using His Pizza Box As A Sign
He Befriended This Homeless Man, Got Him Lunch, A Shower, New Clothes And A Job
Kind Stranger Gave Woman $50; He Was A Homeless Man She Had Always Given To And Now Had A Job