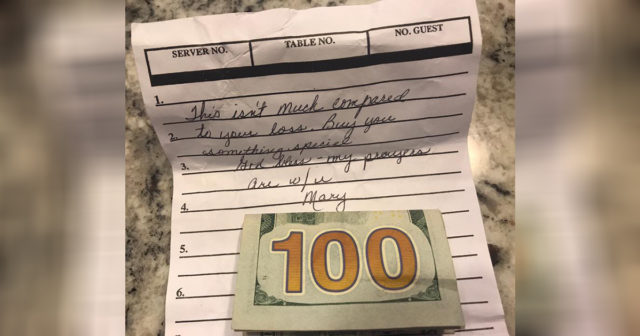 Carlos Sepeda Jr. and his family lost everything when Hurricane Harvey hit the Houston area, and after evacuating their home, they went to stay with Sepeda's mother-in-law, who took the family out for dinner at Sam's Restaurant in Fairfield, Texas.
What began as an ordinary meal soon became an act of compassion that the Sepeda family would never forget.




"This is how I know Texas is great! My mother in law took my wife and I to Sam's restaurant in Fairfield, Tx after we evacuated. Our waitress who we had never met before waited on us and heard about our situation.
She handed my wife this paper, we did not look at it till we got to the parking lot. We opened the note to see a 100 dollar bill we walked back in to tell her we could not take her money. Her reply was she had gone to the back and prayed on it and she refused to take the money back.
She then offered us a table a chairs if we needed them. My friends and family if you are in Fairfield make sure to stop by Sam's restaurant and see Mary, tip her well and show Texas gratitude! This is what Texas pride is made of!" Carlos wrote in a Facebook post to show what an amazing blessing they had received.




The note reads, "This isn't much compared to your loss. Buy you something special. God bless – my prayers are w / u. Mary."
Surely this amount of money is significant to any waitress. Mary's act of kindness will not be forgotten by the Sepeda family and has ended up inspiring the nation as hundreds of thousands of people have shared this story.
Kindness is beautiful.
Photo courtesy of Carlos Sepeda.