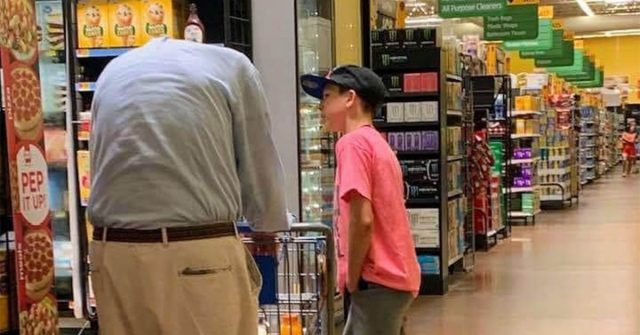 When Lakken went shopping with his aunt Ry, he noticed a hunched over elderly man and his kind heart wanted to help him.
"So we go to Walmart today," Lakken's aunt, Rylee Long, shared, "and Lakken happens to see an elderly man that was having a hard time shopping and finding things, due to him not being about to lift his head up and see straight. He can see the ground and barely the sides of him, so Lakken looks at me and goes, 'Aunt Ry, can I please help him?'"
Rylee told her nephew that he could, so Lakken approached the older man and asked him if he would like some help shopping.
"I said 'yes', [and] he went up to the man and asked him if he would like some help!. [The older man's] eyes lit up and he said, 'Well yes that would be amazing young man, thank you so much!'"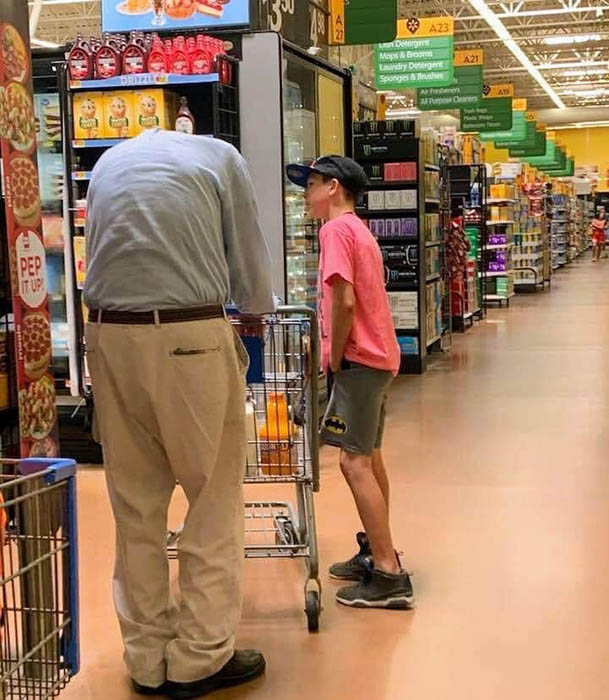 The elderly man began telling Lakken what he needed, and the kind young man ran around the store through different aisles until he had completed his shopping for him.
"Lakken was running all over the place for this man. The man was so happy, he told us he hasn't had help in years and he was so happy he ran into an amazing smart young man like Lakken!"
Lakken even helped him bag his groceries, and refused to take a tip from the older man.
"I was so proud of him! Lakken went and helped him check out and bag his stuff and had them call the show bus for him as well! He tried to tip Lakken, and Lakken said, 'Oh thank you but I don't need this, I enjoyed helping you, you keep your money.'" I'm beyond proud of Lakken, you don't see or get many people let alone children who do these things for people."
Many hearts have shared how much they appreciate what Lakken did for the elderly man.
"God bless him for helping that man that needed help 😍" commented Gloria D.
"You certainly have every right to be proud of your nephew. It makes me so happy to read about the kind and helpful things that people like Lakken do for others. Especially, a young person like he is. He's already a very kind and good young man," wrote Jennifer S.
"I wish there were more Lakkens around. I'm disabled also and can't turn my neck or look up. Im in constant pain and no one to help me so god bless you Lakken," wrote Kimberley M.
"Kindness goes a long way; don't ever forget it. Older people appreciate kindness from young kids more than they can realize. It makes their day!" shared another grateful heart.
With 274,000 likes on his aunt's photo, this kind young man has wonderfully inspired people from around the world to value kindness and to help those in need.
You are Loved.
See Also: Instead Of Leaving Child With Just A Few Coins To Feed His Family, Kind Man Buys Him A Full Load Of Groceries And Drives Them Home
Please share kindness with others: when we share stories and examples of compassion and kindness, we inspire and encourage others to be kind and compassionate in their daily lives, making the world a better place for everyone.
View this post on Instagram