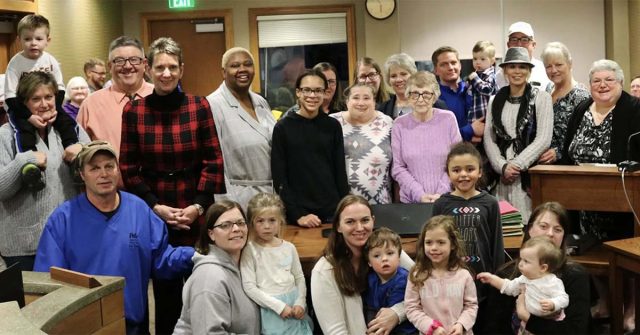 A kind woman from Johnson Country, Iowa, has helped care for and raise more than 600 children over the past five decades.
75-year-old Linda Herring and her husband Bob began fostering in the 1970s after Linda's best friend shared with her the joys she had helping care for children who were in need of love, and a family.
"My best friend was doing foster care for teenage girls and I thought, 'Well, that would be nice to do the same,' but I wanted little kids, so, I talked to the Department of Human Services and agreed to take kids with medical needs," Linda said.
Her granddaughter, Amber Herring, is deeply appreciative and proud of her grandmother.
"My grandma has always put everyone else before herself," Amber said. "She has been my hero since I was just a little girl and I'm so thankful I get to have her as my grandmother. It takes a special person to open their heart and home to children. It has been a lifestyle for them that not everyone can do, but their dedication to children in need has always been evident. They simply provided them love when the kids needed it most."
Linda has mostly fostered children with special medical needs, who often require more care and attention than other children. She is known for having a garage full of bins stacked to the ceiling filled with nice clothes for both boys and girls, organized by size. Linda has also been a volunteer first responder for nearly 50 years.
For Linda, giving love to children in need has been one of her life's passions. She was recognized by Johnson County for being an outstanding foster mom and for having fostered more than 600 children.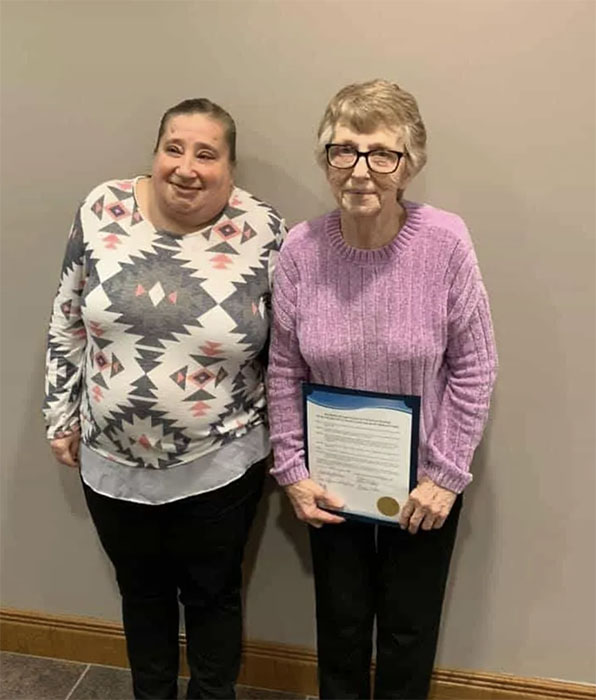 "The Department of Human Services could call Linda in the middle of the night to take a child, and she would meet anywhere to get a child," an official at Johnson County shared.
Linda has biological children of her own, and has also adopted three of the children she has fostered. One of her adopted children, Dani, is fully dependent on others for care, and medically was given a short life expectancy after birth. She is today 29 years old.
Her adopted son, 39-year-old Anthony Herring, came to Linda's home when he was just 6 months old.
"I appreciate being adopted even more today as a parent than I did when I was a child," Anthony said. "I'm forever grateful for the life I was given. She and Dad have both taught me that family isn't determined by blood, it's who you have in your life to love."
Anthony has watched his mom include hundreds of children in her boundless compassion and love.
"It's hard to say in words her impact. She was always available and ready for a child in need. These kids were usually taken from a traumatic situation and she'd take them in, provide a warm bed, clean clothes, warm meals, and love," he said.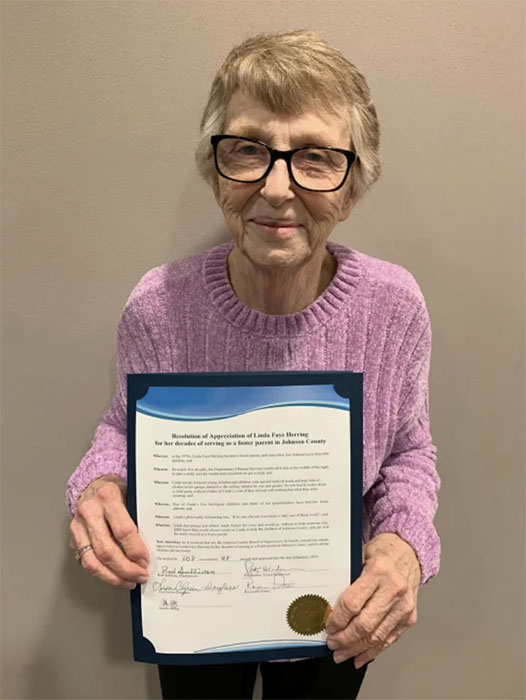 Linda's granddaughter Amber was inspired by her grandma to begin fostering herself.
"I've had 22 foster children and have adopted 3 of them," Amber said. "Like my grandparents, I tend to take children with medical and/or special needs who are harder to place in a foster home."
Tonya Stratton's mother was fostered by Linda, and she shared how Grandma Linda has stayed in their lives.
"Most foster kids grow up, move away and might never be heard of again," Tonya wrote in a post online. "My mother however was not one of those children. She forever became part of the Herring family as did my father, myself and my siblings. Bob and Linda Herring are Grandpa Bob and Grandma Linda. They always have been my entire life. Years and years of wiping tears, blowing noses, changing diapers and caring for a child that is not even yours… the gratitude I have for this family is beyond what I can express. I love them dearly."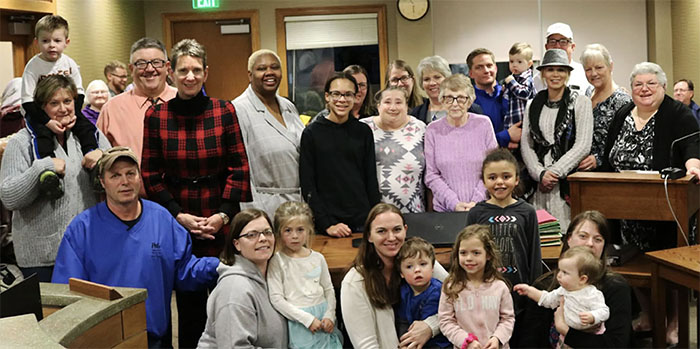 For Linda, she loved each and every child that stayed with her and became family.
"I cried when the kids would leave my home, no matter how long they had been there," Linda said. "It was so hard for me to say goodbye to them. I always questioned, 'Why do I keep doing this?' because it was never easy to say goodbye to a child. But I kept doing it because I had so much love to give to these children in need."
"If no one else can love them or take care of them, I will."
What an inspiring and beautiful soul.
You are Loved.
Subscribe for free to Understanding Compassion on YouTube and help us make the world a kinder place.
Related Compassion:
11-Year-Old Crochet Prodigy Regularly Donates To The Ethiopian Orphanage Where He Was Adopted
5-Yr-Old Sweetly Invites His Entire Kindergarten Class To Courtroom Hearing To Celebrate His Adoption
Kind Woman Clothed, Fed And "Adopted" Homeless Man Who Sat On Same Corner For 3 Yrs Waiting For His Mom