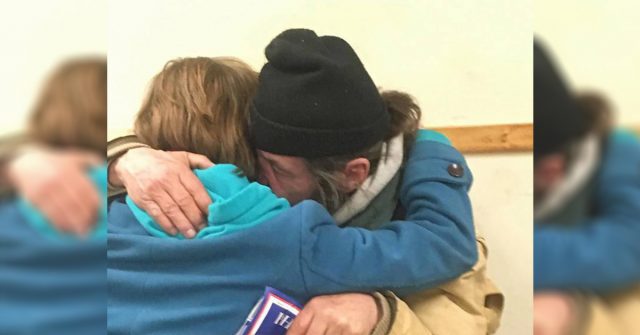 Big hugs are a powerful way of showing love for another, and can be so important for those who need love the most; the homeless.
An anonymous woman shared her story of how a homeless man named Patrick taught her the value of sharing kind words and hugs. She had spent a few months helping provide food for the homeless, one of whom was Patrick. His grateful heart moved her to look for him regularly, allowing her to hear his life story, to help him get a haircut, and even taking him to find his parents whom he hadn't seen in quite a while. Her story is below:




"I started feeding the homeless on the streets of downtown Buffalo about two months ago. One of the first times I went, I met this man, Patrick. He began to cry and said he appreciated our kindness. He then stood alone. I felt the need to say something, and told him he should never feel like less of a person than us. We are all people. This quickly led to me beginning to hear his life story, and I got a big hug. We now look for him each time we head out there, and there is always tears (especially from me last night) and bear hugs. He told me he loved me and although it may sound odd, it was one of the most genuine things I have ever been told."
He keeps this picture of us in a little photo album as a reminder that someone cares. We are taking him to see his parents this week whom he hasn't seen in a long time, and getting him a haircut. This man has touched me in the most powerful way, and I cannot be more thankful that I came across him. He has taught me how powerful simple words or hugs can be, and it is the soul of an individual that matters. The homeless are just people that are hurting, and they often just need someone to care."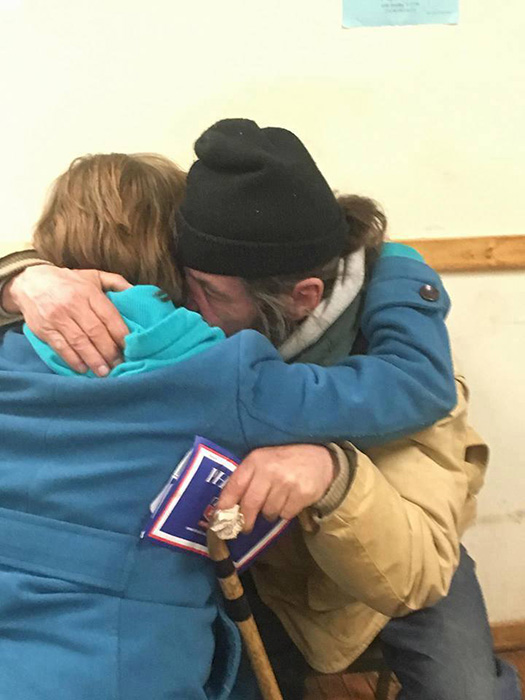 The homeless are also our family. They are someone's son, daughter, mother, father, sister or brother. They are human beings who are often having a very difficult time in their lives, and they really need a lot of love. Going to sleep cold, hungry, hopeless and in despair is the reality for many of these lovable people.
If you see any homeless people in your community, consider sharing some food, some kind words, and even a big hug. Your act of compassion and kindness might just give them the warmth their heart needs to keep going for months to come.
You are Loved.
See Also: Searching For Food, This Starving Man Finds Kindness: A Story That Everyone Should Read