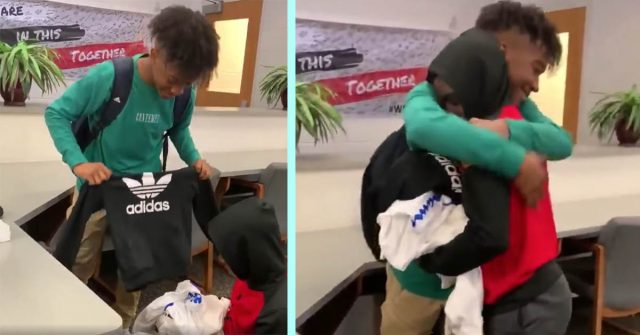 When Brayden noticed his classmate being bullied each day for wearing the same clothes to school, he decided one day pull him aside and surprise him with three full bags of new, name-brand clothes.
Brayden explained that while they're not "super close" friends, his heart was broken seeing one of his peers being bullied for something he could do nothing about.
"He's one of my friends but we're not super close," Brayden wrote. "he gets bullied and hit weekly and it's heart breaking cause there's nothing he can do about it; he's dealing with financial issues."



He also recalled that for the entire last school year, his friend had only two outfits to wear as his family couldn't afford to buy new clothes.
"I remember last year he only had 2 outfits cause he just didn't have the money to buy clothes," Brayden shared.
The student, whose name Brayden requested that Understanding Compassion keep anonymous, has been bullied for years according to Brayden; for having less money than the other students, and also for being smaller than some of his peers.
"Some back story to this kid, his name is [Anonymous]. [Anon] has been bullied pretty much since the start of middle school he's constantly s*** talked on, hit on and looked downed upon because of his size, the way he acts and his wealth. [Anon.] is honestly a great kid…" Brayden shared.
"Yes he does very stupid stuff and play fights and get[s] in trouble a lot but I can tell that's just a way he uses to cope with his pain. Back in 8th grade (last year) he would only wear the same 2-3 outfits because he didn't have the money to buy the clothes and it pained me seeing that."



Despite knowing about their classmate's difficult situation, other children still continued to bully him. It was too much for him to take, and he had attempted suicide earlier in the year.
"People knew what he was going through but he was still constantly bullied and picked on, the beginning of the year he tried to hang himself because he was getting punched by a kid (I won't name). I don't want to get deep into it but he's a sweet kid and I just wanted him to know that people care for him and that I know his pain and I want him to feel welcomed. Please spread positivity like this around, [for] people who don't have much[,] too much negative s*** [is] happening in this world right now."
Brayden took his classmate to a side room and presented him with a backpack and two shopping bags filled with quality new clothes from Adidas, Hollister and Nike.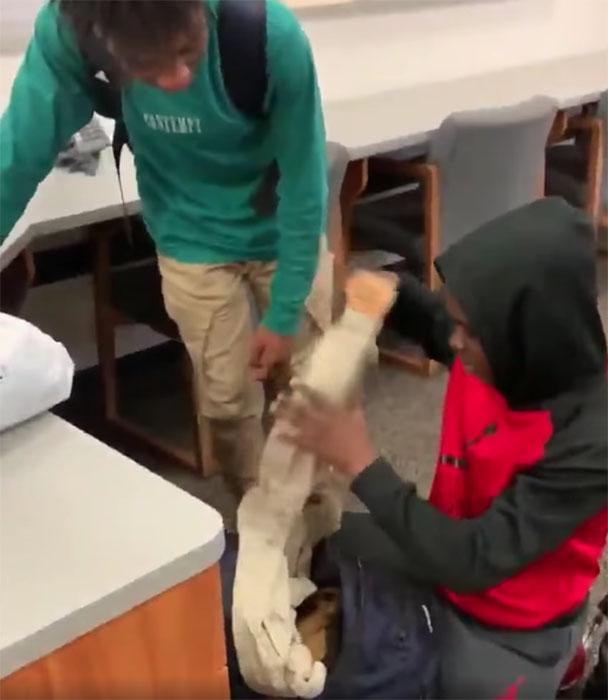 "Open this bag," Brayden said with a smile.
"These are nice clothes," [Anon] said.
Brayden: "Yeah, whose clothes are those?"
[Anon]: "I don't know."
Brayden: "Those are yours."
[Anon]: "What?! For real?"
Brayden: "Yeah."
[Anon]: "Thanks."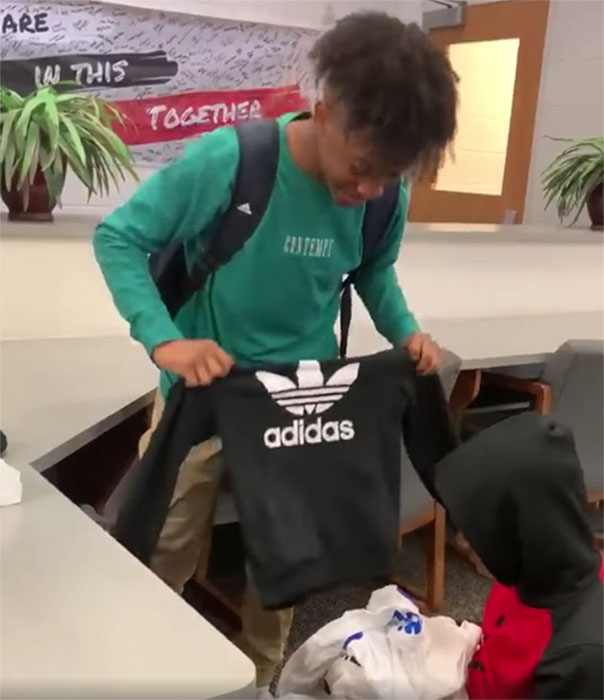 Brayden: "You got joggers, these are all Nike, Adidas and Hollister shirts. A Hollister sweatshirt, it's all really nice. And you have more joggers in here. And, I even bought you a Champion sweatshirt, so… this is yours. And… this is all yours bro. You can keep the bag."
He handed him a third bag full of clothes and then gave him a hug:
"There's more clothes in here, there's a bunch of shirts, shorts… give me a hug."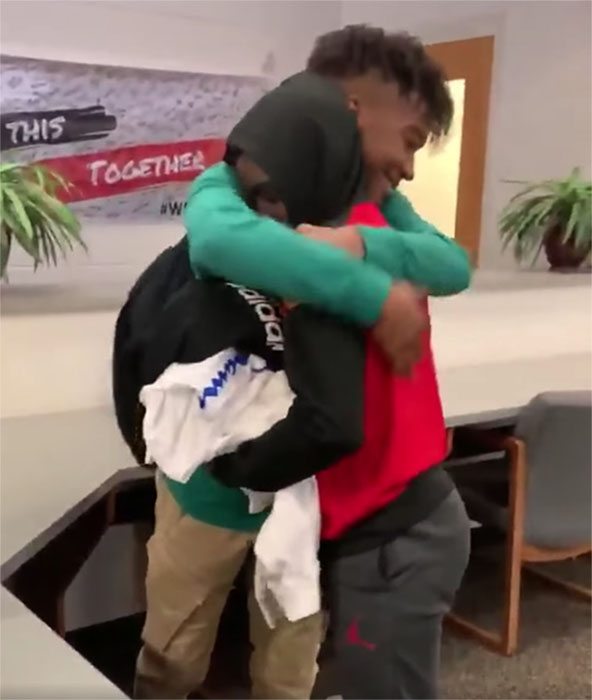 After hearing about Brayden's act of kindness and his classmate's difficult situation, numerous compassionate people online started a fundraiser for [Anon.] and have raised more than $7,000 for the young man and his family. Brayden was both surprised and deeply grateful for the generosity coming from so many strangers.
"The amount of money donated is INSANE, the money that isn't used for clothes will goto other family needs[.] Thank you guys so much, you['ve] change[d] this kid's life."




Bullying is a terribly difficult experience for children to deal with in school, and high percentages of youth suicides are attributed to being bullied by their peers. The children who do the bullying are often bullied and abused themselves at home; perpetuating a heart-breaking cycle of hurt, abuse and pain.
Brayden's act of kindness not only gave his classmate the clothes he needed to fit in, but it showed him that he is accepted, loved, and a valuable person in Brayden's life. We hope that he will carry this love from a true friend with him, and surely this act of kindness is one which he will never forget.
You are Loved.
Watch the following video of Brayden giving his classmate three bags of nice new clothes:
See Also: Kind Student Bought Expensive New Shoes For Bullied Classmate Who Hugged Him In Disbelief And Held Back Tears