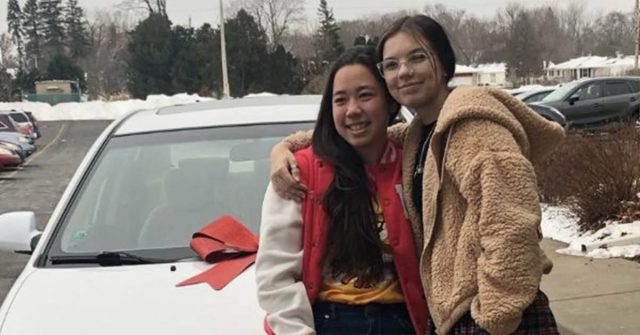 When a young woman won a car in a company raffle, she decided to gift it to her friend who had been biking to work all winter.
17-year-old Haley Bridges from Appleton, Wisconsin, made a friend at work, 19-year-old Hokule'a Taniguchi, who had moved to Wisconsin from Honolulu, Hawaii. The two became very close and often spent time together outside of work.
"What we do most of the time is chill at whoever's house we choose," Haley said. "We are very spontaneous, as well as [spend time with] our little close friend group we have."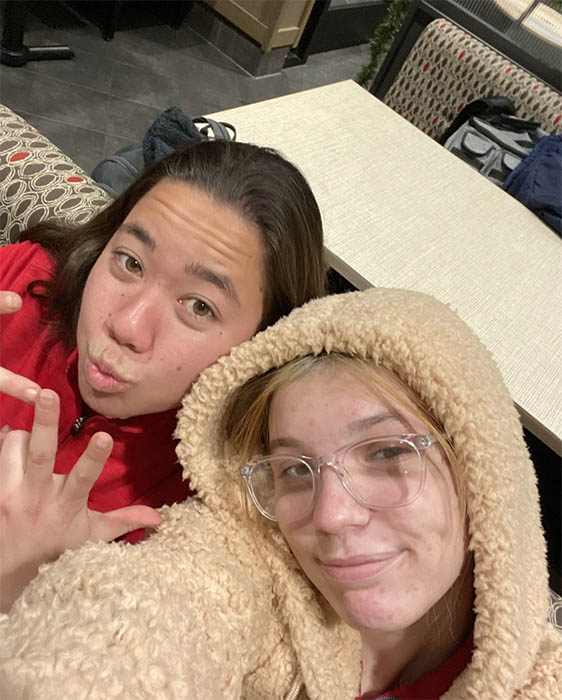 "I always look forward to going to work, I get to see my second family."
Haley learned that her friend, who she calls Hoku, was riding her bicycle to work each week. The winters in Wisconsin can be snowy and cold, with average temperatures often below freezing. Coming from warm Hawaii, Haley saw her friend struggling.
Their company had a large party coming up, and they learned that a raffle was being held with a top prize rumored to be a new car. Each person would receive tickets based on the amount of hours they worked, but only one ticket could be entered per person for the top prize.
"Everyone would get raffle tickets, and how many hours you work determines how many you get. I received 5 tickets," Haley said. "The car was the only raffle where we couldn't pool our tickets, one ticket per person."
When the friends arrived at the banquet hall for the company party, they saw that indeed a new car was the top prize. Wanting to make a difference for their friend, they all agreed that if any of them won the car, they would give it to Hoku, so she would have a warm and safe vehicle to get to work in.
"Our friend group and some other friends decided to all put one [ticket] in for her. We were all very nervous that someone else would get chosen, but we kept our hopes up."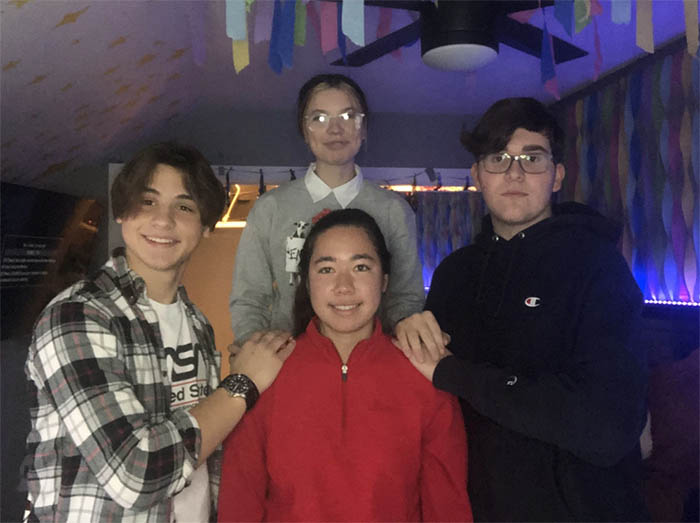 As they drew names during the raffle, Haley's name was announced: she had won the car for her friend. The girls were both excited, overwhelmed and grateful.
"Once my name was called by one of the bosses, Hoku and I looked at each other, this is when she started to cry. I've never seen her emotional side much. She is a very happy person and very funny and goofy as well. We looked at each other and I started to cry as well," Haley recalled.
"My heart felt as if it was racing and we both stood up and ran to each other. Everyone in the room felt like they were gone, it felt as if it was just us two in the moment. We hugged each other hard and cried so much. Everyone else was either crying or clapping. We all had a big group hug with everyone near us and it felt so unreal experiencing this."
Hoku was deeply appreciative, not only because she now had a new car, but because it had come from her best friend, Haley.
"Hoku told me that if anyone else in the group won it for her, it would be amazing, but not the same. It's crazy knowing that I was able to give my best friend a car!" Haley said. "No one deserves it more than Hoku."
Thousands of hearts online appreciated Haley's kindness and selflessness for her friend, as she gave Hoku a brand new car even while she still had car payments to make of her own. Kind hearts created a fundraiser for Haley, and generous donations from around the world ended up paying off the remaining balance of Haley's car loan.
"A fundraiser [got] it completely paid off! I was paying monthly for the car and it took a chunk of my paycheck," Haley gratefully shared.
Since receiving the car, Hoku feels that her life is changing for the better.
"At the same time she received the car, she got approved to get a [new] apartment," Haley said.
"It's crazy seeing her car parked in the parking lot, and I'm glad that she has a reliable ride to work and the grocery store as well!"
You are Loved.
See Also:
Kind Neighbors Raised $53,000 For New Bike And Car For Young Man Who Walked 8 Miles To Work
Kind CEO Gives His Own Car To A Student Who Walked 20 Miles To Work
Stranger Sees Woman In Car With Very Worn Tires, Pays $535 And Buys Her New Ones
View this post on Instagram