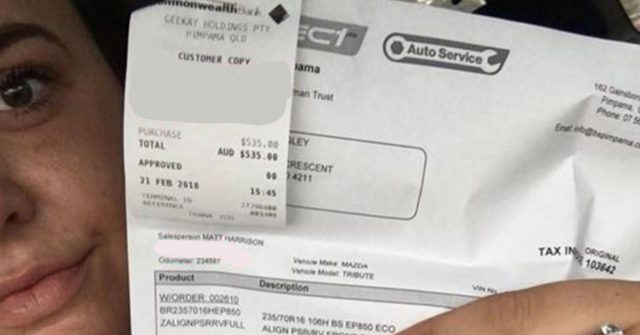 When Tegan Langley was sitting in her car waiting for an appointment in Gold Coast, Australia, a "gentle giant" who was nearby with his two sons noticed the state of her car's tires. They were very worn down, and looked like they could blow out at any time, so he decided to start a conversation.
"Sitting in McDonald's carpark waiting for an appointment, a gentleman who I later found out was named Tony, approached my car window," Tegan shared. "He asked if I knew about the state of my tires."
Tegan knew that she needed new tires, but was unable to afford them.
"I explained that I knew I needed new ones but at the moment simply couldn't afford it. He asked me if I would follow him to Bridgestone Pimpama across the road to see what they could do for me."
"This complete stranger, Tony, explained he couldn't live with himself if he walked away from the situation knowing they were about to blow at anytime," Tegan said.




After talking for a little longer, she agreed and followed Tony and his two boys across the street to the Bridgestone tire store.
"Tony didn't expect anything in return, just asking that one day when I'm in the position where I'm able to help someone that I pay it forward. 535 dollars, a lot of tears on my behalf, a few hugs, three brand new tires, a wheel alignment and the offer to fuel up my car, then he left."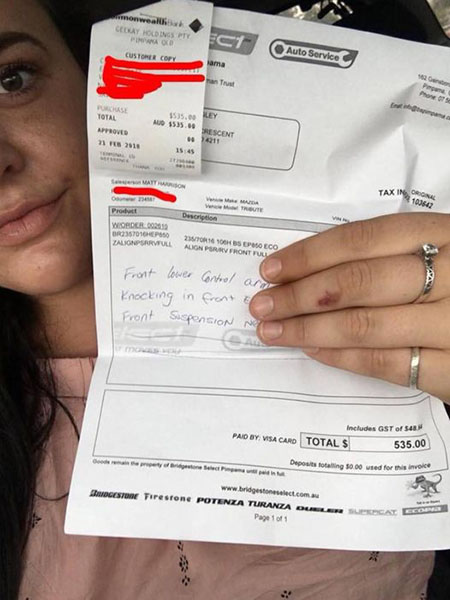 "No last name, no contact number. Just Tony the gentle giant with his two beautiful sons teaching them a life lesson."
Tony had helped her and then vanished as quickly as he had appeared, greatly helping Tegan, and also likely teaching his sons a beautiful lesson of kindness through his example.
"Tony if this ever reaches you, thank you!" Tegan wrote. "Thank you for your utterly selfless act, your kind words, for restoring my faith in humanity. From the bottom of my heart thank you! Also a big thank you to Bridgestone tires Pimpama for fitting me in on a fully booked out day and for the great service, you guys are champs!"
Many hearts online were also touched by Tony's kindness.
"What a wonderful person Tony! Blessing a stranger in need… fills my heart with joy to hear there are still selfless good hearted people in this world… restores my faith in humanity!!!" wrote Yvonne D.
"Thank you so much for sharing. This just makes my heart sing. ?" commented Liz N.
"What an Awesome God we serve!" wrote Maggie W.
"We so need to do more of this and sometimes it's just even letting a car in thats been waiting to turn, really easy to do, but gosh it feels good. Tony where ever you are, your boys have an amazing role model!!!!" shared Sonya W.
"That is so awesome, just know paying it forward can be anything from buying someone a meal, if they don't have enough to finish paying for food or gas. The amount you pay forward is not important, it is the kindness and compassion you show while doing it. Thank you for sharing your beautiful story. God Bless Tony and you ?✝️????" wrote Lynn K.
You are Loved.
See Also: In San Francisco, Buses Are Being Turned Into Showers To Help The Homeless
Please share kindness with others: when we share stories and examples of compassion and kindness, we inspire and encourage others to be kind and compassionate in their daily lives, making the world a better place for everyone.
View this post on Instagram