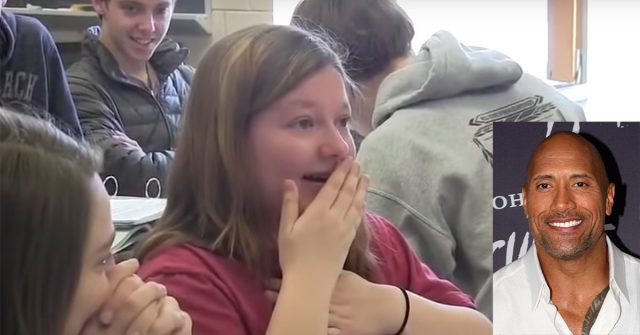 When a student asked Dwayne 'The Rock' Johnson to her high school prom, he planned a wonderful surprise for her.
Katie Kelzenberg, a Minnesota student at Stillwater Area High School, did not have a date for her school's upcoming prom dance, so she decided to invite her favorite actor; The Rock. The Rock is a former wrestler turned actor who has numerous roles in movies such as Jumanji and Disney's Moana.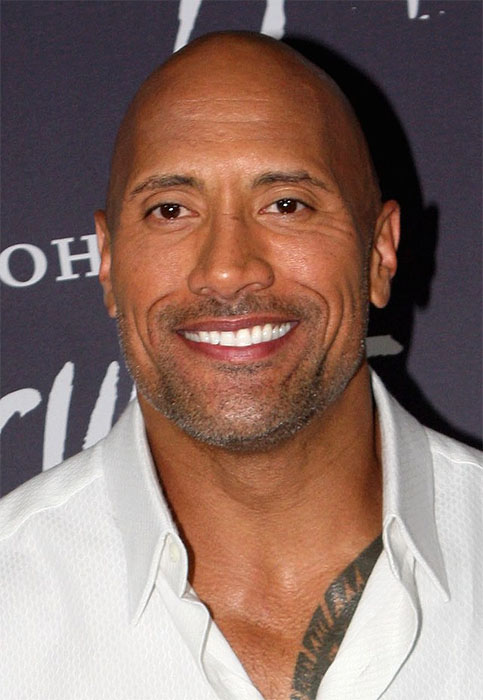 Katie posted a video on Twitter of herself asking The Rock to prom, and explaining that she is his biggest fan. She tagged his official account, and then as most do who reach out to very busy celebrities, she let it go and continued on with her life as a student.
While she didn't expect a response, the following Friday while she was in class, a familiar voice came on her school's intercom.
"Good morning to the Stillwater Area High School students, this, as you might have guessed, is Dwayne Johnson, also known as 'The Rock' …" the intercom said. "And you're probably thinking, what is The Rock doing on our intercom system, well, I'm sending a message to a very special young lady, and her name, is miss Katie Kelzenberg."
Katie was so surprised as she heard the announcement, and tears filled her eyes. Dwayne shared that he knew she must be embarrassed right now, but that he was so impressed with the courage she showed by asking him to her prom.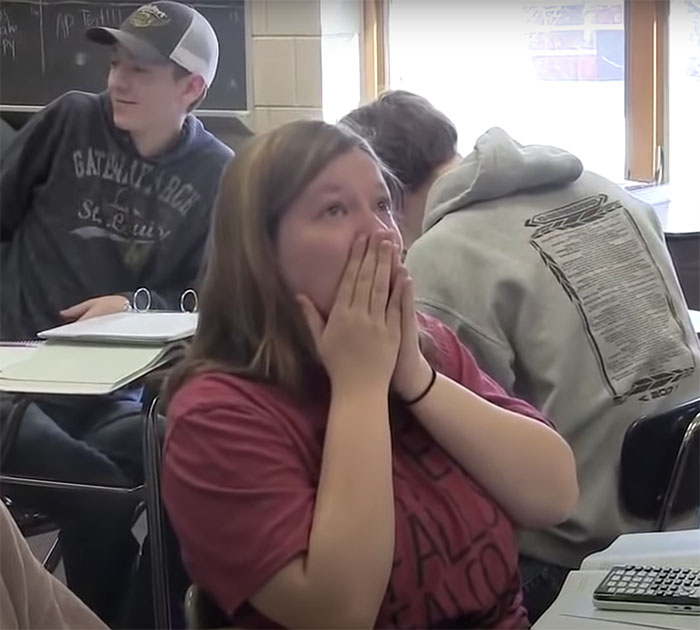 "Katie, I'm sure you are sooooo embarrassed right now, but I just had to let you know how cool and awesome you are for inviting me to your prom," Dwayne continued.
While Dwayne was unable to make her prom as he was in the middle of filming a new movie, he decided to do something extra special for Katie.
"Because we are now best friends, and I have so much love for you because you're so awesome, I have a very special gift. I have rented out a theater tomorrow… The gift is this: I want you to grab all of your favorite friends and closest family members and whoever you want to bring Katie, because tomorrow at 4:45 I'm showing you a screening of my new movie, Rampage … and all the popcorn and candy and soda you can drink, it's all on me. Everything is free. I want you to go and have the greatest time."
Dwayne rented out 232 seats at Oakdale cinemas, a local movie theatre for Katie, and told her to bring all of her high school friends. He covered everyone's popcorn, candy and drinks, so that everything would be free. Dwayne also requested that a chivalrous classmate take Katie to prom in his stead.
"I was so impressed by this young lady's charm and confidence to even ask me (ladies always get shy in front of me) that I had to do something special," Dwayne later shared.
He also said that now he can be considered an official Stillwater Area High School "Pony", which is the school's mascot.
"Have a blast at the prom, and thank you for being awesome," he said to Katie.
Watch this heartwarming video of Katie first hearing The Rock's announcement on her school's intercom:
Related Compassion:
Robin Williams Once Visited Sharon Osbourne's Home To Inspire Her To Continue With Chemo Treatments
Formerly Homeless Teen Never Gave Up And Graduated High School As The Class Valedictorian
The Compassionate Keanu Reeves Has Been Secretly Donating Millions To Children's Hospitals For Years
Angelina Jolie Has Spent Nearly 20 Years Helping The Poor Around The World