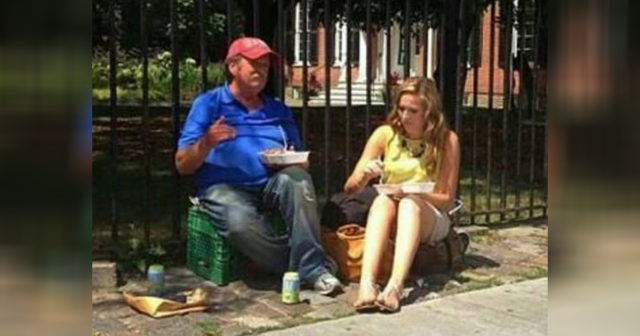 While lunch breaks are usually a time to hurry, eat and get back to work, one kind woman decided to use it to help a fellow human being.
"I saw this woman buy two meals at a street vendor and give this man one of the meals. She introduced herself and talked to him about his life. She was his equal and just wanted to express inclusion to a fellow human being," Instagram user Anonymous_uk29 wrote after capturing the moment of beauty.




Sometimes we overlook the homeless on the streets as we are going about our daily lives. We can forget that they, like us, are human too, and are often engulfed in feelings of loneliness. By giving just a few short moments of our time, and maybe a little charity, we can make all the difference in someone's day, and help them to feel loved and accepted.
Be the reason someone's smiles today.
Photo courtesy of Anonymous_uk29 on Instagram