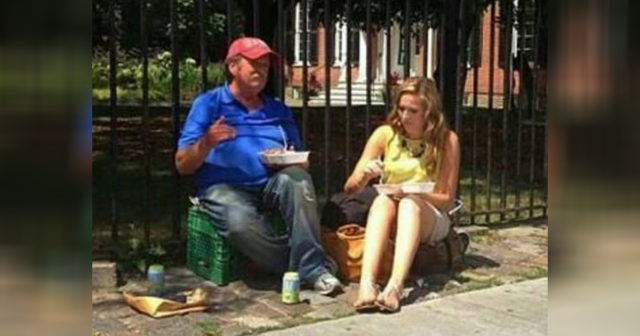 While lunch breaks are usually a time to hurry, eat and get back to work, one kind woman decided to use it to help a fellow human being.
An Instagram user known as Anonymous_uk29 was outside one day and saw an act of kindness that resonated in their heart. A kind woman went to an outdoor food vendor during her lunch break, purchased two meals, and then brought one to a homeless man and sat down and ate together with him on the sidewalk.
"I saw this woman buy two meals at a street vendor and give this man one of the meals," Anonymous_uk29 wrote.
"She introduced herself and talked to him about his life. She was his equal and just wanted to express inclusion to a fellow human being."
Thousands of hearts online have appreciated the woman's kindness for the homeless man.
"God bless this young woman showing her compassion," wrote Margaret H.
"Homeless People are usually not there because they want to be, They are still Humans and need to be treated with kindness and Love," commented Donna B.
"Being able to understand their uniqueness and many times special situations and circumstances is the gift of a GOOD SOUL.." wrote Christy H.
"Beautiful. More folks need to open, not just their eyes, but hearts," shared Terry M.
Sometimes we overlook the homeless on the streets as we are going about our daily lives. We can forget that they, like us, are human too, and are often engulfed in feelings of loneliness. By giving just a few short moments of our time, and maybe a little charity, we can make all the difference in someone's day, and help them to feel loved and accepted.
How beautiful a day can be when kindness touches it.
You are Loved.
Related Compassion:
She Bought Groceries, Then Came Outside And Made This Homeless Man A Homemade Sandwich With Love