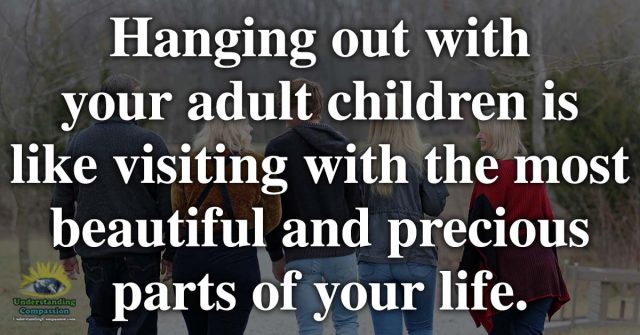 Hanging out with your adult children is like visiting with the most beautiful and precious parts of your life.
More Related Quotes:
Daughters Are Amazing, But Mine Is The Best. 
Happiness is… laughing with your Daughter. 
You Are My Son. A man stands now where my baby used to be, and the sight of him all grown up moves me. My Son has become a wiser and stronger man than I ever could have dreamed. I know by looking at him that I've been blessed in ways that years ago I never would have believed were possible. He is now an adult to the world, but in my heart he will always be My Little Boy.
The bond between mother and son lasts a lifetime. It is a special connection that remains unchanged by time and distance. It is the purest love; unconditional and true. It is understanding of any situation and forgiving of any mistake.
There are only two lasting bequests we can hope to give our children. One of these is roots, the other, wings.
I know a boy, he puts the COLOR in my day. He's my Son. I love him with all my heart. To the moon and back.
MY DAUGHTER is Beautiful and Unique. She's Mighty and Strong. She never stops teaching me, challenging me, or loving me. She keeps me grounded, and she constantly surprises me. The love I have for my daughter is inexplicable. My daughter has made my life whole. 
"Have patience with all things,
But first of all, with yourself."
~Saint Francis
If I could give my daughter three things, it would be the confidence to always know her self worth, the strength to chase her dreams and the ability to know how truly, deeply loved she is. 
MY DAUGHTER; She's my best friend. I'm not sure what I did to deserve her but I'm so thankful she's in my life. She's wonderful, strong, loving and forgiving. I could not imagine my life without her. I love her so much. 
Hey Daughter You take up the Biggest Space in my Heart… 
My Daughter I look at you and I do not see the passage of time. I see my little girl playing dress up, being filled with wonder when seeing everyday things. I will respect the fact that you are older now, but to me, you will always be my little girl. I may not be able to carry you in my arms anymore, but I will always carry you in my heart. 
My Daughter You are my Angel with a Love that always Glows. You are one of the Greatest Gifts my Heart will ever Know. Sending you all my Love. 
You are Loved.
Watch this beautiful video of a mother's love for her child:
See Also: Having a bond with your kids is something money can't buy…