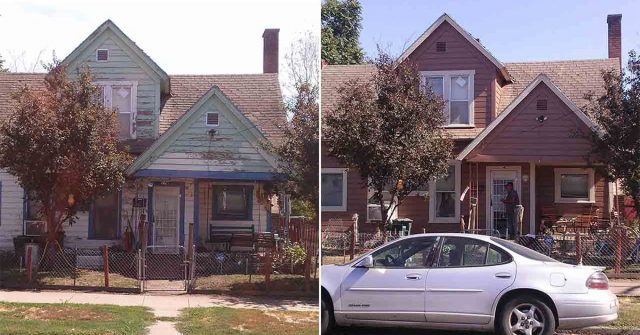 After seeing an elderly man's sad reaction from hearing a passerby say that his house was so ugly that it needed to be torn down, a kind neighbor organized volunteers to help paint and repair the elderly man's home.
Josh Cyganik, a 35-year-old track inspector for Union Pacific Railroad in Pendleton, Oregon, worked across the street from an elderly man who sat on his porch every day. Over the course of around four years, Josh would regularly see the older man sitting on his porch, and though he hadn't met him, he would give him a friendly wave each day.
"In the morning when I get here, he's there, waves, when I go home, waves bye," Josh said. "I just waved to him, knew he was a nice guy."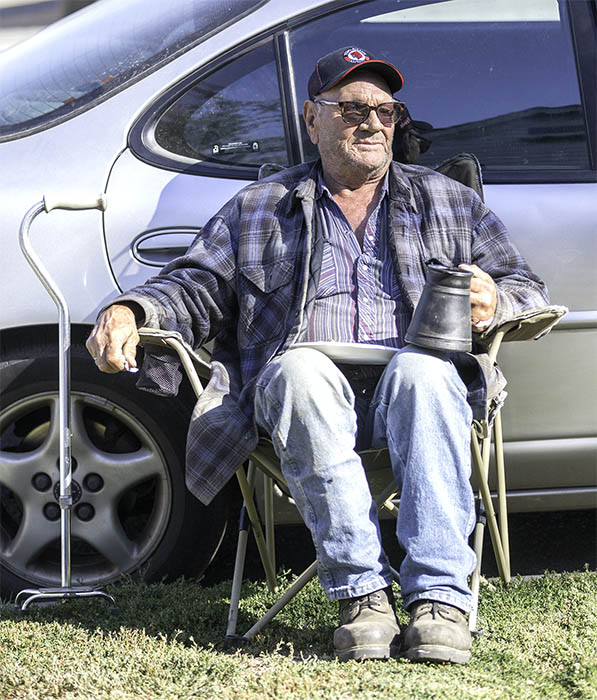 One day while Josh was working, he overheard two people walking by across the street say that the house was the "ugliest house I've ever seen" and that it should be torn down. While they may not have known that the elderly man could hear them, he was sitting out on his porch as he did every day, and Josh noticed that the man afterwards looked visibly depressed.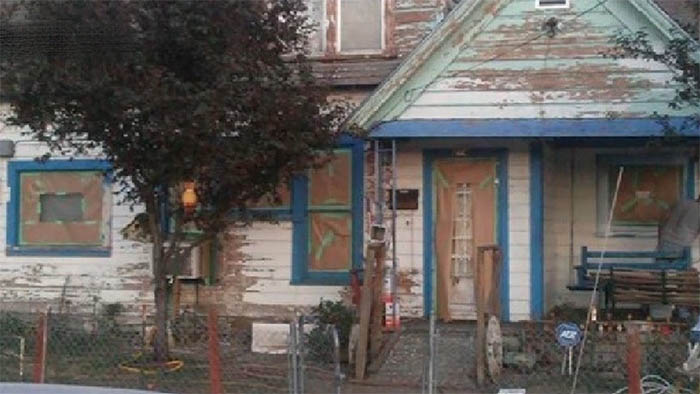 The house's exterior had indeed deteriorated, with patches of missing paint and a lot of discoloration, and the elderly man had mobility issues, so he was likely unable to repair it himself.
"[They] said they need to tear it down, and nobody deserves [to hear] that," Josh said. "I saw Leonard had his head down, and I felt bad for him."
Josh spent a few days reflecting on the situation and thinking about what he could do to help.
"The look on Leonard's face said it all to me," Josh said. "I went home and thought about it and it was just bothering me, eating me up and I knew I had to do something."
"After a couple of days, I knew there was something I could do to help."
He talked with one of his friends who worked at a local lumber company, and his friend agreed to donate enough paint to paint the elderly man's house, if Josh decided that he wanted to.
Josh then decided to go over and meet for the first time the elderly man who he had shared so many daily waves with. He learned that the elderly man's name is Leonard Bullock, and that he is 75-years-old. After they said hello for a bit, Josh told Leonard that he had overheard the people walking by the other day, and that he saw Leonard's sad reaction. Josh said he wanted to offer to help him paint his house, for free, and Leonard was floored by his kind offer.
"He was speechless," Josh said. "[Leonard] could hardly talk he was so ecstatic. He sits on his porch every day all day long so I wanted to give him a nice canvas to sit in front of."



After discussing some more, Leonard gratefully agreed, and later that day Josh wrote a post on his Facebook asking if any of his friends would be willing to volunteer some of their time to help paint an older neighbor's home. His friends shared his post, and more than 100 neighbors, friends and volunteers showed up to help paint Leonard's house.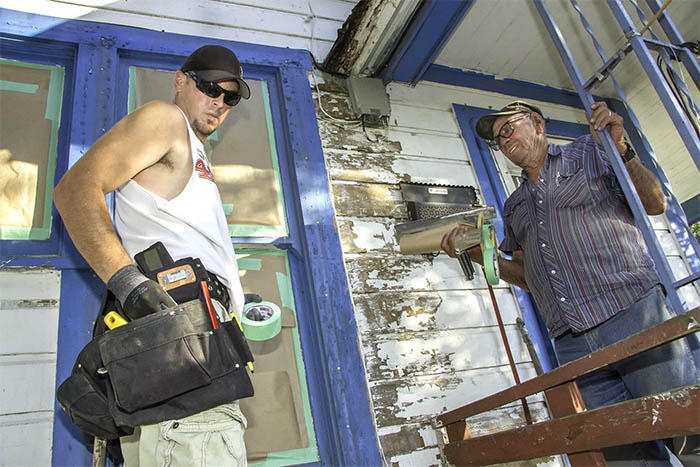 "I stopped counting at 95 volunteers, but everyone showed up excited and willing to help."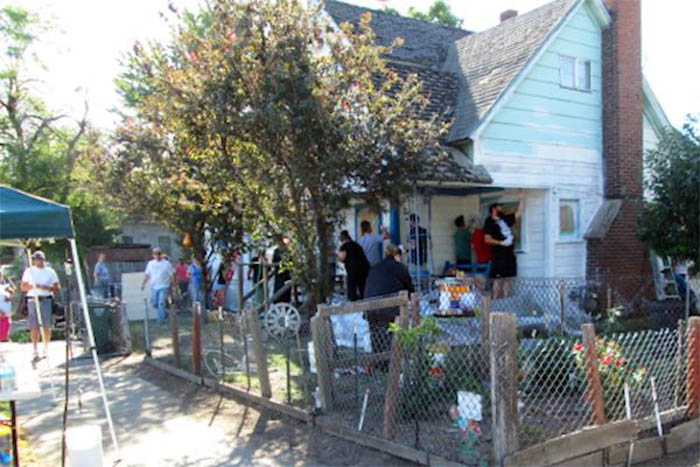 They gave Leonard's house a fresh coat of paint, changing it from the old white and turquoise to a beautiful beige. Kind neighbors had heard that Leonard loves to sit on his porch, so they went out and themselves purchased new furniture for his porch so that he could enjoy sitting there in comfort each day.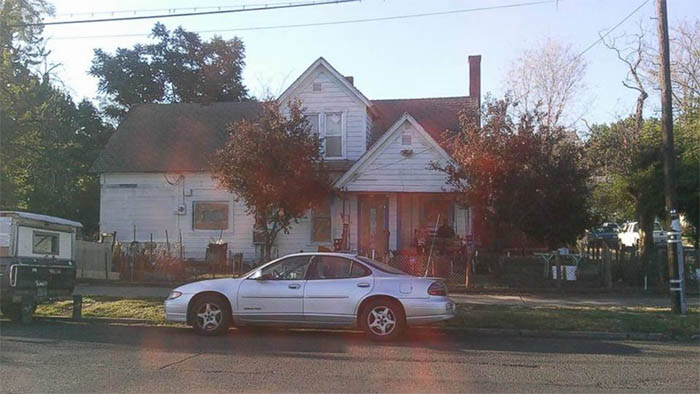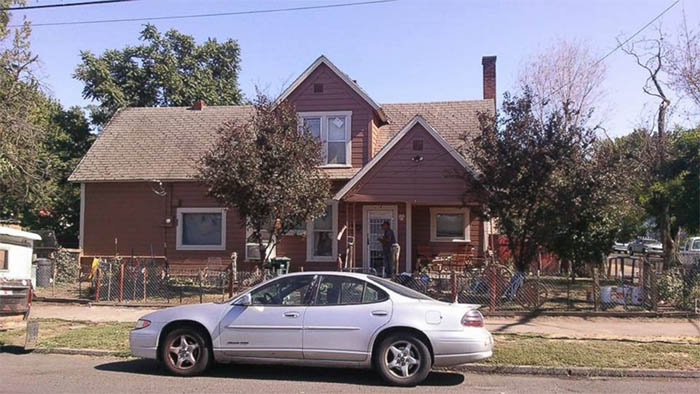 "There's nothing stronger than the heart of a volunteer," Josh said.
Kind neighbors also stopped by with tons of free food and drinks for everyone. By the end of the day, they had so much leftover, that they decided to bring it all to donate to the local Salvation Army.



The fresh coat of paint now gives Leonard a sense of pride as he sits on his porch.
"Every time I see him, I wave to him still," Josh said. "He just smiles from ear to ear."
"The house is real nice now," Leonard said. "It makes me feel good to look at it."
Many have deeply appreciated Josh's kind effort to help repair the house, and the heart, of a lonely elderly man. Josh said that for himself it was "no big thing," and that he only wishes that he had reached out to Leonard sooner. It had taken him four years to take that first step, but now he regularly stops to chat with Leonard and checks on his progress with other home improvement projects.
"That's just how I was brought up… to respect your elders and help people in need," Josh said. "Don't be afraid to go out there and help them. Don't be afraid to take the first step."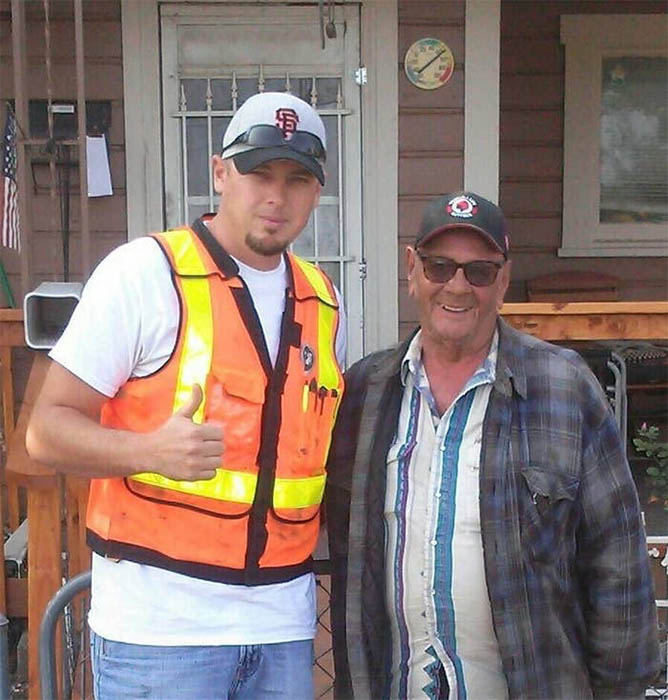 "Leonard can now sit on his front porch for the rest of his years while feeling good about his home."
You are Loved.
Related Stories:
These Kind Neighbors Repaired And Painted The House Of A Lonely, Retired School Teacher For Free
Kind Woman Spent 60hrs Cleaning Her 76-Yr-Old Neighbor's Apartment, Which Hadn't Been Cleaned For 13 Yrs
Elderly Woman Living In Car With Dogs Now Has A Home After Kind Women Called On Neighbors For Help
Kind Retired Nurse Uses Her Own Pension To Help Feed Thousands Of Her Struggling Neighbors Each Month
Subscribe for free to Understanding Compassion on YouTube and help us make the world a kinder place.
View this post on Instagram