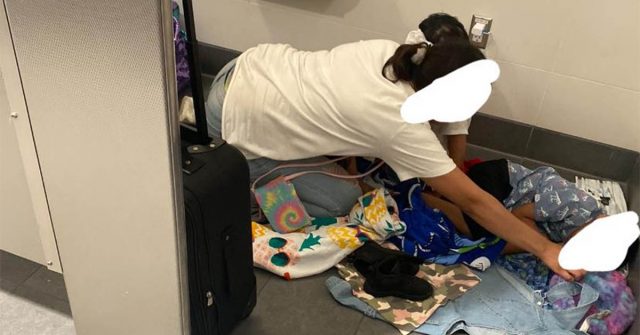 When a woman overheard a mother crying in an airport bathroom stall, she ended up starting a conversation and helping the mother and her children get a hotel room for the night.
Cyn Symoné was traveling to Los Angeles and ended up missing her flight. She was upset and had to rebook to catch another flight the following day, but when she finally arrived at LAX, she understood the reason why she needed to be there at that time.
"I missed my first flight to LA yesterday and had to catch another, I was so upset…" Cyn shared in a post online. "But now I know why!!!!"
As she was waiting for her bags to come in the baggage claim at LAX, she went to the restroom and overheard a woman crying in one of the stalls.
"When I finally got to LAX baggage claim I went to the bathroom to check my little makeup, y'all know me… and I heard a woman crying so hard… I was thinking should I say something like "it's gonna be okay," but I was nervous and she was speaking Spanish so I didn't know if she'd even understand me…"
Cyn was hesitant at first to talk to a crying stranger in a bathroom stall, and she ended up leaving and coming back into the bathroom four separate times to check on the crying woman. During the fourth time, she heard the crying woman, on the phone, say that her bus would not come until the following day.




"I left and came back to the bathroom like 4 times while I was waiting for my bags to come down (full flight) and I heard her say "but the bus doesn't come until tomorrow" 😢 OMG my heart dropped…"
At this point Cyn tried talking to the woman and asked if she was okay. She told her that she overheard her saying her bus wouldn't come until the next day, and Cyn offered to pay for a hotel room for the night for her. The woman behind the door stopped crying for a moment and opened the bathroom stall door, and Cyn saw that it was a mother with her children sleeping on blankets on the bathroom floor.
"So I asked her if she had Zelle or CashApp she said no‼️ So I asked her if I could pay for her a hotel until tomorrow and she stopped crying and opened the stall door AND I SAW THE SLEEPING KIDS!!! Omg y'all‼️‼️‼️"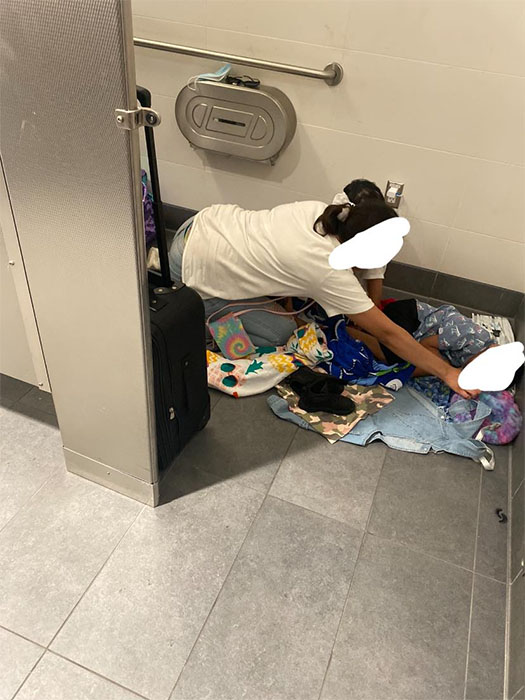 After a bit more convincing and many heartfelt thank you's, the mother agreed to accept Cyn's kind offer. With her children she rode with Cyn to the Marriott, where Cyn paid for a hotel room for them for the night.
"I felt so happy to help her, knowing I [would] just be spending my little money on [something meaningless]… so she rode with me to the Marriott and I got her a room ❤️"



The young mother afterwards told Cyn that she had been praying for help and she did not know what to do, and that's when Cyn showed up in her life.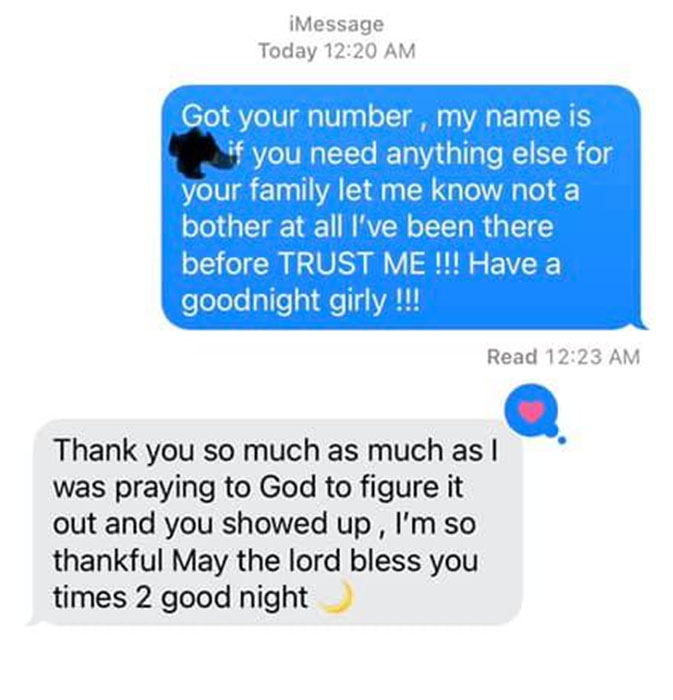 "Got your number, my name is Cyn. If you need anything else for your family let me know not a bother at all I've been there before TRUST ME !!! Have a goodnight girly !!!" Cyn texted the young mother.
"Thank you so much as much as I was praying to God to figure it out and you showed up, I'm so thankful. May the lord bless you times 2. good night," the mother replied.
Cyn didn't share what had happened at first, but after reflecting on how many other people likely heard the mother crying in the bathroom but were too uncomfortable to approach her to help, she decided to share it in hopes of inspiring others to reach out to people in their times of need.
"I wanted to share this because I kept thinking… how many people came into the bathroom, heard her crying, didn't know there were kids, and kept going?… I'm glad I said something because she was super sweet and appreciative 🤍🤍🤍 When I woke the next morning, I thought to myself, if people only knew the extent of the crying woman in the stall… for most, seeing is believing… I hope everyone takes something from this ❤️"
Let's all make an effort to share good news more often in our social media feeds. The world is truly a beautiful place, and we all need reminders of that.
You are Loved.
Related Stories:
Kind Man Buys Homeless Father A Hotel Room For A Week And Gives Him $1000
Good Samaritan Helps 70 Homeless People Stay In Hotel During Winter Storm
Kind Man Buys Woman's Groceries After Hearing Her Tell Daughter They Couldn't Afford To Eat That Night
View this post on Instagram