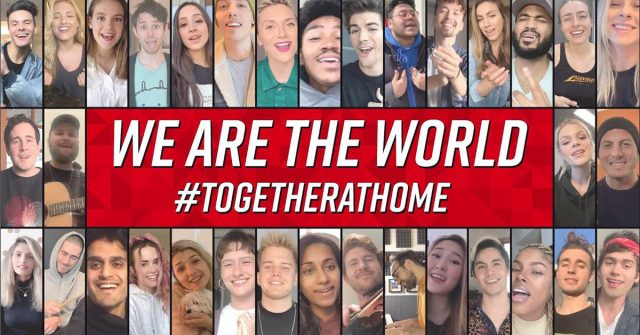 In 1985, Michael Jackson and Lionel Richie organized dozens of famous musicians and performed the hit song We Are The World; a beautiful song which helps bring humanity together. All proceeds from the mega-single were donated to charity, and it's still a worldwide hit today.
33 popular YouTubers came together to sing a self-isolation version of We Are The World, and while you may not recognize some of these singers, they did an amazing job.



Each person seen in the video filmed themselves at home while in self-isolation due to the coronavirus pandemic, and all proceeds from this song are also being donated to charity.
"We wanted to show that the online world stands together for something special," the group wrote.
"Covid-19 has reached us. We all have to stay at home. We all have to limit ourselves to prevent bad things happening and to save lives. Because of this we have decided to show solidarity with all the artists."
Take a minute to lift your spirits with the following video:
You are Loved.



These are the artists in the video from A to Z:
Abi Sampa – https://bit.ly/2G34iot
Allie Sherlock – https://bit.ly/2Vf5zNR
Alyson Stoner – https://bit.ly/19dpYsN
Andie Case – https://bit.ly/1YObebE
Andrew Garcia – https://bit.ly/1NUOYnU
Austin Percario – https://bit.ly/1FJxv1b
Casey Breves – https://bit.ly/2eUaxJy
Chris Collins – https://bit.ly/1XdJF92
Costantino Carrara – https://bit.ly/1WJcaHW
Danny Padilla – https://bit.ly/2QCpS7v
Davina Michelle – https://bit.ly/2HshfnI
Diamond White – https://bit.ly/2ydLXRl
Gabriel Wheaton: https://bit.ly/2QGGHhI
Jason Pitts: https://bit.ly/2KZQDNT
Joel Manduke: https://bit.ly/2SwKQBV
Josh Levi – https://bit.ly/1TonYj0
Jordan Doww – https://bit.ly/2cQGPI2
Karisma Collins – https://bit.ly/2UoOS1g
Kayef – https://bit.ly/U9UkEo
Kenzie Nimmo – https://bit.ly/1KlStis
Kirsten Collins – https://bit.ly/2QkUJpV
Kurt Hugo Schneider – https://bit.ly/1m0xdF8
Leroy Sanchez – https://bit.ly/1LJhHLM
Mariana Nolasco – https://bit.ly/1QjDax3
Megan Lee – https://bit.ly/1VppvsX
Michele Grandinetti – https://bit.ly/1J3F8Sg
Montana Tucker – https://bit.ly/2SAeZjX
Nicole Cross – https://bit.ly/1Qmlkus
Rushil – https://bit.ly/2RCUFhG
Sam Tsui – https://bit.ly/1kOXxzj
Sarah – https://bit.ly/1S32URO
Shannon K – https://bit.ly/2G0LKoP
Will Gittens – https://bit.ly/1l6ZWgt
Youri Menna – https://bit.ly/2BXhxmR
Band:
Piano: Costantino Carrara
Guitar: Jason Pitts
Keyboard: Kurt Hugo Schneider
Drums: Joel Manduke
Violin: Gabriel Wheaton
Channel Aid / Head of Project: Fabian Narkus
Video-Production: All Artists at Home Cut by: FABS Projects GmbH / Channel Aid Venue: at Home Producer / Music Director: Kurt Hugo Schneider & Joel Manduke
Charity-Links:
FABS Foundation – http://www.FABS-Foundation.com
Right to Play – http://www.RightToPlay.com
Laureus Sport for Good – http://www.Laureus.com
See Also: Hero Teacher Walks Five Miles Every Day To Deliver Free School Lunches To 78 Students