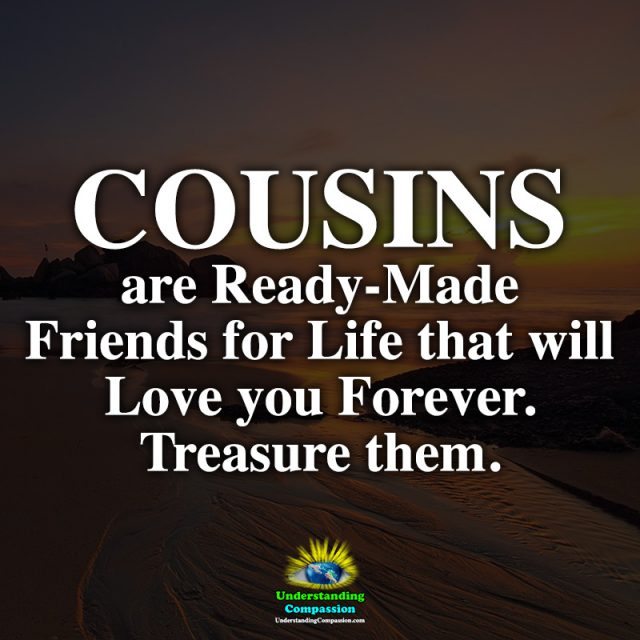 COUSINS are Ready-Made Friends for Life that will Love you Forever. Treasure them. 
More Related Quotes:
To all my COUSINS We may not speak, hang out or call every day, but know I LOVE YOU. 
Cousins are your First Friends and your Forever Friends. As time passes you may live far apart, but cousins are Always Connected by the Heart. I Love my Cousins. 
You don't need a lot of money to lead a Rich Life. Good Friends and a Loving Family are worth their weight in Gold. 
Be Grateful for every second of every day that you get to spend with the people you love. Life is so very precious. 
Family is not an important thing… It's everything.
If you find someone who makes you smile, checks up on you often to see if you're okay, who watches out for you and wants the best for you, who loves and respects you, don't let them go. People like that are some of the most loyal treasures you'll ever find. 
It's not what we have in life, but who we have in our life that matters. 
In stressful times, the Love from Family or a few Close Friends means everything. None of us are perfect, but we're all we've got. 
Family is like music, some high notes, some low notes, but always a beautiful song. 
The sound of my family laughing together is music to my ears. 
My wish today is that my family and friends are safe and loved. 
I think if I've learned anything about friendship, it's to hang in, stay connected, make an effort to be there for them, and let them make an effort to be there for you. Don't walk away, don't be distracted, don't be too busy or tired, don't take them for granted. Friends are part of the glue that holds life and happiness together. Powerful stuff. 
Cousins are those childhood playmates who grow up to be forever friends. Love You Cuz!
You are Loved.