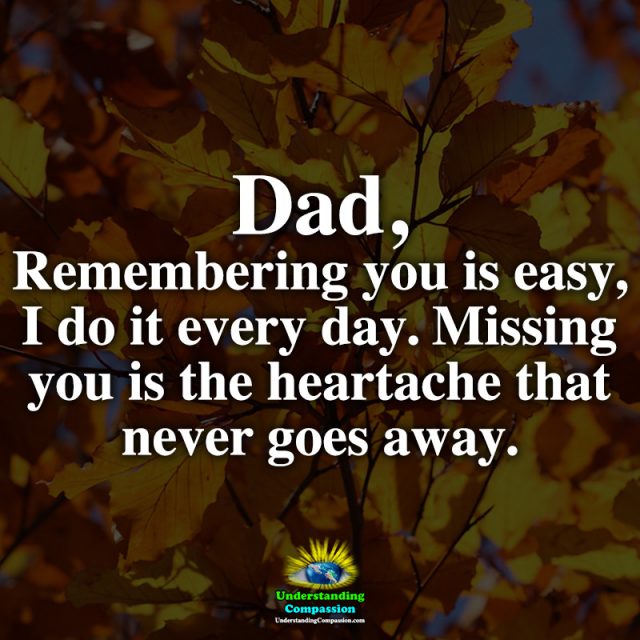 Dad, Remembering you is easy, I do it every day. Missing you is the heartache that never goes away. 
DAD What I'd give, if I could say "Hello Dad" in the same old way. To hear his voice and see his smile, to sit with him and chat for a while. So if your father is still here, cherish him with care, for you'll never know the heartache until you see his empty chair. 
Hey Dad, You were there for me from the day I was born, always having my best interests in mind. You are one of the most important people in my life and I love you with my whole heart. 
A Dad is someone you look up to no matter how tall you grow. 
A Father Just Like You I just want to let you know you mean the world to me, only a heart as kind as yours would give so lovingly. The many things you've done, all the times that you were there, help me know deep down inside how much you really care. Even though I might not say how much I appreciate all you do, richly blessed is how I feel having a Father just like you. 
My Father gave me the greatest gift anyone could give another person; He Believed In Me. 
A Father is neither an anchor to hold us back, nor a sail to take us there, but is a Guiding Light whose Love shows us the way. 
The Love between a Father and his Children is Forever. 
A son took his father to a restaurant to enjoy a delicious dinner. His father was of advanced age, and therefore, a little weak too. While he was eating, a little bit of food fell from time to time on his shirt and his trousers. The other diners watched the older man with their faces distorted in disgust, but his son remained totally calm. Once both were done eating, the son, without being remotely ashamed, helped his father by taking him to the restroom. He cleaned up the leftovers from his wrinkled face, and tried to wash the stains of food from his clothes. He lovingly combed his hair gray and cleaned his glasses. On the way out of the restroom, a profound silence reigned in the restaurant. The son was on his way to pay the bill and to get ready to escort his father out of the restaurant, when just then a man rose from his chair among the diners. He asked the son, "Don't you think that you've left something here?" The young man replied, "No, I haven't missed anything." Then the stranger said to him, "Yes you've left something! You left here a lesson for each child, and hope for every parent!" The entire restaurant was so quiet, you could hear a pin drop. 
One of the biggest honors that exists, is the ability to take care of those older adults who first cared for us. Our parents, and all those elderly who sacrificed their lives, with time, money, effort and unconditional love. They deserve our utmost respect. If you also feel respect for our loved older adults, share this story with your friends. 
Never complain about the things your parents could not give you… It was probably all they had. 
My Family is my Greatest Treasure. We aren't perfect, but I Love Them with all my Heart. 
In Memory of a Loved One who has passed. I Love You, Miss You and Bless You. May You Rest In Peace. 
Dad, remembering you is easy, I do it every day. Missing you is the heartache that never goes away. 
You are Loved