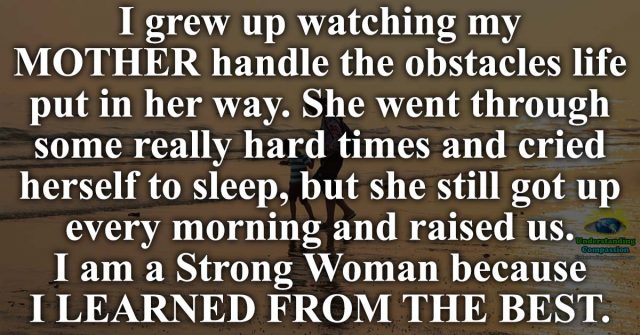 I grew up watching my mother handle the obstacles life put in her way. She went through some really hard times and cried herself to sleep, but she still got up every morning and raised us. I am a strong woman because I learned from the best.
More Related Quotes:
I still need my Mom. It doesn't matter how old I am. She has made me laugh, dried my tears and sometimes driven me crazy. Through it all, she has always been my friend. 
Your Mother
Is Always With You.
She's the whisper of the leaves as you walk down the street, she's the smell of certain foods you remember, flowers you pick, the fragrance of life itself. She's the cool hand on your brow when you're not feeling well, she's your breath in the air on a cold winter's day. She is the sound of the rain that lulls you to sleep, the colors of a rainbow, she is Christmas morning. Your mother lives inside your laughter. She's the place you came from, your first home, and she's the map you follow with every step you take. She's your first love, your first friend, even your first enemy, but nothing on Earth can separate you. Not time, not space… not even death.
My Mother
was far from perfect,
she didn't go to the best
school, dress in fine clothes,
or have a lot of money.
But when I look back,
she had riches that money
can't buy; A Big Heart
that knew only one thing,
the love for her children.
Helene Lerner
I miss my Mother
The loss of your mother,
no matter how old you are,
changes your life forever.
Your mother is your first and
forever friend. You never really
get over the loss, but you learn
to live with it. She is never far
away from your thoughts,
and she is always
in your heart. 
Your Mom Is Your Mom.
Nobody can replace her.
Nobody can do half the things
she does or has done for you.
Nobody can compare to her.
Only our Creator can love you
more than she does.
She's only one person, but she's
the person that matters most.
Share if you Love and Appreciate
your Mom… no matter where
she is, in Heaven or here on Earth.
There's nothing like a Mother's Love. 
You are Loved.