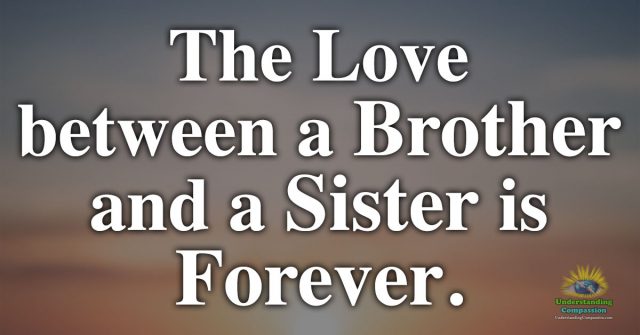 The Love between a Brother and a Sister is Forever.
More Related Quotes:
My Sister You have always supported me through every kind of tough situation. I give thanks every day that I've been blessed with our relationship. I Love My Sister. 
SISTERS Are Special from young ones to old, Life gave me a Sister, more precious than Gold. 
HEY SISTER Just want you to know… I Love You to The Moon And Back FOREVER AND EVER. 
A sister is a forever friend. 
My Sisters and My Mom, those people help me get through every single day. 
SISTERS take care of each other, watch out for each other, comfort each other and are there for each other through thick and thin. 
To my Family and Friends, sometimes I forget to tell you how much I love you. Thank You for being in my life. You are special to me. Big Hug. 
There is no better FRIEND than a SISTER, and there is no better SISTER than you. 
Sisters Take care of each other, watch out for each other, and comfort each other. They are there for each other through the bad times and the good times. 
Side by side or miles apart, Sisters will always be connected by the heart.
Sometimes we need our sister to Simply Be There. Not to say anything or fix anything,
but to let us know they're on our side and that They Care For Us.
A Sister is a little bit of childhood that can never be lost.
A Sister is a perfect example of a Best Friend.
Sisters are Joined by Love, Heart to Heart, to Infinity and Beyond. A Sister is a Forever Friend. 
My Sister is my Best Friend For Life.
There is no better Friend than a Sister, and there is no better Sister than you. 
I want to say Thank You to the rare few individuals in my life who have listened without judgment, spoken without prejudice, understood without pretension, helped me without asking for anything in return, and loved me without conditions. 
Strong Women aren't simply born. We are forged through the challenges of life. With each challenge, we grow mentally, emotionally and love unconditionally. We move forward with our head held high and with a strength that cannot be denied. A woman who's been through the storm and survived. We are warriors. 
Nothing is nicer than having someone who Appreciates you in the smallest things, Accepts you in times of hardship, Comforts you when you are troubled, Loves you no matter what and is simply Happy for having you in their life. 
SISTERS are like Seashells, Snowflakes and Precious Works of Art. Each is a Unique, Beautiful TREASURE that can never be duplicated or replaced. 
You are Loved.