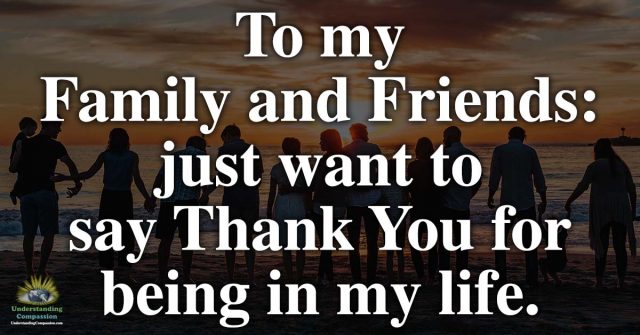 To my family and friends: just want to say thank you for being in my life.
More Related Quotes:
Friendship is the sweetest form of love. So when I say i'll be your friend 'till the end, it's as good as saying i'll keep you in my heart 'till its very last beat. 
Best Friends make you smile, check up to see if you're okay, and want the very best for you. Keep them close and don't take them for granted. People like that can be hard to find. 
Your Light Is Seen, Your Heart Is Known, Your Soul is Cherished by more people than you might imagine. If you knew how many others have been touched in wonderful ways by you, you would be astonished. If you knew how many people feel so much for you, you would be shocked. You are far more wonderful than you think you are. Rest with that. Rest easy with that. Breathe Again. You are doing fine. More than fine. Better than fine. You're Doin' Great. So Relax. And Love Yourself Today.
~Neale Donald Walsch 
Friends are the people in my life who make me laugh a little louder, smile a little bigger, live a little better, and when I feel a little lost, they remind me that they love me. 
Good Friends care for each other. Close Friends understand each other, but True Friends stay forever. Beyond words, beyond distance, beyond time. 
Real friends always treat you like family. 
"Love is blind; friendship closes its eyes."
~Friedrich Nietzsche
"Friendship is the only cement that will ever hold the world together."
~Woodrow Wilson
Sometimes having coffee with your Best Friend is all the therapy you need. 
Always try to Smile, because your smile can give other people a reason to smile too. 
If someone comes into your life and has a positive impact on you, be thankful that your paths crossed. And even if they can't stay for some reason, be thankful that somehow they brought joy into your life, even if it was just for a short while. Life is change. People come and go, some stay, some don't and that's okay. Remember the good times and smile that it happened. 
One of the best feelings is knowing that you're wanted, knowing that someone wants to talk to you, wants to know how you're doing, or wants to see you. Whether they pick up the phone to send you a quick text or stop by your house to catch up, someone or something reminded them of you especially. It just feels really nice to know that you've been on someone's mind and that they care enough to let you know that. 
Good Friends are hard to find, harder to leave, and impossible to forget. 
If you just find One True Friend in your lifetime, you are Truly Blessed. 
You are Loved.
Watch this beautiful video of an abandoned 2-year-old named Hope being rescued: