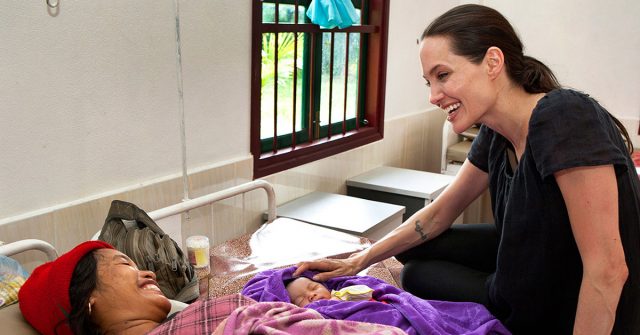 There's no doubt about where the 'Angel' in Angelina Jolie's name comes from.
For nearly 20 years, the kind actress has been making a true difference for more than 29 charities and causes.
Her heart opened in 2001 while filming the movie Tomb Raider in Cambodia, as Angelina was struck by the graciousness and warmth of the Cambodian people. Several of her scenes required sidestepping active land mines in different locations, and she became interested in learning about the dangers refugees face in countries recently ravaged by war. She learned about the recent Cambodian civil war and tragic genocide; which had left an estimated 2 million people dead, with thousands of homeless refugees and a land filled with land mines and extreme poverty.




"When I first came to Cambodia, it changed me. It changed my perspective. I realized there was so much about history that I had not been taught in school, and so much about life that I needed to understand, and I was very humbled by it," Angelina said. "That trip triggered my realization of how little I knew and the beginning of my search for that knowledge."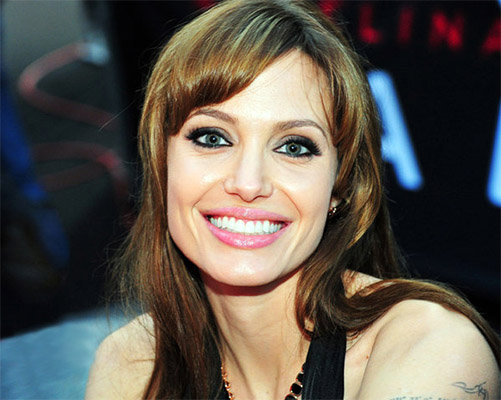 To learn more, she contacted the United Nations High Commissioner for Refugees (UNHCR); a global organization dedicated to saving lives, protecting rights and building a better future for refugees, forcibly displaced communities and stateless people. Shortly after, Angelina Jolie became a goodwill ambassador for the UNHCR, visiting displaced people in more than 20 countries including Afghanistan, Sierra Leone, Ecuador, Bosnia, Cambodia, Haiti and Iraq.
In the following one minute clip, Angelina visited Chad in 2004 on World Refugee Day to raise awareness and support for refugee mothers and children who were struggling to survive:
She was amazed by the sense of hope she encountered by the refugees, and came back in 2007 to raise further international awareness and funding for relief. The UNHCR was able to help house more than 230,000 refugees at the time; an incredibly compassionate service to humanity.
"It's always hard to see decent people, families, living in such difficult conditions," she said. "What is most upsetting is how long it is taking the international community to answer this crisis."
Angelina founded the Maddox Jolie-Pitt Foundation a few years after her first visit to Cambodia, which is dedicated to alleviating extreme rural poverty, protecting the environment and conserving wildlife in rural northwestern Cambodia. The foundation helps protect 60,000 hectares of biodiverse land, has helped educate more than 15,000 students, helps elevate families out of poverty, provides sustainable healthcare at two separate clinics, runs gender awareness campaigns against domestic violence and human trafficking, and more. They started the foundation by donating $1 million to Doctors Without Borders and Global Action for Children. Angelina also adopted her eldest son, Maddox, from Cambodia.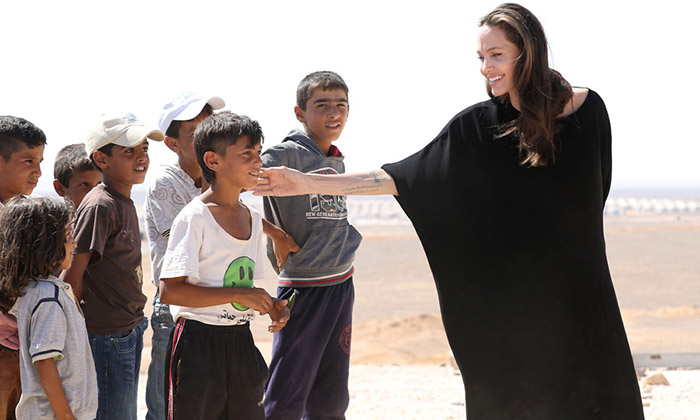 Angelina donated a million dollars to the nonprofit Educational Partnership for Children in Conflict: an organization dedicated to providing safe schooling for children caught in or fleeing from violence, which she also now co-chairs. She helped rally 19 separate foundations to their cause who committed to donating $148 million for the education of 350,000 children and to improve education quality for 700,000 children.
"Every child has a right to an education," she said. "And conflict is not an excuse for us to ignore that right. If anything, it is the time that they need it the most."
In 2005 Angelina donated the funding needed to launch The National Center for Refugee and Immigrant Children; a cause devoted to providing support for children migrating away from their homelands, either by choice or due to force.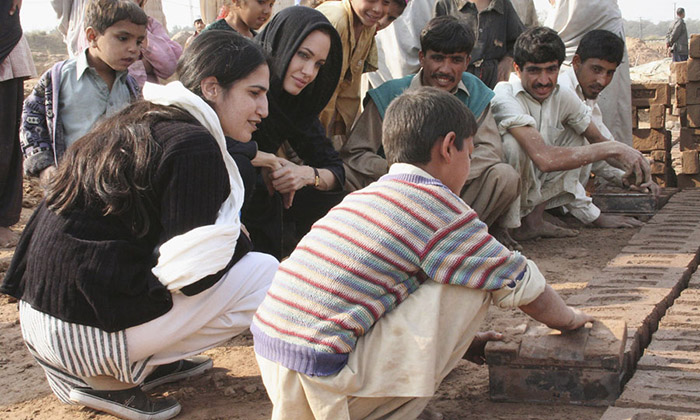 In 2006 Angelina Jolie and then husband Brad Pitt traveled to Haiti to raise awareness for Wyclef Jean's foundation, Yele Haiti, where they donated their personal profits of $500,000 from a photoshoot with People magazine. Angelina returned to Haiti many times to distribute aid. In 2006 alone, Angelina and Brad donated more than $8 million to the charities they support.
Angelina opened an AIDS & tuberculosis clinic in Ethiopia in 2008, the country where she adopted her daughter, Zahara. She also donated $2 million from the Jolie-Pitt Foundation to the Global Health Committee to provide medication for people across the country.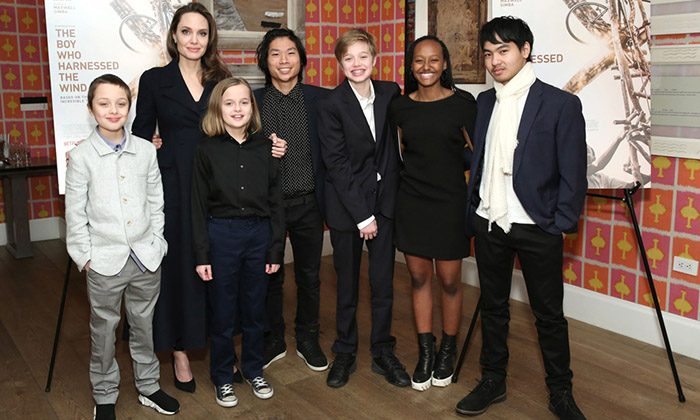 In 2009, Angelina and Brad personally donated $4.9 million to various charities.
A source close to Angelina and Brad at the time said; "A lot of celebrities could learn a thing or two from Brad and Angelina. Not only do they give away much of their money, they make sure they do it in the very best way to the neediest causes."
In 2010 after visiting the town of Tangi, Afghanistan, Angelina discovered that the girls there did not have an adequate opportunity to receive an education, so she personally funded the construction of a new primary school for girls which is able to regularly educate 800 children.
In 2011, Angelina donated $1 million to the United Nations' Pakistan Emergency Fund following extreme flooding in the country. During the same year, Angelina and Brad also donated $700,000 to the children's cancer fund Jane Etta, and $480,000 to the town of Joplin, Missouri, after it was devastated by a tornado.
To raise awareness of the sexual violence that was occurring during armed conflict in Congo and other countries in 2013, Angelina gave a speech at the G8 foreign ministers meeting in London. In response, the British Foreign Secretary declared that they would donate $36 million to fight sexual violence.
Angelina continues each year to make a difference for people in need around the world. In 2019, she traveled to the border of Venezuela and Colombia during its reopening, where she met with the children, their parents, and the President of Colombia, to advocate for the children of Venezuelan immigrants who were left in limbo after their parents fled during the country's socio economic crisis.
"The President and I spoke of the risk of statelessness for more than 20,000 Venezuelan children," Angelina said as she negotiated for the safety and well-being of the children.
Angelina's courageous and compassionate heart has helped hundreds of thousands of poor and vulnerable women, men and children around the world. She has truly used her fame and wealth for the kind treatment of all of humanity. If you believe her kind work should be celebrated, please share this story online with your friends and family, and let's thank Angelina Jolie for all of the wonderfully loving acts of charity she has done.
You are Loved.
See Also: The Compassionate Keanu Reeves Has Been Secretly Donating Millions To Children's Hospitals For Years