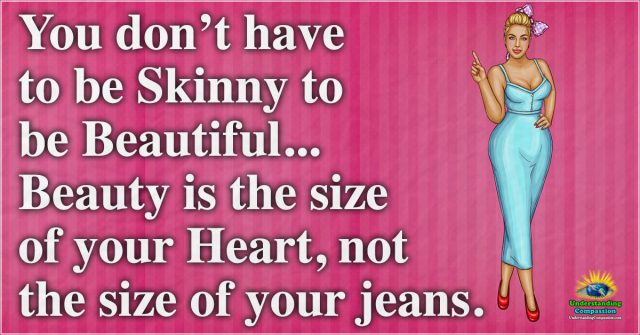 You don't have to be Skinny to be Beautiful… Beauty is the size of your Heart, not the size of your jeans. 
More Related Quotes:
Anyone who takes the time to be Kind is Beautiful. 
~Richelle E. Goodrich 
A pretty face gets old, a nice body will change, but a Good Woman will always be a Good Woman. 
Compassionate People are geniuses in the art of living, more necessary to the dignity, security, and joy of humanity than the discoverers of knowledge.
~Albert Einstein 
Her children were tired, needing milk and on the verge of a meltdown, when she dropped the milk she had just bought. An older woman in the parking lot saw this, then came up to her and insisted on buying her more milk, then came back with two gallons and a gift card. She wouldn't accept any payment, and only said, 'Happy new year.' Kindness Is Beautiful. 
A Child is Like a Butterfly in the wind, some can fly higher than others; but each one flies the best it can. Why compare one against the other? Each one is Different! Each one is Special! Each one is Beautiful! 
It's not our job to fix people, change people or judge people. It's our job to Love People. 
Family isn't always blood. It's the people in your life who accept you for who you are. The ones who would do anything to see you smile, and love you no matter what. 
Love does not need to be perfect, it just has to be true. 
A Strong Woman may remain silent when people talk behind her back. But that doesn't mean she doesn't notice. It simply means she chooses not to waste her energy on foolishness. She has more important things to do. 
A True Friend doesn't care if you are rich or broke, if you wear fancy clothes or jeans, if your house is clean or messy… they have your back and love you for being who you are. 
A lot of walking away will do your life good. Walk away from arguments that lead you to anger and nowhere. Walk away from people who deliberately put you down. Walk away from the practice of pleasing people who choose to never see your worth. Walk away from any thought that undermines your peace of mind. Walk away from judgmental people, they do not know the struggle you are facing and what you have been through. Walk away from your mistakes and fears, they do not determine your fate. The more your walk away from things that poison your soul, the healthier your life will be.
~Dodinsky 
At the end of the day, what really matters is that your loved ones are well, that you've done your best, and that you're Thankful for all you have. 
Self Love is unconditional acceptance of all aspects of one's self. It is; "I Am Enough, Just As I Am."
~Mimi Shannon 
If we could spread love as quickly as we spread hate and negativity, what an amazing world we would live in. 
You don't have to be Skinny to be Beautiful… Beauty is the size of your Heart, not the size of your jeans. 
You are Loved.
See Also: Jon Bon Jovi Has A Restaurant That Has No Prices; Guests Donate Or Volunteer For A Meal