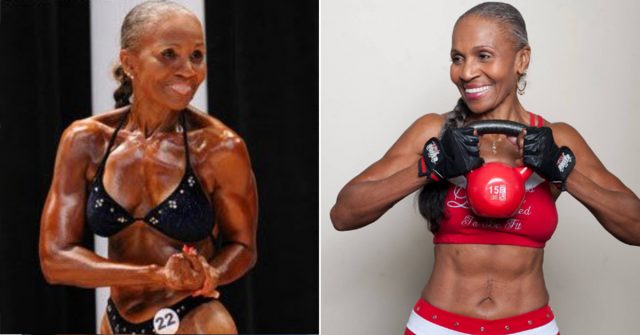 This incredible and lovable grandma is an inspiration for women around the world.
For those who have felt at one point or another that they were too old to do something, Ernestine Shepherd is here to say; you're not! Ernestine Shepherd was born on June 16th, 1936, and this fit 82-years-young bodybuilder from Baltimore, Maryland didn't even begin exercising until she was 56!




Ernestine's daily routine is impressive and gives her a lot of energy and motivation: She wakes up at 2:30am every day, and after her devotions and meditations, she has breakfast and then goes for a morning run. By 7:30am she's at the gym and teaches a workout class of up to 45 people until around 11:30am. She then has some time to go home to eat lunch, have a nap, and to spend some time with her husband, Colin. By 5.30pm she's back to the gym training people aged 20 to 86 until 7pm.
But her lifestyle wasn't always this healthy she explains; "I was always too prissy to work out – and you couldn't get me away from chocolate cake. But the year I turned 56, my sister Velvet and I went shopping for swimsuits. Neither of us had worn one for years. We looked in the changing room mirror, and made a pact to get in better shape."




"We started off doing aerobics but then we moved on to lifting weights and, eventually, we really got into bodybuilding. One day, Velvet turned to me and said, 'We should try and get into the Guinness Book of World Records as the oldest bodybuilding sisters in the world!' It became our goal."
Sadly, shortly after the sisters made their bodybuilding pact, Velvet got sick and suffered a brain aneurysm. "I want you to continue what we're doing even though I won't make it," she told Ernestine before she passed. "I want you to inspire other senior ladies, and anyone who will listen, to exercise."
While the loss of her sister was extremely difficult for her, Ernestine honored her sister's last wish and has been a star of health and fitness ever since.
"I decided I wanted to honor our pledge, and contacted the former Mr. Universe, Yohnnie Shambourger. We'd met a few times at his bodybuilding shows and when I asked whether he could help me get into the Guinness Book of World Records, he said, 'Yes, but you have to go on a long journey: do you plan to hang in there?'"
Ernestine did plan to hang in there, and 7 months later, after having trained seriously and having reached the age of 71, she entered her first bodybuilding competition and won first place.
The Guinness Book of World Records heard of her success and confirmed that she was indeed the world's oldest performing female bodybuilder. Ernestine was then invited to Rome where she was given the official title on a TV show.




"I'll never forget standing on that stage as I collected my medal and certificate. 'I've done what you wanted, Velvet', I remember saying as tears filled my eyes. I had carried some of her ashes with me, and when no one was around, I went outside and spread them as far as I could," Ernestine shared.
Ernestine went on to enter the 2011 Ripley's Believe it or Not! show as "Granny's Six-pack," appeared on Steve Harvey's show, and even met the legendary 8-time Mr. Olympian, Lee Haney. She has participated in seven other bodybuilding competitions, and has run nine marathons. Oprah Winfrey was inspired as well and spent some time with her on Skype to discuss her health.
Ernestine shared that her relationship with her sister is still her primary motivation.
"I've never felt self-conscious about being a bodybuilder at my age thanks to a mantra Velvet passed on to me: 'Determined, Dedicated and Disciplined [which is also the name of her book published in 2016].' If you follow these three D's no matter what you're doing in life, you can succeed. That's what I live by and that's why I always tell people that age is nothing but a number."
"I often wonder how Velvet would feel knowing that I have done all the things that she wanted. I like to think she is looking down on me with pride."
Ernestine's life and message are both proof that it's never too late to get in shape, lose some weight and live a longer, healthier, satisfying life!
Do you make an effort to exercise regularly?
Let us know in the comments.
You are Loved.
See Also: Man With Special Needs Asks Buff Stranger At Gym For Advice 10+ Times, His Kind Response Is Going Viral