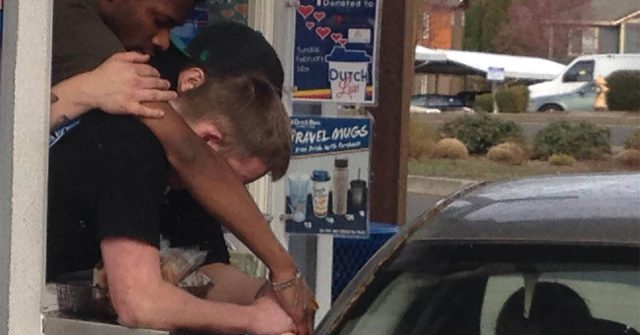 When Barbara Danner was in line at a drive-thru coffee shop in Vancouver, Washington, she watched as three of the employees reached their hands out of the window to pray for the driver in front of her.
"Snapped this picture while waiting in line at the Dutch Bros on 138th Avenue today," Barbara wrote.
The employees at the Dutch Bros coffee shop had noticed that the woman in their drive-thru was in tears, and after asking her, learned that she had just lost her husband the night before.
"Turns out the young lady in line ahead of us lost her 37-year-old husband last night. When the DB guys & gals noticed she was falling apart, they stopped everything and prayed with her for several minutes, invited her to come back for prayer and support, as well as anything else that she might need. Prayers for the young family, and you know where to stop for coffee!"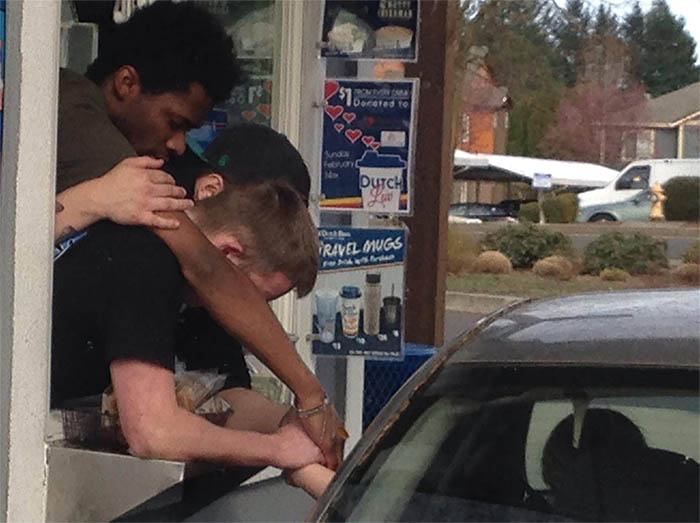 Evan Freeman was one of the baristas working when the woman came to their window sobbing.
"She's like, 'She's just having a really bad day. Her husband passed,'" Evan explained. "And as soon as she said that, I was like, 'There's nothing more you need to say. We got this. We're going to do what we do every time we get someone who's in pain or hurt. We're going to give them our love.'"




The baristas offered the woman a free drink on them, and also offered to pray for her healing.
"So basically, I just said, like, you know I really want her to have peace over the situation… help the mourning of her and her family," said Pierce Dunn, another of the baristas who prayed for the young woman.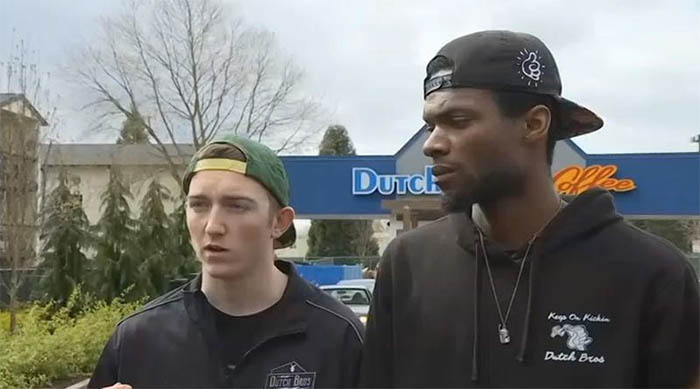 ""If every single person did an act of kindness or just had a smile on their face, the world would be a completely different place."
Thousands of hearts online offered their condolences for the woman and also praise for the young men showing compassion to a stranger in pain.
"Wow!!! That's incredibly amazing! GOD bless them for seeing her need and not being ashamed to pray with her! May GOD surround her with all the love, support and strength she needs to get through this unimaginably difficult time…praying for her…" wrote Samantha L.
"My sister got a flat tire in line. Two of the guys came out, pushed her car to the side, changed the tire, gave her the coffee for free and sent her on her way," wrote Jeanette M.
"I am not religious, but THIS is what we need for humanity: Empathy and understanding, true human connection, and love. Way to go Dutch Bros., once again, you did an amazing job at hiring your staff. 👏👏👏👏👏💖" commented Natalie B.
"I stopped by after I had to put down a beloved pet. In my head a dutch bros coffee = comfort. They gave it to me for free along with some kind words. I've never forgotten that," wrote Sherrie V.
"The DB in Sacramento Ca, when I went through the line if cars, sitting in the back seat, my four sons, one of which has Autism. I didn't plan on ordering anything for him because he is very picky. But the girls and guys talked to him and made him a special drink, just for him. It was the first time in his 5 years of life that he had had anything other than milk water or apple juice. It might seem small, but it was huge in his progress and it was all because they took the time and talked with him. After that we went almost daily and became like family with many of the workers. I now live in CO and there is no DB any where near me, but you better believe my car is decorated with DB stickers and I tell everyone about them and all the heartfelt stories that I encountered there. Much Dutch Love, this post about dropped me to my knees. The kindest people work here and the world needs more stories like this. Prayers to the woman and her family. ♡" wrote Rogue S.
You are Loved.
See Also: Kind Teenage Cashier Pays For Family's Meal When Stressed Mom Forgot Her Purse At Home
View this post on Instagram