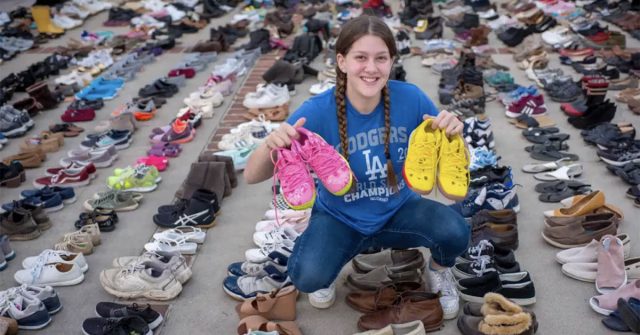 A kind 17-year-old girl has made it her mission to get shoes on the feet of as many homeless Californians as she can.
When Lindsay Sobel was 12 years old, she went to a basketball game at the Staples Center Arena in Los Angeles, California, and she was shocked to see that there were many people living outside of the arena in "awful" living conditions. Being one of Lindsay's first experiences of seeing homelessness as a child, it broke her heart to see people living such difficult lives.
"I noticed a lot of [the homeless people] were in really awful living conditions, no way any person should have to live [like that]. On top of that, I noticed a lot of them did not even have shoes on," Lindsay recalled. "At 12 years old, I was like, 'Wow, people don't have shoes?' It kind of put things into perspective for me."



Before turning 13, this experience helped shape what Lindsay wanted to do for her Bat Mitzvah project. A Bat Mitzvah is a coming of 13 years of age ceremony for those who follow the Jewish religion, and a Bat Mitzvah project is a requirement where girls and boys often create a community based giving project to give back to those most in need in society. These types of projects often teach children the value of kindness, compassion and of helping our neighbors who are struggling. The Mormon Christian religion also regularly has teenagers who've just graduated high school go on "missions" to foreign countries for two years, where they engage in various types of humanitarian work. Both are examples of kindness education for young adults, and these experiences, and the memories they make which last a lifetime, help children grow into kind and compassionate adults.
After having witnessed homelessness for the first time at the basketball arena, Lindsay was cleaning her closet and noticed that she had several pairs of shoes that she had never really worn. She remembered the homeless people without shoes and thought that this is what she wanted to do for her community project: to give shoes to these poor homeless people who were walking barefoot for miles each day in the heat and cold.
"Oh my goodness, I haven't worn half of these [shoes]," she recalled thinking. "Donating shoes would be a great way to give back to the community."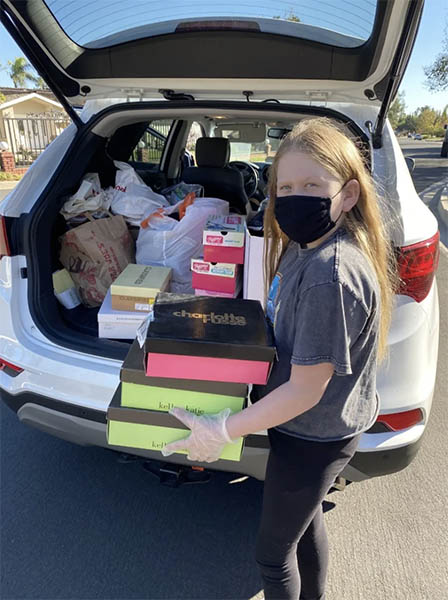 Lindsay began asking friends, family and classmates for old shoes they don't wear which they could donate, and she formed a charity called Shoes for Souls. She held school donation drives, and together with family drove to different cities looking for shoes which could be donated to the homeless. In just a few short years, Lindsay has been able to collect and donate more than 30,000 pairs of shoes for the homeless in Southern California.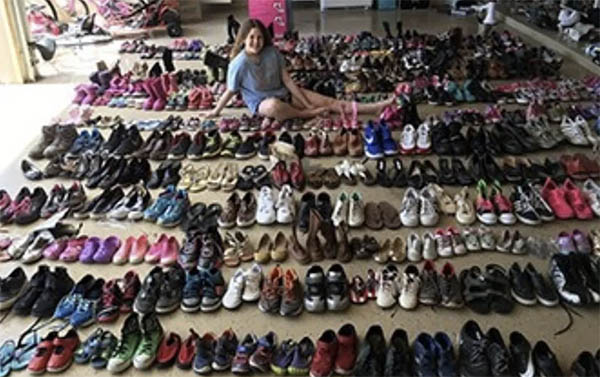 Now at 17-years-old, Lindsay has members of the Los Angeles City Council reaching out to her when they see a need for shoes for the homeless. Recently when two council members contacted Lindsay, she was able to collect and donate more than 4,000 pairs of shoes to those in need.
"I was so honored they thought of me to help," she said. "It was really great being able to see my work pay off."
Lindsay visited the Long Beach Mission homeless shelter and was able to meet some of the people who are using her donated shoes. It inspired a lot of compassion in her heart to help even more.




"The challenge for me is that there are this many homeless people right now, and the challenge for me is how can I help as many of them as possible," she said. "Being able to see the work that I'm doing really pay off and help so many different people… when I went to the Long Beach Mission, it was a chance to see who I'm giving the shoes to in person. I felt pretty good about myself and great about the community. It also makes me sad to see how big it is and how many things really need to be done."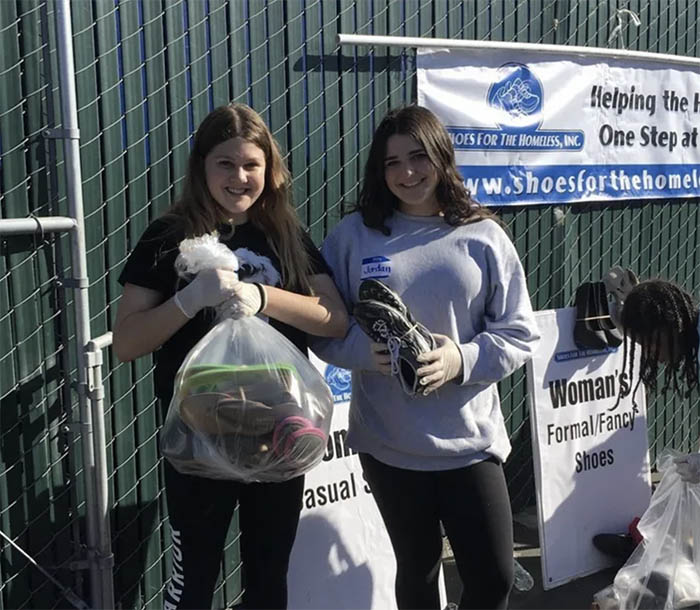 Lindsay wants to help give shoes to as many people as possible, but she also makes sure that the shoes she is giving to the homeless are in good condition and will help add to their feelings of self worth.
"My motto is, if you would wear it, I'll accept it," she said. "I want to try to give the best experience to all the people. I don't want to give them a pair of shoes that are beaten down or worn down. I don't want them to think that's their self-worth."
Helping others has given Lindsay a lasting amount of joy.
"[It] makes me full of joy because of the fact that I'm able to help people out," she said.
"You know a fresh, new pair of shoes can really brighten someone's day, brighten their attitude and their outlook on life. I want to help as many people as possible."
You are Loved.
See Also: Kind Child Sees Soles Falling Off Of Classmate's Old Shoes So He Gave Him His Brand New LeBron 13s
View this post on Instagram