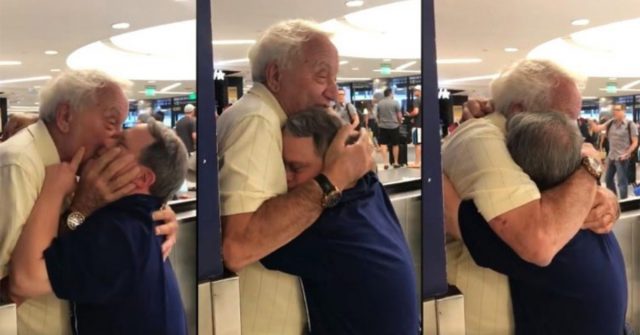 Heart melting footage shows the precious moment a father is reunited with his son who has Down Syndrome, after a week apart.
Matt Cobrink, 53, traveled to New York to meet his favorite baseball player Aaron Judge of the New York Yankees. He normally lives in Los Angeles with his father, Malcolm, who is 88. The trip was a wonderful opportunity for Matt, so he left home and set out to meet his favorite sports star.




Yet the trip meant he would have to be away from his beloved father for nearly a week, and this was the first time in over 25 years that the father and son pair had spent that much time away from each other, since the time his mother died.
Matt's sister, Marcy, was present when Matt returned home and she decided to record the moment when they were reunited, because she knew just how much Matt missed his father.
In the video below, you can see Matt rushing down the escalator, sharply turning at the end to and hurrying into the loving arms of his father. Their grand embrace full of hugs and kisses shows us just how deeply the two love each other.
Prepare to have your heart melted as you watch this short but truly lovely video of Matt coming home to see his Dad:
The next time you see one of your beloved family members, consider giving them the same amount of love that Matt and his father showed for one another.
Share the love and pass this article along to your family and friends to brighten their day!
You are Loved.
See Also: Kind Homeless Man Picks Up Young Girl With Down Syndrome: Their Singing Is Absolutely Beautiful