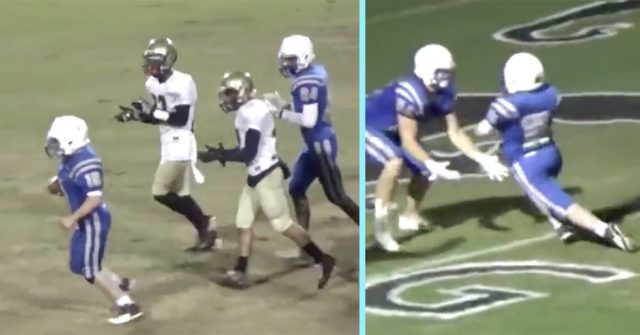 Greatness is not about physical strength or winning a competitive game. Greatness is about dozens of students on opposing football teams coming together to let their classmate with cerebral palsy score the final touchdown.
During the fourth quarter of the football game between the Atlee Raiders and the Varina Blue Devils in Virginia, Sepp Shirey ran an incredible 80-yard touchdown, the farthest he's ever walked or ran without his crutches, causing both teams and the fans to go wild.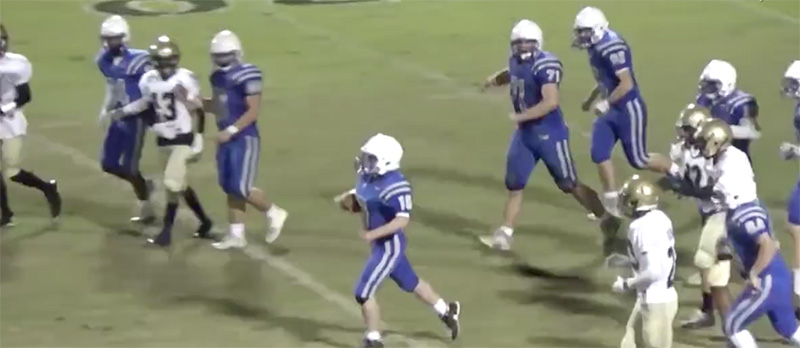 "He can't go 80 yards," Sepp's dad, Hunter Shirey, said. "The plan was to do a regular play… but I guess the kids out there on the field had in their mind they wanted to let him go. Sure enough, he went 80 yards."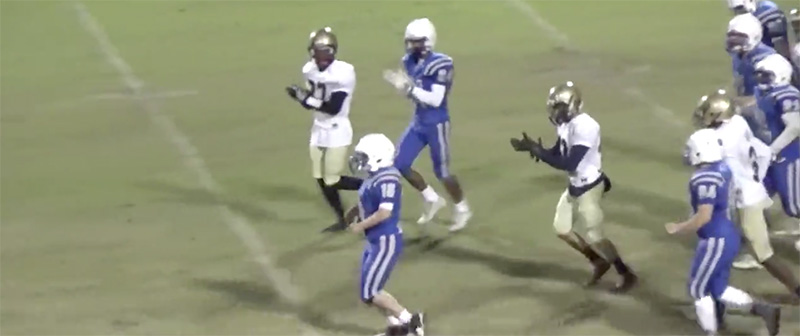 Sepp was born with cerebral palsy, a condition which causes impaired body movement associated with stiff muscles and irregular reflexes. People with cerebral palsy often suffer reduced range of motion at various joints in their body. Some with the condition are able to walk with crutches, while other's can't and are wheelchair-bound.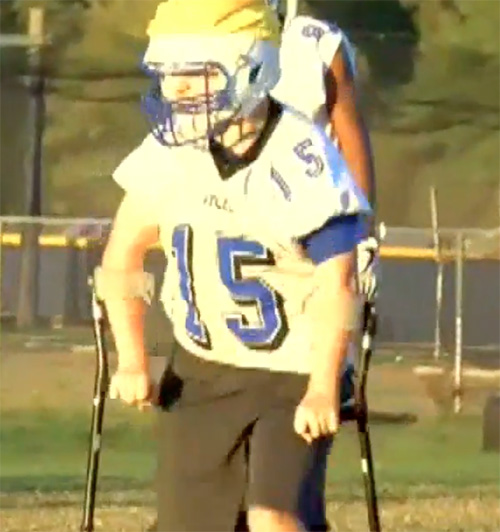 Sepp has always been a huge football fan. His first unassisted steps occurred when he was 6-years-old as he was playing football with his childhood friend.
"He dropped his walker and he was walking across the front yard," Sepp's Dad recalled. "He was tired of his walker slowing him down too much. That was the first time he had ever taken steps on his own."
The head coach of the Atlee Raiders along with the officials and Varina coach, Stuart Brown, planned that Sepp would get the ball and carry it a few yards before Varina's team would two-hand-touch tackle him. To everyone's surprise, Varina players encouraged Sepp to keep going as he ran the longest distance he's ever run in his entire lifetime.
Stuart was proud of his players, and he posted online a picture of them with the following message:
"Tonight in the 4th Quarter Atlee HS entered a senior football player who had Cerebral Palsy. The officials explained to our players when he gets the ball just two hand touch him. Our players made the decision on their own to allow the young man to score an 80 yard TD while escorting him in the end zone! Tears are healthy and tonight I'm glad Varina Football allowed many to shed them. Varina 63 – Atlee 21! #proudblessedcoaches"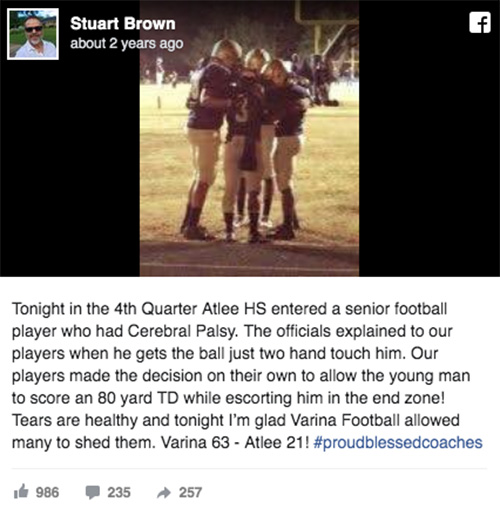 As Sepp made it to the endzone, he collapsed into his supportive teammate's arms.

"It's the toughest 80-yard run I've ever witnessed. I'll tell you that."
Everyone was proud of Sepp's incredible achievement, and they were also proud of how compassionate and supportive both teams and their coaches were. In what is usually a very competitive game, students were able to come together to help their fellow classmate's dream come true.
Watch the following video of the entire beautiful play:
You are Loved.
See Also: Child Races To Get The Foul Ball, Then Turns Around And Kindly Gives It To A Stranger Who Got There Second